Washington Wizards: What Each Player Can Improve on While NBA Lockout Drags on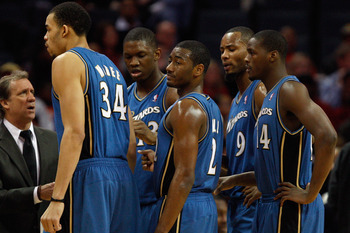 Excuse Al Thornton who is no longer on the team
With the news breaking that the players union is going to disband and file an anti-trust law suit against the league, it is becoming more and more likely that the season will be lost completely. Anticipating a long winter without professional basketball, I'm going to examine each player currently on our roster, looking at what they have been doing during the lockout and what they can improve on.
For the sake of not repeating myself from before, I'm going to leave out the three rookies, John Wall and Jordan Crawford. You can read my other article that goes into an analysis of these players on bleacher report right here.
Jordan Crawford's analysis can be found here
Rashard Lewis: Showcase Good Health

Lockout basketball highlights including some of Rashard Lewis

Rashard Lewis came to the Wizards early in the 2010-2011 season as part of the blockbuster trade that rid the team of its hero turned villain, Gilbert Arenas. Rashard suffered through an injury-plagued campaign that raised concerns that his career might be closer to the end than expected. While the lockout will give him the time to rest and heal completely, it might have the most negative effect on the team in the long run.
This would have been the season to show that at 32 years old, he could still be an excellent trade option for a contender. With an enormous $23 million expiring salary on the books for the 2012-2013 season this would have been the year for him to prove his value. Now that the lockout is clouded with even more uncertainty, it is vital that Lewis gets back to 100 percent.
In his brief appearances in Washington, he was much more aggressive as opposed to the last few years in Orlando where he was paid handsomely as a spot up jump shooter despite his size and past versatility. So far this lockout, Rashard has participated in a few lockout games and has shown that his knee is well on its way to being completely healthy.
With his attractive expiring contract, it is important that he showcase good health whenever the newest season begins in order to help the team open up exorbitant cap space that would be cleared out by moving his massive contract for young talent or draft picks. His development over the lockout would be an enormous step in the rebuilding process and would allow the Wizards to be contenders in the free-agent market once his salary if off the books.
Andray Blatche: Get Serious for Real This Time

Blatche helping out at Josh Howard's Summer Camp

From the Twitter account of Stephen A. Smith: Andray Blatche has the talent to be an MVP candidate.
This post along with the flashes of brilliance we have seen over the past two years should indicate that the Wizards were set in stone at the power forward position. Unfortunately, all the talent in the world cannot make up for a meager work ethic and questionable off-court behavior. Two years in a row he has shown the ability to put it all together late in the season, when the fate of the team was already sealed at the bottom of the league.
First and foremost during the lockout, Andray Blatche MUST stay in shape. That is definitely the biggest concern from Wizards fans, me included. So far during the lockout he has made some positive strides in the right direction by holding player practices and playing in a few lockout games recently to keep his skills up. While this all seems promising, skeptics have heard all the gimmicks from "Seven-Day Dray" before.
As the lockout looms on, he needs to continue to develop his post game instead of settling for mid-to-long-range jumpers as he lazily did for much of the season. In order for him to co-exist with McGee defensively, getting into better shape should help him stay in front of players on defense and contend shots with his length and size.
Ultimately Blatche will need to be more dedicated than ever, come into training camp (whenever that may be) in the best shape of his career and play an entire season like he played during the last month and a half of last season. If he falls short in any way, this may be the last straw for a player who was drafted out of high school six years ago. It is a shame that so far he has wasted so much potential due to immaturity and poor decision making. Here's to hoping that it finally clicks with him now.
Javale McGee: Back to the Basics

Javale McGee Highlight from Goodman League Summer Game

Type "Javale McGee Top Plays" into YouTube and you will feast your eyes upon jaw-dropping feats of athletic dunks and blocks. In order for him to achieve the greatness that his freak of nature athleticism warrants, he will need to go back to the basics on offense and defense.
After hearing about how both Dwight Howard and Kobe Bryant went and learned post moves from arguably one of the greatest post players of all time in Hakeem Olajuwon, I could not think of a more perfect candidate for this than Javale. With all of his physical gifts, if he could put in time over the offseason learning actual post moves, he would become an unstoppable force down low.
McGee has gone through his basketball career relying on his athleticism alone and never developing the basketball IQ needed to succeed in the highest level of basketball. Studying game film and reviewing plays throughout the lockout would prove to be extremely beneficial to a player who oftentimes struggles to execute simple plays on both offense and defense.
Bottom line is, McGee is in a similar boat as Andray Blatche. He will truly need to crack down and get serious over the extended offseason or risk never fulfilling the role of franchise center that so many Wizards fans hoped to have found after he was drafted in the first round back in 2008.
Trevor Booker: Add to Offensive Arsenal

Trevor Booker Rookie Highlights

Trevor Booker's path this lockout has shown the same energetic intensity that endeared him to fans in his pleasantly surprising rookie campaign. He was the first Wizard to sign overseas in early August and went over to Israel in September. Unfortunately, he suffered an injury in October and flew back to the states to rehab it, but both he and his coach in Israel were confident that he would return as soon as his rehabilitation was over, provided the lockout was still in effect.
Booker earned his playing time last year with his hustle plays and thunderous slam dunks. Beyond his dunking ability, however, his offensive repertoire is extremely limited. As an undersized power forward with excellent speed and athleticism, it would be great to see Booker add a jump shot and work on his ball-handling, allowing him to switch to the wing position at times if necessary.
A speedy recovery and return to competitive basketball should be the catalyst Booker needs to make these proper steps in order to fight for playing time against the slew of rookies threatening to take his minutes. Ultimately by playing overseas, Booker is assured to be in great basketball shape despite the lengthy lockout.
Kevin Seraphin: Get Back in Shape

Clip of Seraphin on his Spanish Euroleague team, Caja Laboral Vitoria

Kevin Seraphin's rookie season was subpar, to put it lightly. Coming into the draft as a young, athletic big man prospect with international competition under his belt, Seraphin was the 2010 version of Bismack Biyombo. Unfortunately, a knee injury during the offseason and subsequent weight gain never allowed Seraphin to truly show off the potential and ability that many expected of him when the team traded for him in the middle of the first round.
Like Booker, Seraphin is doing the lockout the absolute right way. He signed to play professionally overseas and even made the French national team over the summer, showing a slimmed down figure and a better feel for the game. With such a low bar set last season, coming into camp slimmed down with experience from his play overseas is exactly the improvements that Wizards fans and coaches would love to see.
Seraphin was drafted as a project and this lockout might have the most positive effect on him as he will have had the most competitive playing time of anyone on the Wizards' roster. Between French national team duties this summer and his current position playing on a Spanish Euro League team, Seraphin will come back from the lockout in arguably the best physical condition since he got drafted. He appears well on his way to achieving the goals laid out and should hopefully provide a physical force to push Blatche and Vesely down low while adding grittiness to a team that has been lacking it for quite some time.
Keep Reading

Washington Wizards: Like this team?