Why Tim Tebow's Throwing Motion is Irrelevant to His Peformance
November 17, 2011
Jamie Squire/Getty Images
Yeah, we hear it all of the time.
Tim Tebow's throwing motion is flawed. Tebow's throwing motion results in a lot of inaccurate passes. Tebow's throwing motion will prevent him from ever being a legit quarterback in the NFL.
Tebow doesn't have a normal throwing motion. People say there's a loop in it. Some say there's a long delay in his windup, which results in the timing with his receivers being ruined.
Tebow has changed his throwing motion since college. In the lead-up to the NFL draft, Tebow worked hard with coaches to have more of an "NFL-type throwing motion."
In this video, NFL Network shows the difference in where Tebow held the ball in college in comparison to how he held the ball in workouts leading up to the draft in 2010.
The video clearly shows Tebow as a Florida Gator holding the ball below his midsection before he winds up to throw the football.
In the workouts leading up to the draft, he changed the motion into holding the ball at the height of his chest before releasing the ball.
Thankfully, he cleared up that kink in his throwing motion before entering the NFL. That would have been a huge problem because it would have resulted in a lot of fumbles and sacks. A split second is all it takes to make a difference between a completion and a sack in the NFL.
Ezra Shaw/Getty Images
In comparing Tebow's throwing motion to a conventional quarterback's throwing motion, you'll see the clear-cut differences.
Here is Tebow's touchdown pass to Eric Decker a couple of weeks back against the Raiders.
Clearly, you can see Tebow holds the ball sideways with his hand flat on the ball instead of his hand pointing upward with the ball. Not only that, but you have Tebow squatting when he throws the football along with his left arm, cocking as far back as it can, and finally, his progression where it seems as if he's throwing his body's strength into the ball instead of his arm with his body.
Here is a video of a more conventional quarterback's throwing motion, with Tom Brady.
In this video, you can see that Brady looks stable. There's no squatting. He throws the ball with his hand facing upwards and the ball being delivered from above his shoulders, where there is no delay in release.
Tebow is not a conventional quarterback. He never will be a conventional quarterback, and in the end, it doesn't matter. His throwing motion is completely irrelevant to his performance.
Against the Raiders a couple of weeks back, Tebow became the first AFC quarterback since Kordell Stewart in 1998 to both pass and rush for 100 yards in a single game.
With the exception of Michael Vick, there is no quarterback that is capable of what Tebow is capable of when it comes to passing and rushing the football.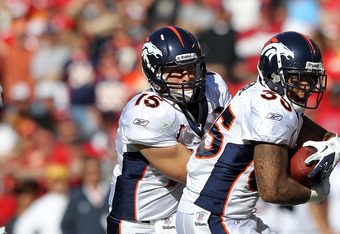 Jamie Squire/Getty Images
His ability to run the football overcompensates for his lack of accuracy. Does he need to improve on his completion percentage? Yes. But because he averages 6.7 yards per rush, he'll never have to be a guy that has to complete 60 percent of his passes.
In Denver's last three games with Tebow starting, the Broncos rank eighth in time of possession. Their rank with Orton starting at quarterback in 2010 was 25th.
Other than the turnover battle, time of possession is the key to winning football games.
Speaking of turnovers, the Broncos rank fifth in terms of least amount of interceptions thrown per game in their last three games.
In terms of giveaways, they rank ninth with Tebow as their quarterback.
As far as interception percentage is concerned? Seventh with Tebow.
Tebow does not turn the ball over. He has seven touchdowns to go with one interception.
It isn't some coincidence that the Broncos are 3-1 with Tebow, yet were 1-4 with Orton with the same exact team. The Broncos are a better team with Tebow starting than they are with Orton starting.
The Broncos are the NFL's leading team in rushing since Tebow was inserted into the lineup against San Diego five games ago. In their last three alone, they have averaged 246 yards per game.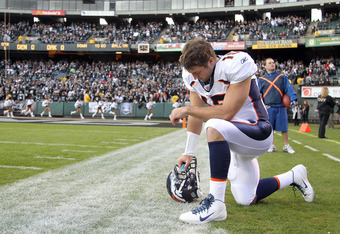 Ezra Shaw/Getty Images
The next best? Houston with 200 rushing yards per game.
The Broncos are better across the board statistically with Tebow compared to Orton, whether that's turnovers, rushing yards, record-wise or time of possession.
Tebow will never have to have a perfect throwing motion. He'll never have to be the guy to throw for 300 yards a game. Tebow moves the chains whether it's by passing or rushing the football.
With Tebow as your quarterback, he'll never win you the completion percentage battle. He'll never win you games in "pretty" fashion.
However, with Tebow as your quarterback, chances are you'll win the time of possession battle, the game of turnovers and most importantly, you'll probably win the game.
With Tim Tebow as your quarterback, no game is out of reach.
Just ask the Miami Dolphins.