MLB's Top 15 Infield Arms of All Time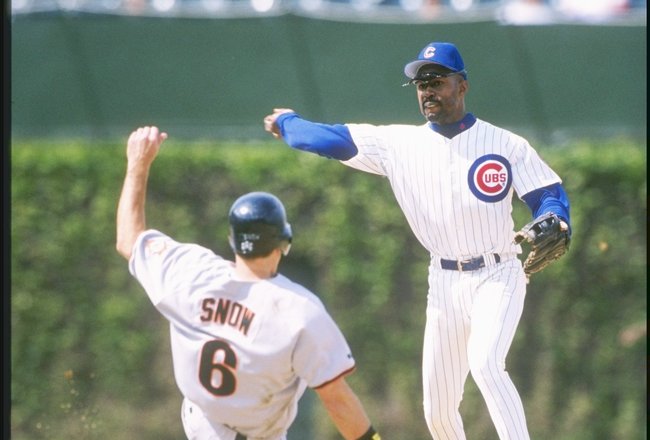 Jonathan Daniel/Getty Images
Everyone likes to talk about the arm strength of outfielders. Roberto Clemente had a howitzer. Ichiro has a bazooka. Vlad Guerrero has a laser-guided missile.
But what goes unappreciated is the arm strength of baseball's workhorses—the infielders. While the outfielders are chewing grass and staring at the girl behind the dugout, infielders have the task of not only tracking down ground balls, but making strong, accurate throws to get the runners.
Some infielders just don't have it (I'm looking at you, Chuck Knoblauch), but some infielders are blessed with the gift of a laser arm.
It's hard to name the best arms of all time when a) I'm 20 years old and b) there is no really reliable metric for arm strength, but I thought I'd give it a shot.
Here are 15 infielders from throughout MLB history with tremendous arm strength. I'm interested to hear who everyone thinks should be added or subtracted from this list.
Note: These are in no particular order.
Ken Caminiti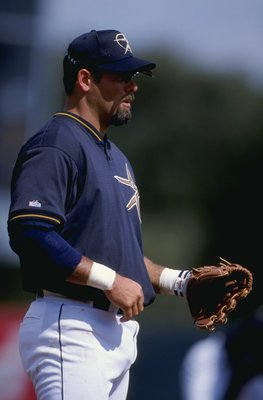 Jed Jacobsohn/Getty Images
Aside from being a great power-hitting bat, Ken Caminiti's arm gained him much acclaim during his major league career. The longtime Astros and Padres star won three consecutive Gold Gloves between 1995 and 1997, in no small way due to his very strong throwing arm.
Steroids or not, Caminiti's defensive prowess, especially his arm, should be remembered just as much as his offense.
Rafael Furcal
Dilip Vishwanat/Getty Images
Furcal has long been considered one of the more up-and-down fielders of this generation. He has never been close to being a top-notch defensive shortstop, but Furcal has provided more than his fair share of web gems during his career. One thing is for sure, though—Furcal has an absolute cannon of an arm.
That arm's accuracy is debatable, but its strength is certainly not.
Shawon Dunston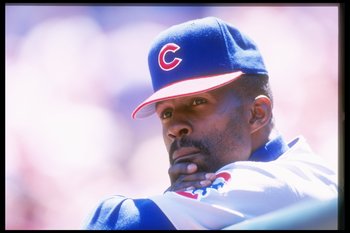 Otto Greule Jr/Getty Images
When you play for 10 teams over an 18-year career, something is keeping you attractive to talent evaluators. For Shawon Dunston, a career .269 average probably didn't cut it.
However, he had something that few shortstops have—a ridiculously strong arm. He regularly threw out runners from deep in the hole at shortstop, and combined with Ryne Sandberg to form a great middle infield duo for the Cubs early in his career.
Omar Vizquel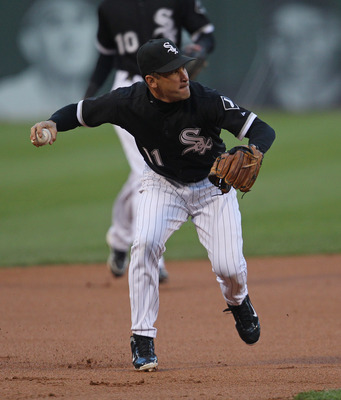 Jonathan Daniel/Getty Images
Omar Vizquel has dazzled in the infield for each year he has spend in the big leagues. With 11 Gold Gloves to his name, it is safe to say that the baseball community is well aware of the incredible fielding ability of Vizquel.
Splitting time with the Mariners, Indians, Giants, Rangers and White Sox, he has shown off an exceptionally strong and accurate arm that has allowed to him to post astronomically high assist numbers and fielding percentage.
Luis Aparicio
The Hall of Fame shortstop is considered one of the greatest defensive players of all time, and Luis Aparicio's career statistics can back that up.
He finished his illustrious career with a .972 fielding percentage and is second all-time with 8,016 career assists. He was considered to have an extremely strong arm, and complemented his ability to get to balls by also being able to hose them across to first base.
Brooks Robinson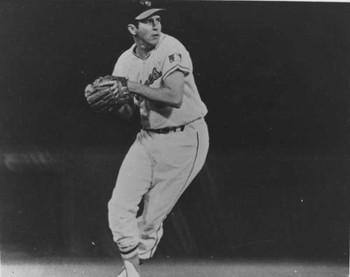 Hey, what's a fielding-related list without Brooks Robinson, right? We all know what a tremendous fielder Robinson was—this writer thinks he was the greatest of all time—but he is known more for his ability to get to any ball hit his way than for his ability to deliver it to first base.
But just think about it. For all the times Robinson backhanded, dove for, or picked a ball, he had to make a successful throw to first. His strong arm allowed him to have the confidence he could make those throws.
Mike Schmidt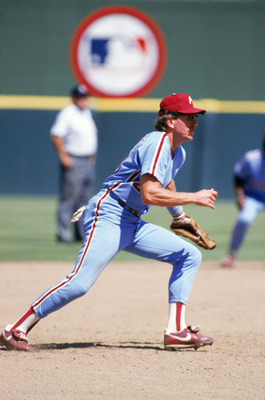 Stephen Dunn/Getty Images
Everyone tends to forget what a great fielder Mike Schmidt was because of the great offensive numbers he put up during his career.
But the Phillies legend was very slick in the field, and had the cannon arm that is common among the great third basemen. Much like Ryan Zimmermann or Evan Longoria today, Schmidt was especially adept at getting to slow rollers and gunning down the runner at first base.
Miguel Tejada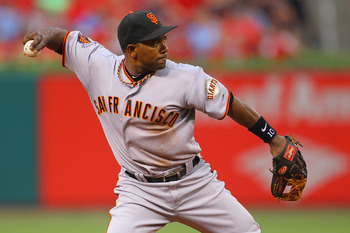 Dilip Vishwanat/Getty Images
You may notice that a common thread among many of these players is that they are or were power hitters. That makes sense, because the strong hands, wrists, and forearms that lend themselves to power hitting also play a big role in throwing the baseball. Thus, it should come as no surprise that someone of Miguel Tejada's stature is on this list.
Though he isn't one of the great fielders of our time, he does have an exceptionally strong arm.
Barry Larkin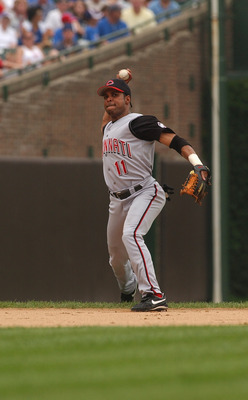 Jonathan Daniel/Getty Images
The longtime Reds' shortstop had a great arm, one that helped him to win three Gold Gloves during his major league career. Though he was never exactly considered an elite fielder, it wouldn't be a stretch to say that Larkin had one of the best shortstop arms in the game while he played.
He was a lock to make plays deep in the hole at shortstop, something that can't be said about many players.
Larry Bowa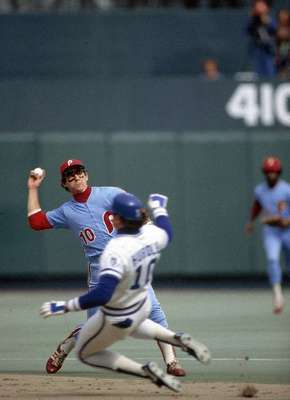 Larry Bowa was an integral part of the very good Phillies teams of the late 1970s and early 1980s. His defense was sparkling, as he posted a career .980 fielding percentage and two Gold Gloves. He was never afraid to make a throw, no matter the difficulty. Much of the time, though, Bowa's arm strength allowed him to make the plays.
Cal Ripken, Jr.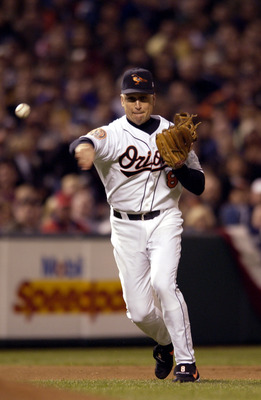 Ezra Shaw/Getty Images
The Iron Man is known for many things—his longevity, his grit, his swing and for his fielding. Though Cal Ripken, Jr. only won two Gold Gloves during his career, he still was considered a great fielder throughout his time in the big leagues. He finished his career, which he spent at shortstop and third base, with a .979 fielding percentage.
His strong arm was a great asset as he patrolled the left side of the infield during his remarkable career.
Brandon Inge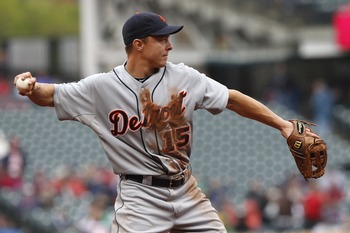 David Maxwell/Getty Images
The fact that Inge has been entrusted to play catcher, outfield and third base at different times during his career gives testament to his arm strength. He has a very powerful arm, and though he is not considered a top-notch defender by any means, his arm is a great credit to him.
His throws may sometimes be erratic, but you can always count on frozen ropes going from third base to first base out of the arm of Brandon Inge.
Roberto Alomar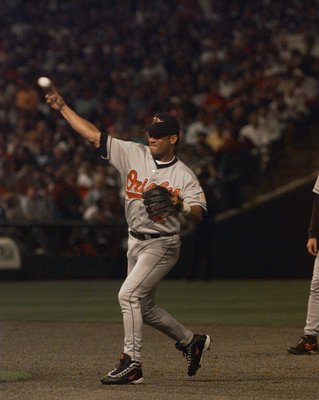 Rick Stewart/Getty Images
Robbie Alomar was a great baseball player. Robbie Alomar was a second baseman. The second statement should automatically disqualify him from this list, right? Wrong.
There has not been a second baseman in the history of baseball who made plays in the hole look easier than Alomar. He won ten Gold Gloves for his stellar defense, due partly to his range and partly for his ability to throw from his knees or off-balance. He may not have fired off the bullets that third basemen do, but he made tough throws look very easy.
Scott Rolen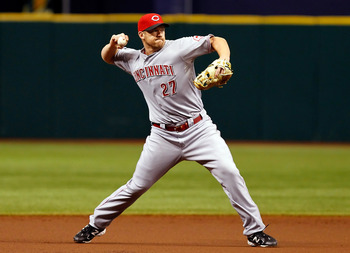 J. Meric/Getty Images
Often considered the best defensive third baseman of the last two decades, Scott Rolen has every tool needed to be an elite defensive baseball player. With eight Gold Gloves, the Reds' third baseman definitely has the hardware to back up that claim. Aside from his great instincts and reaction time, Rolen possesses a top-notch arm that has served him well during his lengthy career.
Rey Ordoñez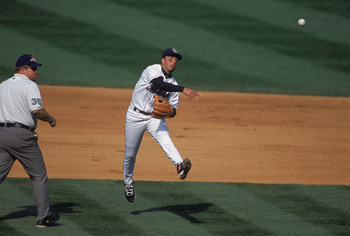 Al Bello/Getty Images
Surprised? You shouldn't be. Despite being a wholly unexciting player, Rey Ordoñez did have one talent that set him apart from the pack—his arm. The shortstop would regularly fire absolute rockets across the diamond, once notably throwing out Royce Clayton from his knees in shallow left field.
If his .246 career batting average doesn't do it for you, Ordoñez's arm strength should.
Keep Reading