2011 NBA Lockout: Breaking Up with the National Basketball Association
November 17, 2011
Patrick McDermott/Getty Images
Dear National Basketball Association, 
We're through. 
It's sad, I know. We had a good run, though, especially lately.
You were captivating through April and May, providing plenty of memories in the waning days of spring. You gave us heroes (Zach Randolph, Dirk Nowitzki) and villains (anyone in a Miami Heat jersey).
You gave us rising stars in Derrick Rose and Kevin Durant, and you gave us fading legacies as we watched two of the league's most storied franchises (the Lakers and the Celtics) fall short of their championship pedigree during the playoffs. 
You gave us one of the most compelling championship series in recent memory, a matchup that truly split the nation. 
But recently, your luster has faded, and our once amorous relationship has begun to lose some of its spark. In June, you started to give me the cold shoulder. I dismissed this as just a phase, telling myself you'd warm up again in November, never losing faith in you. 
But, yesterday was the proverbial straw that broke the camel's back. 
Players, I don't know how you reject a 50-50 split in Basketball Related Income (BRI), with concessions made to keep maximum contracts, mid-level exceptions and a deal that would raise your average salary from five to eight million a year.
It makes you look like selfish brats, and don't kid yourself that fans are in your corner, that you're making the owners look like the bad guys in this situation. 
On average, you're the highest paid athletes in the world, so don't stand in press conferences, stiff-jawed, telling the cameras that you're being treated "extremely unfairly," and that you "just want to play" when the owners are offering to guarantee you more money.
My degree isn't in accounting or even economics, but I'm pretty sure if someone guaranteed me half of a multi-billion-dollar industry, I'd count my money while my butler drove me back to my mansion. 
Owners, you essentially need to be protected from yourselves, as you conceded in the summer that 22 of your 30 franchises were losing money. You dealt huge contracts to mediocre players.
Rashard Lewis stood to make over $21 million this year to average 11 points a game. That's the second highest contract in the league and an absolutely indefensible signing.
You've made tremendous concessions, but the fact of the matter is that you should've seen this coming. 
David Stern and Billy Hunter, at the very least, you've earned the displeasure of each other's company for a few more weeks.
Stern's condescending tone in interviews (and surely during negotiations) seems to have done nothing but antagonize players. Hunter, on the other hand, seems to have no idea what he's doing.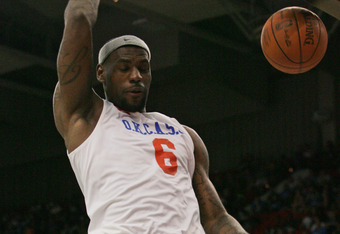 Brett Deering/Getty Images
The time to decertify the union was in July or August, not now. He seems to be maniacally bent on being the hero in this situation, all the while making the wrong decisions. 
Both players and owners are losing money right now, millions upon millions with each game that goes unplayed, and both are fully responsible for the situation. But, that's not all they're losing.
With each passing day, thousands of fans are emotionally divorcing themselves from the league. When they do return, I hope they don't expect a warm embrace.
It's hard to get behind players who, in a tough economic climate, demand more money while simultaneously nuking thousands of jobs at arenas around the league and owners who can't seem to think logically when they see a mediocre free agent (Michael Redd for $18.3 million? Done!). 
The players claim there is no league without their talent, and the owners claim there is no league without their funding. However, what they're both missing is that there is no league without the fans, and the damage they're doing now is borderline irreparable. 
You know what you should do? Throw a Band-Aid on it. Players, owners, if you don't like the proposed 10-year CBA, just come to an agreement for the season and continue to negotiate. Just bring basketball back. 
Instead you've eliminated jobs for NBA employees across the country, made yourselves look like clowns and turned a "negotiating process" into a giant pissing contest. 
I'll miss you NBA, that is for sure. I'll miss every flawless Ray Allen three, every thunderous Dwight Howard dunk, every whirling drive to the basket by Derrick Rose and every LeBron James block that looks like a lion chasing a gazelle, culminating in James swatting the ball into the front row and standing defiantly over his opponent (and to say I don't particularly care for James is an understatement, but I can appreciate athleticism when I see it). 
Save the chocolates and the flowers, say you're sorry and come back. Just don't expect me to care anymore. I'm willing to give things one more try if you are. Until then, we'll always have June 2011, kid. 
Cordially, 
Nick Sellers