Analyzing John Fox's, Tim Tebow's Option Offense: Surprising the Critics
November 17, 2011
Ezra Shaw/Getty Images
The talk of the town, rather the nation, is whether Tim Tebow and John Fox can be successful with a spread option offense in the NFL.
The Denver Broncos switched to a full spread offense two weeks ago against the Oakland Raiders.
At the end of the game, the Raiders defense was winded, puzzled and on the wrong end of a great second-half comeback.
They weren't the only ones puzzled. Fans, critics, analysts and NFL experts were all confused and wondered how this offense would continue to be successful.
A week later, the Broncos had their second straight win for the first time in 27 games, and they did it with the same offense they brought to the table a week prior.
The point is this offense works.
Right now.
How will it continue to be effective against the speed of NFL defenses?
Who really knows?
Of course, it's all speculation at this point, but all we can do is speculate at this point until the next game is played.
On ESPN's NFL Live Wednesday afternoon Hall of Fame quarterback Steve Young was far from candid in his response to this offense and to Fox's comments regarding "his man" at the helm.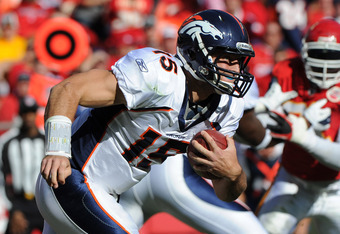 Peter Aiken/Getty Images
Young goes on for what seems like hours about how disrespectful Fox has been by saying Tebow can't run a normal NFL offense.
He also says Tebow should be livid with his head coach.
Are you in the locker room and practices with Fox and Tebow, Mr. Young? No? OK, well maybe you should stop trying to fire up a quarterback that's winning games in a system that's been designed for him.
Once again, the biggest element of criticism is whether this offense can keep up with the speed of NFL defenses.
Last week, we witnessed what some regard as some of the better defenders in the league in Derrick Johnson and Tamba Hali get absolutely left in the dust by this option offense—which the Chiefs had an entire week to prepare for.
If we're so worried about Tebow's option offense beating the speed of the front seven, why is no one concerned with Tebow's ability to deliver the ball consistently against the speed of the back four?
Yes, Tebow completed 67 percent of his passes in college.
Ever since, he's less than 50 percent and displays continuous issues with mechanics, footwork and general pocket-passing. Would you let him throw it?
He is showing progress—at least a little— which was showcased in his one beautifully thrown pass to Eric Decker for a 56-yard touchdown late in the game on Sunday.
That's all we can ask for at this point, right? Progress as a passer for Tebow and checks in the win column for Denver.
We can compare NFL and college stats all day. But here's the end-all argument for this particular discussion.
Ryan Leaf was great in college.
Dannie Wuerrful was great in college.
JaMarcus Russell was great in college. And that guy "couldn't hit water if he fell out of a boat" as Trey Wingo of ESPN said so lovingly of Tebow on Wednesday.
The fact of the matter is that, at this time, the coaching staff and front office is clearly behind Tebow—the demonstration of which is present in Fox's complete redesign of his offensive scheme.
The Broncos could come out on Thursday with the spread offense and take down the eighth-ranked defense in the league.
At that point there can no longer be a discussion regarding the potency and efficacy of this option offense in the NFL.
If you have a pocket-passer that can run a high-powered offense, you use him. This is why guys like Aaron Rodgers, Peyton Manning and Tom Brady have careers in the NFL.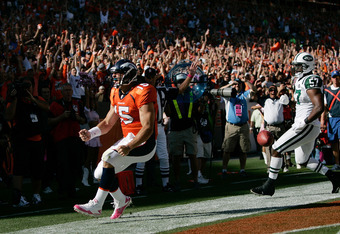 Justin Edmonds/Getty Images
On the same note, if you have a guy that runs the spread offense like a champion and proves critics wrong week by week, you use him. This is how Tebow can make a career for himself in the NFL.
Until he can pass the ball successfully, Fox is forced to run an offense that Tebow and the other 10 guys on the field—who also like to win if everybody forgot—can turn into positives and the most important stat in the NFL: wins.
Fox has guts to go against the grain and against popular demand with this offense. I'm all for it. Even more so if it garners a win against the New York Jets on Thursday Night Football.