Week 11 Fantasy Football Waiver Wire: Red Light/Green Light
November 17, 2011
Harry How/Getty Images
"Even a blind squirrel finds an acorn once in a while," my father always tells me.
Well, last week, I happened to be that squirrel.
And Denarius Moore of the Oakland Raiders was my acorn. I included him on my green light list, noting that Carson Palmer had been throwing his way a high percentage of the time since being traded to Oakland, and that sooner or later, some big fantasy points would be heading Moore's way.  I just didn't imagine it would be this soon—at least not to the proportion Moore achieved against the Chargers on Thursday night.
Moore made some amazing catches during the game, showing off his enormous talent, finishing with 123 yards on five catches and two touchdowns. Thirty-five percent of Palmer's throws went in Moore's direction during this contest, consistent with the previous two games. 
Now this wouldn't have been that great of a prediction, except for the fact that Moore, in this one game, equaled what he had produced in his previous six games combined, fantasy wise. So I think that makes it is safe to say he wasn't really trending in terms of fantasy points.
But I always like to dig deep when I make my picks.  Everyone who knows anything about fantasy football knows who the obvious picks are every week. So when writers feed you names like Nate Washington in Week 4 after he blows it up for three straight weeks, it's not as if they are giving you truly insightful information (not to mention, Washington has declined markedly since).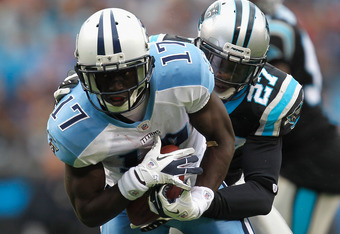 Streeter Lecka/Getty Images
I, on the other hand, go about it differently. I usually target guys who aren't coming off a huge week, but are displaying signs which point to future greatness. In Moore's case, I knew he was talented. And I believed Palmer was an upgrade over Jason Campbell. Therefore, in my mind, it would only be a matter of time before the two started connecting on a regular basis.
Now, unfortunately, unless you are at the top of the waiver order this week, you will probably miss out on Moore (and since I only had 130 reads last week, I assume that many of you didn't read the article and pick him up). All I can say is, "I tried."
But never fear, there are still a few intriguing names that are widely available on the waiver wire this week, and you should be able to pick them up no matter where you rank on the waiver order.
Just as a reminder, my red light players are those that I think are in the "one-week wonder" category.  As such, you should stop dead in your tracks on them (bench or even drop).
My green light players are the guys who I think carry good value the rest of the year.  As long as you don't have the dream fantasy team already, without hesitation, you should charge ahead with them (pick up and/or start).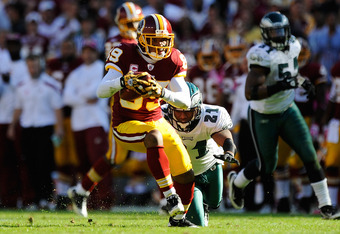 Patrick McDermott/Getty Images
I will finish with some yellow light players—those guys that I am still on the fence about, but may be worth a look, especially if you are really hurting for ideas.
With that said, here are this week's picks.
Red Light
Harry Douglas, WR, Atlanta Falcons
Douglas had a monster game this past week against the New Orleans Saints. He was Matt Ryan's go-to receiver after fellow wideout Julio Jones left with an injury, finishing the game with eight catches for 133 yards, by far his best performance of the season. While Julio Jones may miss this upcoming week's game, I wouldn't get overly excited about Douglas's performance. 
Why, you ask?
Douglas started back in Week 6 and Week 7, when Jones was out with a different injury. However, in those two games, Douglas barely averaged over 60 yards per game. I'd expect a performance like that for Douglas this week when the Falcons play the Titans, if Jones sits. And as soon as Jones returns, Douglas' value goes south. I'd avoid Douglas in all formats.
Matt Leinart, QB, Houston Texans
Some of you may be toying with the idea of picking up Matt Leinart now that Matt Schaub is done for the year.  Don't. Leinart did not look good this preseason, nor has he ever really looked good as a pro. He struggles to complete passes downfield, so even the presence of Andre Johnson (when he returns) won't help him out much. 
In fact, Johnson's value takes a hit here for the rest of the season because of Leinart's below average skill set. I would only pick up Leinart if he proves he can put up good fantasy numbers on a consistent basis. I'm betting that never happens, though.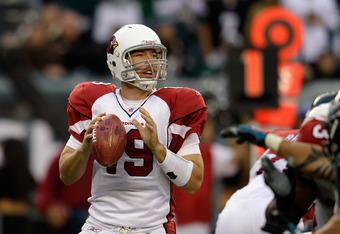 Rob Carr/Getty Images
Green Light
Damian Williams, WR, Tennessee Titans (three percent owned, ESPN)
Williams took over for the injured Kenny Britt early in the season and has been putting up respectable numbers ever since. In fact, Williams has scored a touchdown in four of his last six games and is starting to look like quarterback Matt Hasselbeck's favorite target.
Over the past five games, Williams leads the team in targets, receptions, receiving yards and receiving touchdowns. He ended that five-game stretch with a big exclamation point this past week, catching five balls for 107 yards and a touchdown against the Carolina Panthers. Williams is the man to own in Tennessee and is worthy of some starting lineups at this point.
Vincent Brown, WR, San Diego Chargers (one percent owned, ESPN)
I'll make this simple. Brown had a great game against the Raiders this past Thursday night, with five receptions for 97 yards and a touchdown. He nearly had another 33 yard touchdown to add to that total, if it weren't for an instant replay reversal. Either way, the kid is really stepping up his game and has been playing nonstop with Malcom Floyd out with an injury.  Floyd is notorious for being injured, so I wouldn't be surprised to see this kid make a lot more starts the rest of the year. 
While Phillip Rivers isn't his usual self this year, he's still fourth in the league in average yards per game, which means big fantasy preformances for the guys he's throwing to. So, imagine what Brown could do for you (pun intended) if Rivers gets hot. I'd add him in all leagues and start him if Floyd sits.
Santana Moss, WR, Washington Redskins (59 percent owned, ESPN)
Moss fractured his hand in Week 7 and has been standing on the sidelines ever since. However, word came out this week that Moss could be healthy enough to return to the Redskins in Week 12. Despite the complete mess Washington's quarterback situation is, Moss has always been start-worthy in fantasy leagues. Grab him now, while you can, if the team that drafted him dropped him back in Week 7. You won't regret it.
Moss averaged nearly five catches and 57 yards a game during the first five games, scoring two touchdowns in the process.
Dexter McCluster, RB, Kansas City Chiefs (19 percent owned, ESPN)
Matt Cassel is likely out for the year after undergoing surgery on his throwing hand this week. That means journeyman Tyler Palko will start for the Chiefs going forward. If that is the case, then there is going to be a lot of "checking down," which is great news for Dexter McCluster.
In fact, Palko played the last drive of the game against the Broncos on Sunday, taking the Chiefs 55 yards down the field for a field goal. On that drive, Palko threw five passes, four of which he completed to McCluster for 30 yards. McCluster also had eight carries in the game, one less than starter Jackie Battle, which could also be a positive sign going forward. 
McCluster should be added in every PPR league if available and is worth a flier in standard leagues as well. This week, the Chiefs play the Patriots, and will probably be playing from behind, which means a lot of action for the receiving back McCluster.
Yellow Light
John Skelton, QB, Arizona Cardinals
Skelton has looked pretty good starting in place of the injured Kevin Kolb. In fact, Skelton has averaged almost 270 yards passing in two games while throwing four touchdowns versus two interceptions. Not to mention the Cardinals won both games.
Given that Kolb is considered an average quarterback, but couldn't lead the Cardinals to two victories in seven tries, I'd say this Skelton guy is worth noticing. He seems to have the "it" factor, which is so important for a quarterback to have. If you are really hurting for ideas, Skelton might be worth picking up, to see how he does against one of the best defenses in the league this coming Sunday (49ers). 
If Skelton does well, he may lock up the starting quarterback job for the Cardinals in the process. He should be worth starting after that, given that he throws to one of the league's best wideouts, and doesn't lack for arm strength.
Andre Roberts, WR, Arizona Cardinals
Roberts wouldn't normally be worth mentioning, except that when John Skelton is under center, he does remarkably well. Something has to be said about this chemistry which Roberts and Skelton have, as shown by their numbers. In Skelton's past three full starts (not counting the last game of the year last year when Skelton was injured midway through the game), Roberts has averaged five catches on eight targets and 73 yards receiving. 
While I wouldn't start Roberts just yet, if Skelton were to win the starting gig at any point of the season, I definitely think Roberts is worth a flier. Keep an eye on this situation.
Lance Ball, RB, Denver Broncos
With both Willis McGahee and Knowshon Moreno hurt, Lance Ball got a monster share of carries this past week versus the Chiefs. In fact, Ball carried the football 30 times for 96 yards. While that makes for an average of just 3.2 yards per rush, which isn't anything to "wow" at, touches are touches, and if he continues to get a high amount like this going forward, he's worth a look. 
Knowshon Moreno is done for the year, but Willis McGahee may return as soon as this week, which would limit Ball's chances for double digit carries. Still, he's worth monitoring.
Kevin Smith, RB, Detroit Lions
Smith was signed by the Lions out of desperation a weeks ago, as Jahvid Best has yet to return from a concussion, and backups Maurice Morris and Keiland Williams failed to impress in Best's absence.  Smith looked good in his first action this past Sunday, gaining 29 yards on six touches. 
If Morris continues to flounder, Smith may earn the starting gig before long, as long as Best does not return. But I think you can see why I am on the fence about this one, as there is a lot of uncertainty here. For teams really hurting at running back, Smith may be an answer, though.
Follow Andrew McFadden on Twitter @andrewmcfadden
And on facebook at FantasyFootballersAnonymous