TUF 14: Team Bisping vs. Team Miller Live Results and Analysis of Episode 9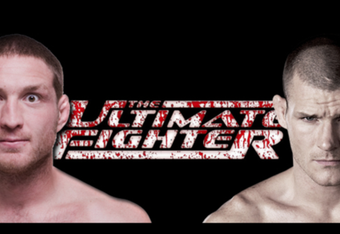 The Ultimate Fighter: Team Bisping vs. Team Miller is slowly drawing to a close ahead of the live finale on Dec. 3 in Las Vegas, but there's still plenty of action to go.
Dennis Bermudez out-blasted and outlasted Akira Corassani to give Jason Miller one half of the featherweight final. Corassani, much like his coach Michael Bisping, had been doing all the pre-fight talking, but it was Team Miller's competitor who snatched the victory via guillotine choke and got to do the post-fight bragging.
He also gets to advance to the finale at the Palms where he will face the winner of the explosive Diego Brandao and the hectored Bryan Caraway.
Before we fill out the other half of the featherweight pairing, there's some business to address on the 135-pound side of things.
There are still four bantamweights alive with John Dodson set to grapple with Johnny Bedford and Dustin Pague squaring off against T.J. Dillishaw.
Both Bedford and Pague will be the sentimental favorites given Dodson's duplicitous performance in the house and Dillishaw's arrogant, self-centered attitude.
Of course, Dodson and Dillishaw also appear to be the actual favorites, since both have above-average pedigrees and have looked polished in the cage.
Whether or not perception is reality remains to be seen, but it has sure seemed like little John and T.J. boast fight games that are more developed than their opponents.
Which only makes the possibility of an upset more intriguing.
So tune in tonight at 10 p.m. ET/7 p.m. PT and join us as Bleacher Report brings you live commentary on the next installment of The Ultimate Fighter.
Eh, kind of a downer of an episode—the sideshow circus wasn't in town and the fight wasn't all that scintillating.

But after eight rip-roaring installments, the fellas can be forgiven one mulligan.

Especially when we get the last two scraps of the season next week.

Thanks for following along and see ya next week.

Same place, same time.
Cue the annoying antics from Michael Bisping.

Or not.

Color me staggered.
Dustin Pague no longer looks fresh as a daisy unless fresh daisies bleed profusely from their faces.

Not that it matters.

Dillishaw dominates the final round precisely as he dominated the opening two—with a little hand-to-hand combat at the outset, a takedown and then more ground 'n' pound.

Dillishaw takes the third round by the same comfortable 10-9 margin and wins the most boring one-sided contest I can remember.
Round 2 is eerily familiar—Pague comes out striking and lands with a few nice shots, but Dillishaw answers before putting Dustin on his back.

From there, it's a carbon copy of the first five minutes with T.J. dominating and his adversary doing just enough to avoid a stoppage. Another 10-9 round for Dillishaw and, since it's a semifinal bout, we get "treated" to a third round.

Hurray…
Pague looks quite a bit better than I expected; he ate quite a few solid-sounding elbows and hammerfists, but he seems fresh as a daisy.
Pague almost manages to re-take his feet with two minutes left in the round, but T.J. puts him back on his rear at the last second.

Wow, talk about a yawner—even the gym sounds like it's asleep.

Team Miller's man finally gets back to his feet with about 30 seconds left, but it's far too little too late in an easy 10-9 round for Dillishaw and Team Bisping.
It's probably a bad sign that Mayhem Miller's most consistent advice to Dustin Pague has been, "protect your face."

We're going on about two minutes of Dillishaw on top of Pague with not a ton happening besides T.J. racking up the points.
Incidentally, Team Bisping must really dislike T.J. Dillishaw because there is literally nobody making a sound outside of T.J.'s coaches. It's so quiet, you can hear the Count taking Miller's bait rather than guiding his competitor.
And we're off!

Dillishaw is actually more than holding his own on his feet, mixing his punches and levels well, but he eventually goes to his bread and butter. He scores with his first takedown and manages to retain top control despite a valiant attempt by Pague to reverse immediately upon hitting the canvas.

Some nice jiu-jitsu from Team Miller's entrant almost gets Pague out of the early stages of trouble, but Dillishaw maneuvers well and maintains top position.

From there, it's your classic ground 'n' pound while the poundee thrashes about, looking for a submission attempt or at least a window to escape the dominated position.
Yahoo, we've got a Brittney Palmer sighting, which is always a good thing.

Not quite as good as Arianny Celeste, but I guess Brittney will do…
Upon further review, I'm going with Mayhem Miller's take on the situation—Dillishaw might indeed win, but I don't think it's gonna be easy and I wouldn't be surprised if Pague authored the upset.

T.J. might have the edge on the ground, but I like Dustin's striking and his jiu-jitsu doesn't look too shabby.

I also get a bit of a fraudulent air from Dillishaw—he says he's been in lots of big fights so this one will be "normal" for him, but that's demonstrably untrue.
Pretty serious staredown; no trash talking or other shenanigans.
Jason Miller just said that Team Bisping's confidence in Dillishaw versus Pague is "misplaced."

Such a simple phrase, but one that would've been butchered or alien to most professional athletes. It shows how wrong the casual observer is about the sport of mixed martial arts—many, possibly most, of its practitioners are intelligent and articulate individuals.

Even an hombre like Michael Bisping fits that description.
Let's clear something up—I don't like T.J. Dillishaw's attitude, but you can't take anything away from homie's game.

He might be a wrestler at heart, but he looks pretty slick in all facets.
I don't know what to make of Tiki Ghosn—seems decent enough, but he also follows his fighters around like a little puppy and emulates a lot of their characteristics.

For instance, he talks in shades of hype a la Bisping and Quinton Jackson, but it sounds even hollower coming from him because he's not a fighter. Whereas the fighters always seem to have convinced themselves (to some degree) of the hype such that it seems minimally genuine, but sound bytes like "he's the best wrestler in the house" sound like transparent sales pitches from Tiki.
That was high comedy because you know—you KNOW—taking a digger like that with the cameras rolling is just eating Bisping up inside.

He can play it off as he's wont to do, but his brash personality comes from insecurity so authoring one of the greatest UFC bloopers of all time must be just crushing for him.
Oh wow, that couldn't have been more perfect if it had been scripted.

The Count is acting the fool in the wake of his victory in the challenge, hops off the air hockey table onto which he'd jumped to celebrate and winds up flat on his back.

That fall was so epic, my initial reaction was concern…and it lasted all of a nanosecond before the laughter started.
I don't know if it qualifies as a talent, but Michael Bisping might be the most obnoxious competitor I've ever seen. Doesn't matter if he's fighting, coaching or playing damn air hockey.

The guy is just a world-class jackass when winning and losing are at stake.

Or 10 grand in cold, hard cash.
Holy crap, what are those shorts Jason Miller is wearing?

Those are more embarrassing than his air hockey exhibition.
I agree with Dana White—I love the coaches' challenge.

Mainly because it's usually an actual sport and it's hilarious to see pro athletes look awkward during physical activity, but also because everyone gets so into it.
Coaches' challenge is air hockey, but let's talk about the venue—I believe that's the Ghost Bar that sits atop the Palms Casino off the Strip in Vegas. My buddies and I were there several years ago and it didn't end well, though it could've ended much worse.

Let's just say there was an enormous bouncer, a passed-out friend, an ambulance ride to the hospital and a catheter all involved.

Thankfully, I wasn't in the back of the ambulance or on the end of the catheter.
I've eaten a lot of bizarre stuff, including a fish's eyeball, but I think I'd draw the line at a living anything. Something about biting down on something that's alive really doesn't appeal to me.

Though I suppose a little bug would be the least of all evils.
Here's the thing with all that God and Jesus talk—at a certain point, don't you just tune it out? I mean, I can only hear so many athletes say "it's God's will" or "it's God's plan" so many times before it's all white noise.

And doesn't that trivialize something that should be profound?
Sounds a little like Mayhem Miller is grasping at straws here—he says Pague immediately uses new moves in competition as well as sparring, but Dustin's only had two fights since entering the house.

So how many moves could he really have learned, then deployed?

Still, I hope Mayhem's right because I don't like what I've seen from Dillishaw so I'm in Pague's corner.
Fair point by Johnny Bedford about how MMA attracts people from all walks of life and temperaments, but don't think it's gonna convince the skeptics.

All they see is the blood and that, apparently, is too barbaric.

If only MMA could replace the superficial wounds with insignificant little things like concussions…
This article is
What is the duplicate article?
Why is this article offensive?
Where is this article plagiarized from?
Why is this article poorly edited?