Cowboys vs. Redskins: TV Schedule, Live Stream, Radio, Game Time and More
November 16, 2011
Ronald Martinez/Getty Images
The Dallas Cowboys will hit the road in a crucial division matchup against the Washington Redskins, and it's a game they cannot afford to lose. 
Earlier in the year, the Cowboys narrowly escaped defeat against the Redskins in Dallas, and now they must play in Washington. 
The Redskins are on a current five-game losing streak, and they will be extremely motivated to right the ship and get a win over one of the teams they hate the most. 
As for Dallas, it needs this victory to prevent the New York Giants from running away with the division. 
With that said, let's take a look at some specifics of this NFC East showdown. 
When: Sunday, Nov. 20 at 1:00 p.m. ET 
Where: FedEx Field, Landover, MD
Watch: FOX
Listen: KLRD 105.3 FM in Dallas, WTEM 980 AM in Washington D.C.
Live Streaming Audio: NFL.com Audio Pass ($29.99 for year, $27.99 team specific, $9.99 a month)
Betting Line: Cowboys (-8) 
What's at Stake? 
The Redskins don't have anything to lose, as their season has taken a turn for the worse with a 3-6 record. Since this is an intense rivalry, the Redskins will be ready to play and they could easily catch the Cowboys off guard. 
For Dallas, if the Cowboys falter it will not bode well moving forward. They've had their ups and downs this season, and if they falter here their chances of reaching the playoffs will begin to dwindle. 
Cowboys Injury Report 
Miles Austin (hamstring), WR: Questionable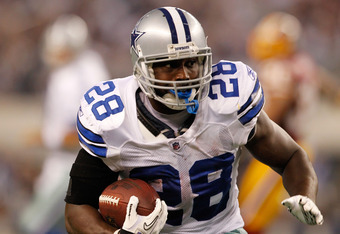 Tom Pennington/Getty Images
Felix Jones (ankle), RB: Questionable 
Mike Jenkins (hamstring), DB: Questionable 
Redskins Injury Report  
Leonard Hankerson (hip), WR: Out for the season
Tashard Choice (hamstring), RB: Probable
Santana Moss (hand), WR: Out
Fred Davis (ankle), TE: Probable 
LaRon Landry (Achilles), S: Probable
London Fletcher (ankle), LB: Questionable 
Fantasy Start 'Em, Sit 'Em, Sleeper 
Start: DeMarco Murray, RB
While it is believed Felix Jones may suit up and play, Murray is going to be the feature back. Jones torched the Redskins for over 100 yards last time these two teams played, and Murray will have just as much success if not better. 
Murray has rushed for 135 or more yards in his last two games, and the Cowboys will keep giving him the ball because he cannot be stopped right now. 
Sit: Tony Romo, QB
The Redskins pass defense ranks No. 9 in the NFL, and they will be prepared to limit Romo from an explosive performance. Romo's had the comfort of playing at home the last two weeks, and he's in for a beating in Washington.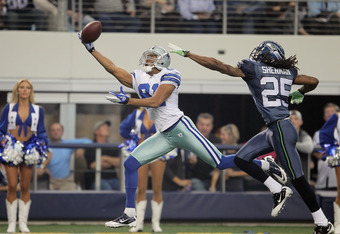 Jeff Gross/Getty Images
I understand that some of you may have to start him because he might be all you have, but I just don't think he'll blow anyone away on Sunday. Besides, the Cowboys are going to run the ball a bunch, which hinders Romo.  
Sleeper: Laurent Robinson, WR
With the uncertainty of Austin over the last few weeks, Robinson has stepped up big time, catching four touchdowns in the last three games. He isn't owned in a lot of leagues, so hit your waiver wires to see if you can pick him up. 
I know I just said to sit Romo, but that's because I think he'll throw a few picks and only one touchdown, which could easily be to Robinson.
Another sleeper to consider is Jabar Gaffney of the Redskins. With Hankerson out, somebody has to step up in the passing game, and Gaffney is the Redskins' best option. 
What They're Saying 
Brandon George covers Cowboys for The Dallas Morning News, and he tweeted the latest news on Felix Jones.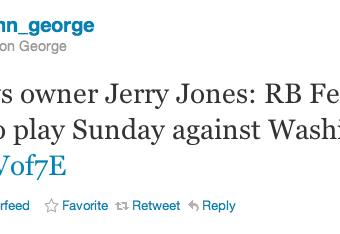 Just because Jerry says it, doesn't necessarily mean it's going to happen. In the article, he talks about how he isn't too sure if Jones will be all that productive, but it's definitely a good sign he is healthy enough to even be considered to return.
Jones is focused on his health and rightfully so. The minute Murray stepped in and shocked everyone by rushing for over 250 yards, Jones knew his production was going to decrease.
It's nothing new for Jones though, as he has been splitting carries for most of his career. First it was with Darren McFadden in college at Arkansas, and up until this year he shared time with Marion Barber.
Still, though, this is positive news for the Cowboys moving forward because of the talent Jones has, and having a one-two punch at running back will work wonders for the entire team.
Rich Campbell covers the Redskins for The Washington Times, and he tweeted a quote from head coach Mike Shanahan on the performance of quarterback John Beck.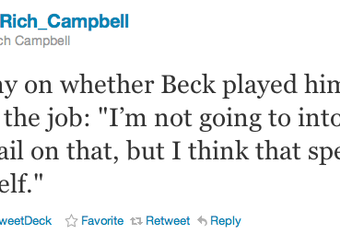 Rex Grossman took all the snaps in last week's game, but prior to that, John Beck was the main guy, starting in three straight games. His play was weak, and the Redskins only managed to throw two touchdowns but had four interceptions. 
Shanahan has gone back and forth with his quarterbacks this year, and it hasn't worked out too well. He's frustrated with the losing streak, but can't do anything with two less-than-stellar quarterbacks.
Cowboys Player To Watch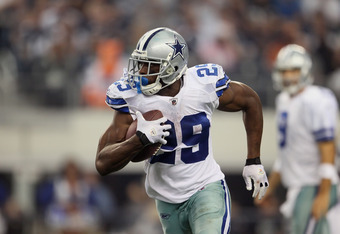 Jeff Gross/Getty Images
DeMarco Murray has been such a bright spot for the Cowboys, and it's hard not to admire his work ethic. A true force with the ball in his hand, Murray is averaging eight yards a carry in his last four games. 
If the Cowboys are going to thrive on Sunday, it will come at the ends of Murray, who is averaging nearly 20 rushing attempts since taking over the starting job. 
Redskin Player To Watch 
Joel Auerbach/Getty Images
Rex Grossman hasn't been announced as the starter, but Beck's last few starts were awful, which is why I think Shanahan will go with Grossman. 
It was Grossman who got the start against the Cowboys earlier in the year, and while he wasn't superb or anything, Grossman completed 77 percent of his passes and kept the Redskins in the game. 
This time around, Grossman has to close out the game if given the opportunity. His days as a starter in the NFL are thin, which is why he needs to shine on Sunday, or it's back to the bench.
Key Matchup 
The Redskins run defense ranks No. 18 in the NFL, allowing an average of 120 rushing yards per game. Washington's defense front vs. Murray is the matchup to watch all game long. 
Murray has been lights-out recently, which means the Redskins have to find a way to shut him down. If he produces at a high level on Sunday, the Cowboys will chew the clock and thwart Washington from having much success.
On the Hot Seat 
Shanahan has very little patience with his quarterbacks, which is why Grossman is on the hot seat.
He won the job back after Beck was atrocious for three straight weeks, but Grossman didn't help his case last week, only completing 58 percent of his passes, zero touchdowns and two interceptions against a one-win Miami Dolphins team. 
Prediction 
The Redskins know how important this game is to not just them but also the Cowboys. They'll be inspired to play well, but the lack of offense will prevent them from achieving much. 
In the end, the Cowboys run game will be too much for the Redskins to handle, and Dallas gets closer to the NFC East lead. 
Cowboys 24, Redskins 13