Nebraska Football: The Future Looks Bright for the Cornhuskers
November 16, 2011
Justin K. Aller/Getty Images
With two more games to play in the 2011 college football regular season, it might be a little too soon to start talking about next year.
For the Nebraska Cornhuskers, though, next year might be an exciting thought. 
But it's not because the Huskers have had a disappointing year, because overall they haven't.
At 8-2 (4-2) and one game behind the Michigan State Spartans, the Huskers' Big Ten title hopes are still hanging on by a thread. Nebraska must travel to the Big House to take on the Michigan Wolverines this week, while Michigan State gets an easy contest against the Indiana Hoosiers.
But if the Huskers somehow pull off a win against Denard Robinson and the Wolverines, things could get interesting with the Spartans playing upset-minded Northwestern on the road (both of their losses have come on the road this year) and the Huskers getting Iowa at home.
As unlikely Nebraska's chances are, though, they are still projected to earn a bid to a January bowl game, such as the Outback, Capital One or Gator Bowl.
Considering all the changes made this past offseason, that would have to be seen as a decent accomplishment.
The real reason Nebraska should be excited about next year is the potential for having a really, really good team. That potential starts with Huskers quarterback Taylor Martinez.
Against Penn State this week, who played very inspired football in the wake of the major scandal that ended up with Joe Paterno's firing, Martinez had one of the best games of his career. The sophomore has begun to string some very good performances together, starting with Ohio State and continuing against Michigan State, Northwestern and Penn State.
Martinez is gaining confidence with each passing week, and the most impressive part about his recent play is that three of the best performances of his career have come against some very good defenses in the Buckeyes, Spartans and Nittany Lions (who ranked third in the nation in scoring defense).
Furthermore, although Martinez's passing percentage is nothing to get excited about, his receivers have had a very negative effect on that number recently, dropping at least seven passes over the past two games. He has accumulated 2,456 total yards and 19 touchdowns.
Beyond Martinez, the Huskers will return all-everything running back Rex Burkhead, who has accounted for 1,202 total yards and 16 touchdowns, as well as the trio of speedsters behind Burkhead, who should all see a much-increased role in the offense.
Nebraska's receivers have been disappointing as of late, but overall they've played much better this year. If they can cure their current case of the dropsies (which plagued them all year last year), they have the potential to be one of the most dangerous receiving corps in the nation in 2012.
Redshirt freshman Kenny Bell has established himself as one of Martinez's top two targets over the past few weeks, and promising players Jamal Turner and Quincy Enunwa will also return next season.
The young offensive line, which has steadily developed into a very good and occasionally dominant unit, returns most of its pieces next season and could continue to build upon its success. Tight ends Kyler Reed, who is beginning to see his offensive role increased after getting healthy, and Ben Cotton, who is an excellent blocker on the outside, will both be back as well.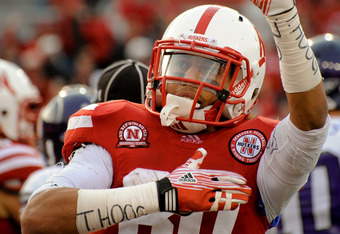 Eric Francis/Getty Images
When you look at all the pieces that are returning for this unit and consider the fact that they will have a year under their belt in the new offense, it's hard not to be excited about the possibilities.
Defensively, an initial look at the players who are leaving might make Husker fans nearly wet their pants.
Star linebacker Lavonte David, cornerback Alfonzo Dennard and defensive tackle Jared Crick, all three of which are likely to be high draft picks, will be absent from next year's squad, which will leave gaping holes for head coach Bo Pelini to try and fill in the offseason.
Although those are very, very big shoes to fill, there are a few things to consider that should calm the nerves of Big Red fans, at least for now.
First of all, the Huskers currently have three linebackers in this class, all three of whom look very promising, and a fourth will likely be added. The most likely of these players to make an immediate impact is 4-star JUCO recruit Zaire Anderson.
Anderson has accounted for 83 total tackles, including 12 tackles for loss and three sacks, in just 10 games, and given Nebraska's track record with JUCO recruits as of late (see Dejon Gomes, Lavonte David, Brandon Kinnie, Daimion Stafford, Yoshi Hardrick, Stanley Jean-Baptiste, Joe Carter), it's not difficult to see Anderson stepping in and starting right away.
In addition to that, junior Will Compton has begun playing much better lately, totaling 13 tackles against Penn State and 51 on the season.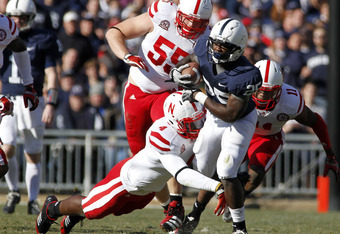 Justin K. Aller/Getty Images
At cornerback, the Huskers will lose Dennard but might be better at that position than many expect. With Andrew Green playing much better lately and Stanley Jean-Baptiste continuing to learn the position, the Huskers potentially already have two players who could start and do a good job.
Nebraska should also be getting talented 2011 cornerback Charles Jackson, who initially wasn't able to qualify, this spring. Jackson was projected by many to come in and make an immediate impact.
Another name heavily on Nebraska's radar is 4-star JUCO cornerback Mohammed Seisay, who apparently has significant interest in the program.
Along the defensive line, the Huskers have been thinning out because of injuries (most notably Jared Crick with a torn pectoral muscle), but the struggles might be a blessing in disguise. Many young players are getting extensive playing time, which will allow them to be better prepared for next season.
The Blackshirts look potentially more promising from a coaching standpoint as well. With the offense successfully establishing an identity and Tim Beck getting seasoned as an offensive coordinator, Bo Pelini might be able to stick his nose in the defense a little more and help return it to its former glory.
Nebraska can still have a relatively successful season despite the very low likelihood of going to the Big Ten championship, and it still has an outside shot for an at-large BCS bid going into the contest with Michigan.
But an analytical look at the components of the 2012 version of the Nebraska Cornhuskers should have fans pretty excited.