NFL Power Rankings: Teams That Will Surge Upward
November 16, 2011
Patrick McDermott/Getty Images
In the NFL, teams that win at the beginning of the season aren't necessarily winning by the end of the season.
There's a little phrase that describes these three teams: "peaking at the right time."
Here are three teams that will be playing their best football when the playoffs roll around.
Whether or not the Dallas Cowboys actually make the postseason is still in question, but they'll definitely make a serious charge at it.
A 4-4 start does not describe how talented this team is. DeMarco Murray has taken tons of pressure off the shoulders of Tony Romo and the Cowboys have an easy schedule to boot.
When they beat the Washington Redskins in Week 3, I got a feeling they might be good. A 44-7 destruction of the Buffalo Bills confirmed my thoughts.
Here's Skip Bayless' take on the Cowboys, which I agree with.
The Oakland Raiders are the most complete team in the AFC West.
The powerful running game of Darren McFadden—when he's healthy— and Michael Bush opens the field up for the powerful arm of Carson Palmer. Their defense is not as bad as the statistics suggest, as they proved their mettle in the first half against the San Diego Chargers.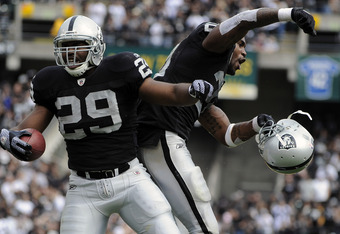 Thearon W. Henderson/Getty Images
The Raiders need to beat Minnesota, Miami, Kansas City and San Diego to win the division. They'll get the job done with solid game management mixed with some explosive plays on the outside.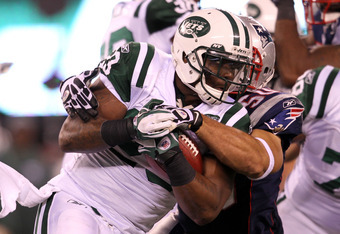 Nick Laham/Getty Images
Since the beginning of the year, I've been suggesting the New York Jets will meet the Philadelphia Eagles in the Super Bowl.
Although the Eagles' fourth quarter collapses have seemingly ended the season, the Jets are still my pick to represent the AFC in the Super Bowl. At some point, this team will recommit to running the football and letting Mark Sanchez make timely throws.
Once the Jets start getting pressure on the quarterback, they will start to win games.
An easy win over the Denver Broncos on Thursday will remind them how simple things can be when they trust the run.