Home Is Where the Heart Is: The 7 Line and Its Dream
November 16, 2011
It sucks. Honestly, it does.
Year after year, season after endless season. No matter how much faith you have, some way, somehow, the New York Mets seem to blow it.
Hi, my name is Frank Gargiulo, and I'm a Mets fan.
I'm not afraid to say it. I'm not afraid to wear the orange and blue. And, for my 24th birthday, I had the Mets "NY" permanently inked to my body.
Diehard? Yes. Fanatic? Yes. Tired of seeing the Mets not catching a break? Oh hell yeah!  
But, so what?
Every year, one way or another, your team is going to lose some games. You're going to throw your hat to the ground and scream up to the heavens. But still, when you get home, your love for that team and those nine guys out on that field will never change.
We're Mets fans. We're the reincarnation of them Bums from Brooklyn, and we're the little brother of the New York Yankees. Just like Luke had Vader and Superman had Lex Luthor, we have the Yankees. A team with their championship rings, their baseball legends—and let's not forget their cream-of-the-crop "fans."
One thing Yankees fans lack and Mets fans show is the pride they have for their team. Honestly, if you think it's easy to sport a blue cap with an orange insignia on the front in a city that is known for their other team's championships, it's not.
This past summer, I was introduced to a Mets fan that took pride for his team to a whole new level. Darren Meenan, a simple Mets fan whose addiction, other than the Mets, is Strawberry's bar and grill, created a line of clothing for the diehard Mets fan in all of us, and it's called "The 7 Line."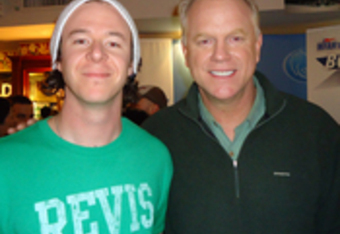 I was introduced to Darren this summer when voting on Facebook took place for a friend of a friend of mine to have a chance to be in Darren's Mets calendar. I checked out his site and honestly thought to myself that this guy had something going for him. Since the creation of his website, he's met notable Mets, as well as being on Boomer and Carton in the morning.
I was able to interview Darren about his site and how it all started.
1. More important than any other question, have you always been a Mets fan? In other words, do you bleed the orange and blue?
I do, but I wouldn't put it in those words. I feel that term makes it sound a bit cheesy. Of course, it is the truth, though.
One of my grandfathers (Bill Meenan) ran the press gate at Shea from before I was born until I was around 14. I hit hundreds of games in that time frame and it helped mold me into the fan I am today. My other grandfather (John Trypuc) worked for the phone company and ran all the lines inside Shea during its construction. He also had the job of checking in on the place to make sure everything was in working order between the dugout and bullpen.
They had some great stories and were both huge fans.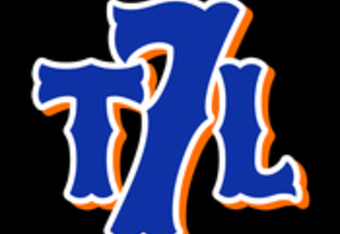 2. What made you take the time out of your day and come up with The 7 Line? Were you not satisfied with the current selection of Mets merchandise provided by Mets marketing?
I've had experience printing T-shirts since my senior year of high school. I learned the basics and started a brand called Manmade. It was for all my BMX friends and turned into a pretty big deal. I sponsored riders all around the country and had my clothes in a few different mail orders here in the states and overseas.
That brand fizzled out, but I was still running a printing business on the side. I'd make shirts for local bars, pizza joints, bands, teams, etc. and I decided to make a shirt geared towards the Mets and my disgust for the disappointing season they had in their inaugural year at Citi Field.
That turned into The 7 Line, and the rest is history. I wouldn't say I wasn't satisfied with the conventional team merch; I just wanted something different. Anyone can go get a Wright jersey at Modells, but you won't find a "Gettin' Shitty At Citi" shirt on their racks, though. The fanbase needed something like this and I'm glad they are embracing the brand.
3. I'm sure you have gone to plenty of Mets games in your life. Would you say that the atmosphere at Citifield is the same as it was at Shea, or has it taken another form?
The atmosphere was bound to change. The Mets built a beautiful ballpark with Citi Field. I loved Shea Stadium, but it definitely needed a facelift.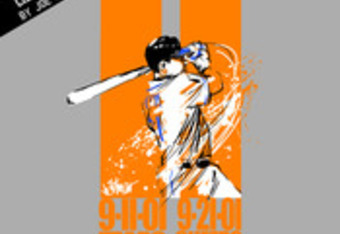 I feel like Shea was built to watch the ballgame, while Citi is more of an experience. It's a great place to bring your kids and family. There's plenty to do and you can basically see every pitch from anywhere in the park.
At Shea, if you left your seat and went to pee, you'd miss close to an entire inning waiting on the bathroom lines. Now, there's TVs everywhere and they have audio pumping throughout the place. It's a step up for sure...now they just need to win to make it feel more like home.
4. When you began The 7 Line, do you remember your very first design? Also, what design was it that made you say to yourself, "Hey, I can do this for a living"?
The first shirt was the one I was talking about earlier. It said "I SURVIVED," and underneath had all the letdowns from the previous few seasons, 2007-09. Under that it said, "Let's Go Mets 2010."
I realized I might be able to do this for a living once the website went live and I started seeing fans wearing them all around the stadium. That first shirt was released the last week of 2009 but I didn't really go full throttle until baseball started the next season. The Facebook and Twitter accounts were made in April 2010, and by June 2010 I was working on the brand full-time. Social networking sites really gave the brand legs and the word quickly spread.
After the Daily News ran a full-page story on me this past May, I knew it was time to get a part-time employee. I just couldn't keep up with the orders and it got pretty overwhelming. I personally print every shirt myself and there just wasn't enough time in the day to keep up between printing the shirts and packing the orders.
5. As some people might know, you recently had fans vote on their favorite girl model for your new Mets fan calendar. What made you come up with this idea and was it fun putting it all together? 
I thought that the fans needed something like this. I had the idea and really wasn't sure if I'd have enough girls looking to be a part of it. I really wanted them to be true Mets fans, so I did turn down a few girls after doing some research. In the end, I eventually got 33 girls who were interested and narrowed that down to 12 with an online poll.
The response was pretty outstanding. The site was getting over 5,000 hits per day and ended up crashing twice during the voting process. The servers just couldn't handle the sudden bombardment of fans trying to check out the girls. The cool part about the voting was that it was all done through IP addresses, so the same person couldn't vote more than once from the same computer or cell phone.
The process was fun but definitely stressful. Every shoot was at a different location and the time constraints were pretty tough. Tracking down the make-up artists, photographers, sponsors and scouting the locations was a long process. The calendar itself has the game schedule, with an orange shade indicating home and blue being away.
Next year, I will give myself more time to plan it out. Live and learn.
6. Have the Mets spoken to you about your merchandise in a positive form? If so, any offers from the Mets regarding you designing some of their merchandise?
They have, but not in a positive form. That first shirt I made was a problem because it included the word Mets. Although I've never used team trademarks, the word Mets, when having to do with baseball, is owned by MLB under their "word mark" trademark. They contacted me in June of 2010 and I quickly took it down from the site and redesigned it to just say LGM (the abbreviation of the team).
From then on, I just stuck with similar colors, and my logo is white, blue and orange in a baseball-looking font. The fans just know what The 7 Line is, so I don't need to write Mets on my shirts. I walk a fine line with what I do but it's working out.
I doubt the brand would get a nod to design merchandise for them since not all my shirts are positive. "This team makes me drink" isn't something they'd really like to get behind, you know?
7. What has been the best moment so far for The 7 Line?
I'm not sure of a best moment. Any time I go to a game and someone recognizes me and says, "Hey I like your shirts" it gives me a good feeling. I still feel kind of weird when people want to take a photo with me since all I do is make T-shirts, but it's definitely cool to see that what I do is appreciated.
My girlfriend likes to count the shirts she sees at each game. She got up to about 25 one night, and those were just the people we happened to walk past. The fans have been behind this from the start and I can only imagine what it can be like if the team actually has a few winning seasons.
The charity T-shirts were also something I am very proud to have have been a part of. The shirt for the Gary Carter Foundation raised over $2,600 and the 9/21 Mike Piazza HR that Joe Petruccio drew for us brought in close to $5,000 for Tuesday's Children. I also teamed up with R.A. Dickey on a shirt to raise money for the Kilimanjaro Outreach charity/Bombay teen challenge.
Those are all great causes. Check out the website to pick one up. 
8. Where do you see The 7 Line going from this point and beyond?
The brand grew pretty quickly but is still definitely still a baby. Although that first shirt was released at the end of 2009, the brand didn't really start until April 2010. I am just two full seasons into this thing, so the growth could be huge in the years to come. The 7 Line has a loyal, diehard fanbase supported by people around the world, and I can't thank them enough for being behind this.
The 7 Line is a company, but I like to run it like a community. Everyone who wears one of my shirts is helping mold this into something they are a part of. When you walk past someone in the stands wearing a shirt from The 7 Line you instantly have something in common: You love the Mets, but still see humor in their flaws—and you probably like to drink a whole lot of beer.