Fantasy Football Week 11: Michael Vick and Your Injured Fantasy QB Updates
November 16, 2011
Rich Schultz/Getty Images
"Just When I thought I was out....."
You are forgiven if you don't immediately recognize a quote from The Godfather, Part III. Most folks just pretend nothing after happened after Part II.
Week 9 of the NFL season was kind to fantasy owners. Miles Austin was the only major fantasy football asset lost to injury and even his injury was just a 2-4 weeks kind of deal. After a week kindly dubbed "Hospital Week" earlier in the season, fantasy owners needed a break.
Entering the Sunday night game, Week 10 didn't seem like it had been that bad for fantasy owners. But by Monday afternoon, it was right back to the way it was. Fantasy assets are going down left and right. More importantly quarterbacks are going down. Losing a QB can effect every player on an offense.
If you think it's bad to just lose a starting QB to injury (Matt Cassel and Matt Schaub), there's actually a worse scenario. Sometimes, when an injured QB tries to play hurt, it's actually worse than him just letting the backup play. Both Ben Roethlisberger (broken thumb) and Matthew Stafford (broken finger) have broken digits on their throwing hands. Michael Vick has two broken ribs. Remember how much Tony Romo struggled earlier in the season with cracked ribs?
What should fantasy owners do? We're entering Week 11 and it's time to put the pedal to the metal to the pavement beneath the car, Flintstones-style. You don't really have the luxury of taking a "wait-and-see" approach unless your team is a lock for the playoffs.
Let's take a look at the QB injury situations around the league and how the value of the fantasy players around them will be effected: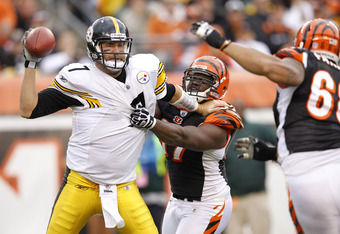 Joe Robbins/Getty Images
MATT CASSEL (Broken Hand)
Cassel is expected to miss the rest of the season. This is a huge blow to an already struggling Chiefs passing game. Tyler Palko replaces Cassel, but he's not a fantasy option.
This destroys the value of Jonathan Baldwin and Steve Breaston. Hold Baldwin in deep keeper or dynasty leagues. Breaston is just a WR4 in deep PPR leagues now, at best.
Dwayne Bowe is going to take a bit of a hit. It's possible that his receptions total might see a slight bump, but he's going to lose yardage overall and will score fewer TDs.
Jackie Battle could see a slight boost as the Chiefs lean even heavier on the run than they already are. Dexter McCluster could see increased usage as the Chiefs play from behind more often.
BEN ROETHLISBERGER (Broken Thumb)
Roethlisberger claims that he would play in Week 11 if the Steelers weren't on a bye. But they are. He should be able to play through the injury, but his ability to throw the deep ball could be affected.
Rashard Mendenhall might get a slight boost if the Steelers lean a little bit more on the run. Also, he could become more involved in the passing game if Roethlisberger's downfield range is limited for a few games.
Jerricho Cotchery and Heath Miller could see a few more targets if the Steelers shift to a more short or intermediate passing game. Cotchery might be worth a flier in deep leagues if you need help at WR.
Both Mike Wallace and Antonio Brown could take a slight hit in the short-term. But they'll be fine overall and are still worth using just like you have been using them. But keep an eye on the situation.
MICHAEL VICK (Broken Ribs)
With the current flack jackets available, NFL QBs have played with broken ribs. But Michael Vick's game depends on his mobility. And he takes more hits than any QB in the NFL. This just doesn't sound good. Vick says he suffered the injury early in the game against the Cardinals. If that is the case, you got an idea of what Vick playing with broken ribs looks like. (HINT: It was terrible.)
Vince Young is expected to start for Philly in place of Vick. Young is worth a speculative pick-up in deeper leagues. I mean, if Tebow can have fantasy value, why can't Young? Just don't expect some magical breakout game.
LeSean McCoy might see a boost in value as the Eagles finally lean heavily on the run. McCoy is already an elite RB and this could push him to the very top.
DeSean Jackson and Jeremy Maclin are both going to take a hit, especially with Jackson pouting over his contract and Maclin nursing multiple injuries. Neither are great starts in Week 11 against the Giants.
Jason Avant, Steve Smith 2.0 and Riley Cooper could all have chances against the Giants. Smith is probably the guy to pick up here. He has the best combination of skills, experience and practice time with Young.
Brent Celek could continue his recent level of production. He's a low-end TE1 in PPR leagues right now.
MATTHEW STAFFORD (Broken Finger)
Apparently, Stafford broke his finger back in Week 8. Thanks for the update. In Week 10, we got to see Stafford play with that broken finger. And it wasn't pretty. Stafford was wildly inaccurate and threw more TD passes to Bears defenders than he did to Detroit Lions.
Stafford is expected to play though this injury. If you don't have any better options, you're still starting Stafford. But if you have another QB with a great matchup, I'd probably bench Stafford right now. And it would be a good idea to stash Shaun Hill on your bench if you don't have another QB option.
The only effect this might have on the running game for the Lions is that Kevin Smith assumes a bigger role a bit quicker than expected. Running the ball more often and/or effectively would help take pressure off of Stafford. Smith could take over the "starting" RB job while Morris stays as the third-down RB.
Calvin Johnson will still be an elite fantasy WR. But he might not be No. 1 with a bullet for a bit. Don't panic or do anything stupid. There's nothing wrong with 100 yards and a TD.
Given how inaccurate Stafford looked, it's tough to trust Nate Burleson or Titus Young as anything but roster filler. Stafford isn't going to attempt 63 passes again any time soon.
Brandon Pettigrew is talented, but once again he has Tony Scheffler cutting into his production. It's worth hanging onto Pettigrew, but he's not a great start in fantasy right now.
MATT SCHAUB (Foot Injury)
This injury kind of came out of nowhere. Then it started pretty small. And by the end of the day, Schaub was basically out for the season. There's one silver lining here for fantasy owners; Schaub has really just been a "game manager" this season. The RBs do all of the heavy lifting. So he is replaceable. Both for the Texans and your fantasy team.
I don't know how much you can expect from Matt Leinart. But he's worth a pick-up. If you need help at QB or you own Schaub. Is he going to be a fantasy star? Nope. But could he pretty much replicate the 250 yards and 1-2 TDs per game Schaub was doing? Yep. So pick him up and stash him on your bench.
Arian Foster is so good, it's hard to see this making a huge impact on him. He's still an elite, top-5 fantasy RB. Ben Tate should actually see a bump up here. The Texans should run the ball even more with Schaub out. Because they can. Tate should be a flex option every week, even with Foster healthy.
Hey Jacoby Jones, Kevin Walter and Joel Dreesen! It was nice knowing you. See you on the waiver wire!
Andre Johnson is still a WR you want to start every week. Who knows, maybe he can continue to produce at an elite level. If you've held onto him this long, stay the course. If he starts in Week 12, you're starting him, regardless of the QB. If Larry Fitzgerald can do it with John Skelton...
Owen Daniels should at least continue at his current level of production if he doesn't increase it. Daniels is the best bet to offer Leinart a trusted target in the short-to-intermediate passing game.
Thanks for reading. Have anything to add to the discussion? Please use the comments feature below. Questions are welcome, but please be as specific and detailed as possible. Good luck to all of your teams this week.
And for the record, I actually prefer the way that Silvio Dante does the line over the original.
Follow John on Twitter
Check out John on Bleacher Report