NFL Week 11 Picks: Picking Each Divisional Showdown
November 16, 2011
Ronald Martinez/Getty Images
Nothing in the NFL regular season tops a bad-blooded divisional showdown. The foes that know each other best, always do the most damage.
Not only do these games count for a tad more in the standings (what with the tiebreaker system and all), they add fuel to rivalries years in the making.
Week 11's NFL slate offers us six such matchups across four different divisions, setting the stage for a round of full-throttle, coast-to-coast smack talk.
But you didn't come for the setup, you came for the picks.
Here they are, in all their sagacious glory...
Buffalo at Miami, 1:00 PM
Two teams heading in opposite directions, and not the directions you'd have expected two weeks prior. Early-season darling Buffalo looks lost offensively right now, and Miami's been surprisingly efficient the last few weeks.
That said, the Bills cure what ails them this week against a Miami pass defense rated 25th in the league. Ryan Fitzpatrick will exploit the same sort of intermediary routes Tom Brady abused in the Pats' season opener in South Florida en route to a big day.
Time to start earning those checks Harvard boy.
Buffalo - 27
Miami - 20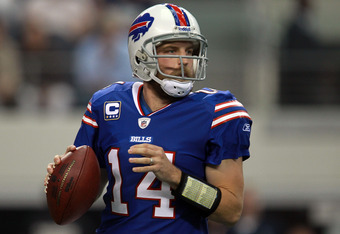 Ronald Martinez/Getty Images
Dallas at Washington, 1:00 PM
The punchless Redskins realize this is the biggest game left on their schedule this year and I expect them to fight hard on defense. The sledding won't be as easy for Dallas as it was against Buffalo last Sunday.
It still won't be enough to win this game, however. Washington's offense, which still hasn't topped 22 points in a single game, will sputter against a solid Dallas front.
Dallas - 19
Washington - 10
Cincinnati at Baltimore, 1:00 PM
Baltimore's looked great within the division this year and I expect that to continue against the upstart Bengals this week.
The NFL's third-rated defense, buoyed by the home fans, will harass Andy Dalton and force crucial mistakes. Though the rookie QB acquitted himself well against Pittsburgh last week, Baltimore on the road is a different beast.
Tigers beware.
Cincinnati - 13
Baltimore - 21
Seattle at St. Louis, 4:05 PM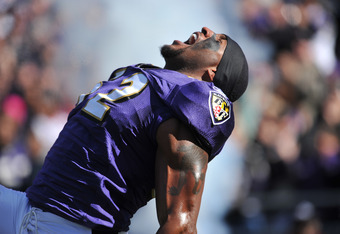 Larry French/Getty Images
I'm not sure how anyone scores in this game. Seattle's got a middle-of-the-pack defense, good enough to thwart whatever offensive the Rams mount. St. Louis, on the other hand, won't lose sleep over a Seahawks offense that's been held under 14 points in three of their five road contests.
Seattle had the better win last week, so I'll ride them this Sunday. No matter how this shakes out, don't expect fireworks.
Seattle - 16
St. Louis - 9
Arizona at San Francisco, 4:05 PM
Arizona's got some momentum, relatively speaking, after two close wins in back-to-back weeks. I wouldn't read too deep into the win at Philadelphia, though. John Skelton still threw two awful interceptions and without a couple of Philly miscues (turnovers and missed connections), I don't see the Cardinals winning that game.
The bad news for them is that they play the sure-handed 49ers this week, a team with the league's best turnover differential and fewest number of offensive giveaways.
Without the benefit of mistakes, Arizona will fall behind early on the road and won't recover. 
Arizona - 10
San Francisco - 24
Philadelphia at New York Giants, 8:20 PM
It's hard to call this game without knowing whether Michael Vick will play or not. If he does I see the Eagles rallying around him with their last gasp for the playoffs on the line.
If he doesn't, I see a defeated squad hanging their heads through a blowout road loss.
Remember, the last time these two teams played the Eagles led before Vick left the game with an injury in the fourth quarter. Without MV7 the Birds quickly fell apart and eventually lost by 13.
Vick's the key here, and I think he plays. Philadelphia in a squeaker.
Philadelphia - 28
New York - 26