NFL Power Rankings: Teams That Will Storm into Top 10
November 16, 2011
Andy Lyons/Getty Images
Staying near the top of the NFL elite is tough to do, but it's even harder to work your way up to the top with doubters questioning every success.
Making a name for yourself is hard for teams in the league, but it can be done.
Here are three teams that will continue their charge in Week 11.
Cincinnati Bengals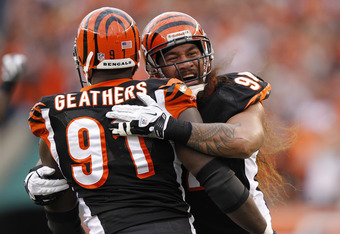 Joe Robbins/Getty Images
Win or lose, the Cincinnati Bengals will make a statement in Sunday's game against the Baltimore Ravens.
This will be a nail-biter, as the Bengals have been one of the best road teams this season. They are 4-1 away from Paul Brown Stadium, and need a solid showing in a divisional game. A loss will drop them to 1-2 in the AFC North, which they need to avoid.
Baltimore is really struggling to find their offensive identity. The Ravens haven't been sharp when their defense doesn't create points for them.
If Andy Dalton doesn't throw interceptions, the Bengals will leave Baltimore happy.
Chicago Bears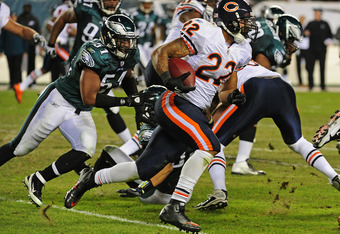 Scott Cunningham/Getty Images
The Chicago Bears have provided one of the most impressive turnarounds of the season.
Four straight wins for the Bears have them right in the thick of the NFC wild-card race, which is all they can ask for with Green Bay in their division. The offense is centered around Matt Forte, which is similar to what the Bears did in Forte's rookie year (2008). The Bears finished 9-7 that year.
The Bears will get the job done against San Diego this week, moving them into my Top 10.
Atlanta Falcons
Kevin C. Cox/Getty Images
Unfortunately for the Bears, the Atlanta Falcons will also make a statement in Week 11. The Falcons are also competing for a wild-card berth as the New Orleans Saints are running away with the division.
The Falcons will exploit the Tennessee Titans and their secondary on Sunday, vaulting them into my Top 10. Matt Ryan and Roddy White won't be denied for a second straight week, and the Titans are nowhere near the level of the Saints.
The NFC wild-card race will go down to the wire this season.
Tom Loughrey's Week 11 NFL Power Rankings 
1. Green Bay Packers 
2. San Francisco 49ers  
3. Pittsburgh Steelers  
4. Houston Texans 
5. New York Giants
6. New England Patriots
7. New Orleans Saints
8. Dallas Cowboys
9. Baltimore Ravens
10. New York Jets
11. Cincinnati Bengals
12. Chicago Bears
13. Detroit Lions
14. Atlanta Falcons
15. Oakland Raiders
16. Tennessee Titans
17. Buffalo Bills
18. Tampa Bay Buccaneers
19. Miami Dolphins
20. Philadelphia Eagles
21. San Diego Chargers
22. Denver Broncos
23. Seattle Seahawks
24. Arizona Cardinals
25. Kansas City Chiefs
26. Minnesota Vikings
27. Washington Redskins
28. Carolina Panthers
29. St. Louis Rams
30. Jacksonville Jaguars
31. Cleveland Browns
32. Indianapolis Colts