Week 11 Start 'Em, Sit 'Em: Plaxico Burress Will Stay in Double Digits
November 16, 2011
Tom Szczerbowski/Getty Images
Week 11 Start 'Em, Sit 'Em is really going to seem backwards in a lot of places. Plaxico Burress is on top of the start list and somehow Tim Tebow tops the sit list.
We'll look at 10 players that are likely making many of you unsure what to do with them, because let's face it, anyone saying Aaron Rodgers or Tom Brady are definite starts, are really just saying they're not injured.
Start 'Em: Plaxico Burress, WR, New York Jets
Burress is averaging just four catches for 47 yards-per-game. Not bad in PPR leagues, but his value comes when you throw in the four touchdowns in three games.
I don't love Mark Sanchez, but he's gotten the all clear to pass this season, and lately, it's clear he's become very comfortable throwing to Burress.
I'm not saying Burress will be your WR1 this week, but against a struggling Denver defense, he's a solid Flex or WR3. Possibly a WR2 in deep leagues with the byes here.
Sit 'Em: Tim Tebow, QB, Denver Broncos
I know he's been incredible in fantasy the last few weeks, and I know people are struggling with the bye week, but Tebow is a sit this week.
If he even thinks about passing the ball more than eight times against New York, he'll be met with interceptions.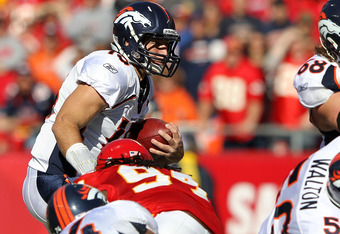 Jamie Squire/Getty Images
Unfortunately, that leaves the run game, and you can bet that the Jets will be looking for Tebow to run. The takeaway here is that unlike the past few weeks, the Jets are able to neutralize what Tebow does best.
Don't be surprised if Tebow can't even make double digits in Week 11.
Start 'Em: Lance Ball, RB, Denver Broncos
But I just said the Jets can stop the run, right?
Not exactly.
The Jets can keep Tebow in check, probably down to 70-80 yards, if he really runs a lot.
Ball is more than capable of rushing those 70-80 yards, definitely could see a touchdown and has no risk of interceptions.
Start Ball as a Flex or RB2 in deeper leagues or if you've got Arian Foster on a bye. He won't be on the front page, but he'll get job done.
Sit 'Em: Beanie Wells, RB, Arizona Cardinals
Beanie Wells has so much talent and so much dedication, but he's against a vicious San Francisco rush defense and is still plagued by an injury.
San Francisco has also shown their ability to score, which bodes even worse for Wells.
Since Skeleton displayed he can move the rock and Fitzgerald reminded us why he's such a respected receiver, there's a good chance Beanie simply doesn't get the ball.
Start him if you have to, but if you've got any other options, try to bench him for this week alone.
Start 'Em: Jay Cutler, QB, Chicago Bears
By now you must think I'm sabotaging my readers, but Cutler looked good when he was passing, it's just that Hester is such a monster on returns that Cutler spent most of the game running the clock.
Don't think San Diego will make the same mistake of giving Hester the ball repeatedly, though.
San Diego's defense looked worse than Indy's last week, but oddly Philip Rivers started remembering how to play well.
This all adds up to a high scoring game, and a heyday for Cutler owners.
Sit 'Em: Washington Redskins RBs
I keep saying this, and other writers keep arguing with it. Please save yourself here. Don't start Helu. Don't start Torain. Drop them and forget that Washington even has a team.
Let me throw a few scoring numbers at you for standard fantasy leagues.
Helu has broken seven points twice this year. Twice. I warned everyone in my article last week that Helu would flop, and sure enough, Torain gets the start.
Torain has broken three points only one time. How his name even comes up baffles me.
Usually I say to start a player in a bind or in a deep league, etc. Don't with Redskins RBs. It's no better than a gamble in a good week.
Start 'Em: Alex Smith, QB, San Francisco 49ers
Smith has looked awful most of the season, but Harbaugh has really helped him out.
Against an Arizona defense that will be throwing some points against them, expect Smith to throw a few passes and probably even a touchdown or two.
I'm not telling you to sit Philip Rivers or Mike Vick to play Smith, but if you're a Brees owner, he's a very solid pickup for this week and his matchup looks great.
Sit 'Em: Maurice Morris, RB, Detroit Lions
Matthew Stafford threw an astounding 63 passes last week, and as a result, Morris didn't see much of the ball.
However, Calvin Johnson didn't do a ton with the ball and neither did Pettigrew, so Stafford's go-to guys let him down.
Morris will see some extra touches this week, but it's likely that Carolina will put points up and Stafford will be right back to throwing it.
If Stafford gets within 20 yards of the end zone, expect Megatron to get the touchdown.
I can't imagine any situation where Maurice Morris makes double digits this week.
Start 'Em: David Nelson, WR, Buffalo Bills
Even if Stevie Johnson comes back and is 100 percent, Nelson is still a good play. If Johnson isn't 100 percent, Nelson could be a monster.
Fitzpatrick is a great QB, and after a struggling week, they'll come back with authority against a worthless Miami pass defense.
Nelson is making four catches a week and has a touchdown in two of the last three. There's no reason to think that his numbers won't go up against Miami.
Start him with confidence as a WR2 or Flex this week.
Sit 'Em: Nate Burleson, WR, Detroit Lions
Sit Morris and Burleson? I did say this week was a strange one.
I do expect Stafford to air it out against Carolina, which would typically bode well for Burleson.
But I expect Stafford to air it out to Calvin Johnson and his tight ends.
I could see Burleson grabbing five or six passes for maybe 40 yards, so if that's what you're looking for this week, by all means.
But for my money, there's much better players you can grab this week in the WR or Flex spots.