Partners
Ranking the Top 25 NFL Rookies Through Week 10 of the 2011 Season
November 16, 2011
With the NFL season more than halfway over and teams heading into Week 11, a number of rookies have made a substantial impact on their teams.
Players like Nick Fairley of the Lions and Jonathan Baldwin of the Chiefs were a little late to the party and are just starting to make their names now, while rookie quarterbacks are led by Cam Newton and Andy Dalton's impressive performances thus far.
Wide receivers A.J. Green and Julio Jones have certainly made their marks, and Von Miller and Aldon Smith are both making their cases for Defensive Rookie of the Year.
Here is a look at the NFL rookie rankings through Week 10.
1. Cam Newton, Panthers QB
2. Andy Dalton, Bengals QB
3. A.J. Green, Bengals WR
4. Von Miller, Broncos OLB
5. Aldon Smith, 49ers, LB
6. Julio Jones, Falcons WR
7. Marcell Dareus, Bills DT
8. Patrick Peterson, Cardinals CB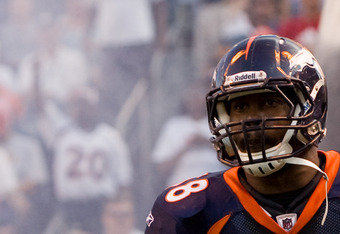 Justin Edmonds/Getty Images
9. Mike Pouncey, Dolphins C
10. DeMarco Murray, Cowboys RB
11. Ryan Kerrigan, Redskins OLB
12. Greg Little, Cleveland WR
13. Mason Foster, Buccaneers LB
14. Randall Cobb, Packers WR
15. Doug Baldwin, Seattle WR
16. Mark Ingram, Saints RB
17. Torrey Smith, Baltimore WR
18. Denarius Moore, Raiders WR
19. Daniel Thomas, Miami RB
20. Tyron Smith, Cowboys OT
21. Lance Kendricks, Rams TE
22. Delone Carter, Colts RB
23. Jabaal Sheard, Browns DE
26. Dane Sanzenbacher, Bears WR
25. Colin Cochart, Bengals TE
Like the new article format? Send us feedback!