Tiger Woods, Steve Stricker, Adam Scott, Steve Williams Paired at Prez Cup
November 16, 2011
Scott Halleran/Getty Images
Everybody thought the Tiger Woods/Adam Scott/Steve Williams pairing would be Sunday, but Presidents Cup captains Fred Couples and Greg Norman put it front and center on Thursday.  They alternated picks and after five matches were set for Thursday, it was apparent that Norman and Couples held Woods and Scott for the last match of day one.   
"I addressed it last week," Woods noted about the recent Williams flap. "I said, life goes forward, not backwards."
Adam Scott said before the pairings were announced that he trusted in Norman.  
"If Greg thinks it's the right match to put out there, just go out there, like I said, and try to win a point," Scott said. "I don't think there's too much point worrying about it. I have to play four hard matches and none of them are going to be easy."
Scott will play with K.J. Choi. They are both winners of The Players.
In the worst-kept secret of the event, Woods will partner with Steve Stricker. Woods believes Stricker is ready.
"He was hitting the ball a long way," Woods said of Stricker. "He hit the ball solid, had some distance and had some pop on his swing. The only thing that I was worried about was him trying to hit a ball down and hit the ball into this turf. This turf is not forgiving. It's pretty hard. He was beating the ball down so that's a great sign. He wasn't sore. Wasn't flinching. None of that. He was great."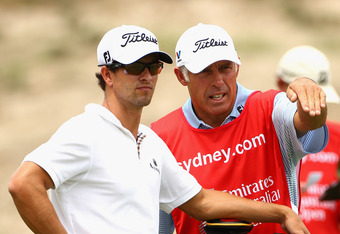 Ryan Pierse/Getty Images
Stricker said he is fine, physically, at this point and has had no further problems with his shoulder after getting a cortisone shot.  
"I felt like I had that six-week period to kind of rest and do some rehabilitation on it," he said about his status. "It's really a non-issue. It really feels a lot better. It's a good test these next few weeks. I go back to States, I have one week off, and I play a couple more events. I'll see how it goes in this next three- to four-week period."
Because Royal Melbourne is not a particularly long course by today's Tour standards, Woods has made an equipment addition, putting a 2-iron in his bag. That may also provide more accuracy off the tee.
In addition, he has been getting plenty of practice reps at home.
"When I was at home in between Fry's and the Aussie Open, I was playing a lot, playing 18—minimum of 36, sometimes every 54 holes a day just to get my feel back of playing, hitting shots and not really worrying about mechanics and just playing," Woods explained.
He said he had not been able to play that much golf before now and felt that was one reason why his results were improved at the Emirates Australian Open compared with Frys.com. He also said playing last week with his new swing tested his progress.
"Pressure, and a tournament situation, a lot of times that's out the window," Woods added about taking a new move from the range and practice rounds to competition. "Last week was a good test for it. It felt great on the weekend when I needed it."
Kathy Bissell is a golf writer for Bleacher Report. Unless otherwise noted, all quotes were obtained firsthand or from official interview materials from the USGA, PGA Tour or PGA of America.