Stanford vs. Oregon: Analyzing and Exposing the Oregon Offense
Ezra Shaw/Getty Images
Chip Kelly is a football mastermind.
Not only has he designed one of the most dominant offensive schemes in college football history, but he's also recruited some of the nation's premier talent to go along with his powerful offense.
After analyzing some game film from this weekend's Oregon vs. Stanford matchup, I finally realized what Oregon's all about.
Not only do the Ducks use their speedy offense to tire their opponents, but they also use it to circumvent blatant penalties that might be called against slower college football teams.
In this slideshow, I break down LaMichael James' 58-yard touchdown run and show you exactly what I'm talking about.
Pre-Snap 1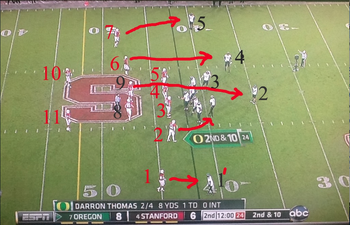 Oregon comes out with three receivers (two spread to the right, one to the left), one tight end (black No. 3) and LaMichael James (black No. 2) in the backfield.
It looks like Stanford is playing man-to-man on Oregon's receivers. At this point we're not sure what the Stanford safeties (red Nos. 10, 11) are playing, but it looks like zone.
Linebacker A.J Tarpley (black No. 9) looks like he's spying on James with Jarek Lancaster (black No. 8).
Pre-Snap 2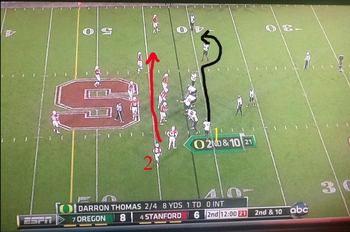 Quarterback Darron Thomas tells his receiver Rahsaan Vaughn (yellow No. 1) to come into motion, allowing Thomas to further read the defense.
Thomas sees Stanford cornerback Corey Gatewood (red No. 2) follow Vaughn step for step, now knowing Stanford's playing man-to-man coverage.
Pre-Snap 3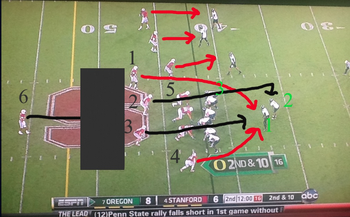 With Oregon QB Darron Thomas (green No. 1) lined up in front of LaMichael James (green #2), this looks like a zone-read.
Seeing this, Stanford safety Jordan Richards (black No. 1) creeps up, spying on Thomas. Meanwhile, Stanford LBs A.J Tarpley (black No. 2) and Jarek Lancaster (black No. 3) are respecting a handoff to James up the middle.
Stanford OLB Chase Thomas (black No. 4) looks to be rushing the passer.
Stanford safety Delano Howell (black No. 6) is responsible for:
1) Containing LaMichael James if he breaks through the second (linebacker) layer,
B) Protecting against the long ball if Darron Thomas goes deep to one of his receivers.
Snap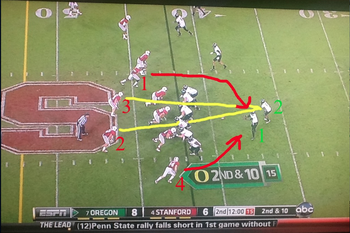 As Darron Thomas (green No. 1) receives the snap, Stanford safety Jordan Richards (red No. 1) sprints toward the line in an attempt to be in a position to sack Thomas if he keeps the ball.
At the same time, LBs Tarpley (red No. 2) and Lancaster(red No. 3) are in position to make a play if Thomas decides to hand off to LaMichael James (green No. 2).
Post-Snap 1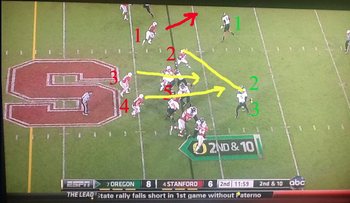 Oregon plays the zone-read. At this point, Darron Thomas has three options:
1) Handoff to LaMichael James,
2) Keep the ball himself,
3) Pass to receiver Lavasier Tuinei (green No. 1).
With safety Jordan Richards (red No. 2) in good position, Thomas realizes he can't keep the ball.
With Stanford DB Michael Thomas (red No. 1) creeping into QB Thomas' passing lane to Tuinei, that option is also wiped out.
Thomas' only option is to hand the ball off to James.
Post-Snap 2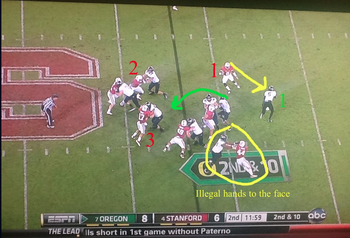 Darron Thomas (green No. 1) makes the right decision and hands the ball off to LaMichael James.
By this point, Oregon's offensive line is doing a good job of blocking Stanford's linebackers in the second level.
However, the referee misses a fairly blatant illegal hands to the face call on Oregon LT Darrion Weems.
Now, James has a running lane shaping up.
Post-Snap 3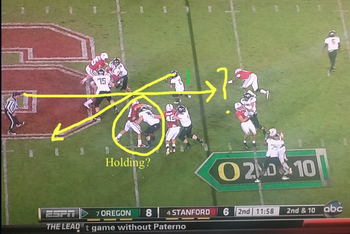 This is where Oregon gets away with a big hold. The referee is in a good position to make a call, but where is he looking?
Meanwhile, LaMichael James sees daylight.
Post-Snap 4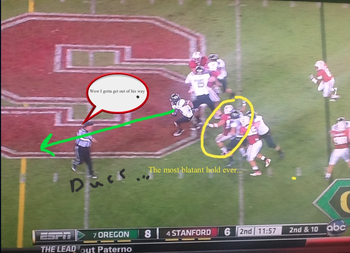 If that's not the most blatant hold in the world, I don't know what is.
This is how Oregon operates, though. Its speed probably even mesmerizes the referee, who, at that particular moment, is probably thinking he has to get out of LaMichael James' way instead of realizing Stanford's A.J Tarpley is getting held.
Oregon got away with a huge hold here—one that changed the game dramatically.
Post-Snap 5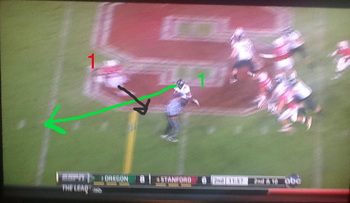 Stanford's last chance in stopping LaMichael James is safety Delano Howell (red No. 1), who takes a terrible angle in an attempt to tackle him.
Touchdown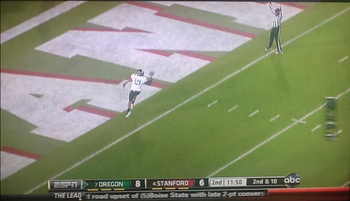 Once James gets into the open field, it's six points.
Keep Reading

Oregon Ducks Football: Like this team?