Avalanche at Penguins Live Blog: Tyler Kennedy, Dustin Jeffrey Return to Lineup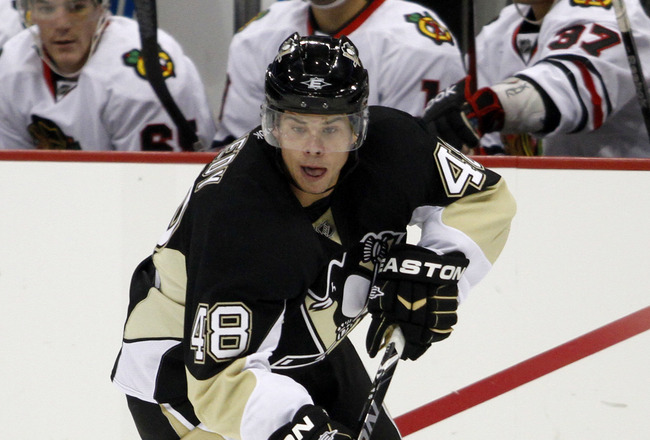 Justin K. Aller/Getty Images
The Penguins will get at least one player back from the IR Tuesday. Winger Tyler Kennedy, scratched since October with a concussion, is in the lineup against the Colorado Avalanche.
Forward Dustin Jeffrey has also been recalled from a conditioning assignment in Wilkes-Barre Scranton. Steve Sullivan will be a game time decision, with Eric Tangradi the likely odd man out.
Pittsburgh can move to first place in the Eastern Conference with a win.
There you have it. Penguins win 6-3 on goals from Malkin, Staal, Neal, Orpik, Letang and Dupuis. Matt Duchene and Malkin each with contestants for goal of the year. Penguins' ability to take over the game after trailing was incredible, scoring four goals in the third period and five unanswered. The Tampa Bay Lightning are up Thursday.
Looks like assistant coach Tony Granato spent the second intermission dispensing Alka Seltzer and various other hangover cures. Penguins lead 6-3 after Letang's shortside backhander. Penguins are absolutely flying now, and are about to go back onto the power play after Kobasew hooks up Malkin.
Floodgates opened, folks. James Neal scores his 12th of the season on the PP, Penguins now lead 5-3. After two of the dog-ugliest periods of their season, Penguins have scored three goals in less than eight minutes in the third. Back to the PP immediately.
And here we thought Matt Duchene had the goal of the game. 4-3 Penguins after Evgeni Malkin scores a goal of the year candidate. Just unreal. That's a play few guys in the league can make. Neal with an equally good assist.
That's the kind of start the Penguins wanted. All tied at 3 after Orpik blasts it through traffic and catches Jay McClement in the foot. After catching McClement, the puck turned into a 9-iron shot over Varlamov's shoulder. New game.
Despite playing one of their worst games of the season, Pens stifle the Avalanche in the second and manage to cut the deficit to one. If Penguins are going to get back into the game, they'll have to prevent Avs from winning the transition game and from playing quick north-south game. Also, Staal and Dupuis should account for nearly 10 minutes of ice time in third. Each has a goal and they've been impressive in all phases.
Staal and Dupuis need to get more time on the ice together. They are creating chances seemingly every time they're on the ice, and account for both Penguins goals so far.
Staal just took a monster shift on the PK. Backchecking, forcing turnovers, creating offensive zone chances. Great play in a matchup of top PP (Avs) and top PK (Pens). Penguins kill it and now go on the offensive.
Quite the soft tripping call on James Neal, likely to kill Pens' momentum following Dupes goal. One of those nights.
Well that was strange. 3-2 Penguins after a yard sale in front. Pascal Dupuis buries the goal after Varlamov fails to seal it. Little energy back into the crowd. Looks like if the Penguins are going to continue scoring tonight, it'll be off scrummy goals like the last one. Pens now coming with energy.
Nothing doing. Bylsma decided to start the power play with the second unit, who did nothing. Malkin and Letang led to some chances in second PP shift but Avalanche hold steady. Still 3-1, Penguins still apparently hungover.
Pens to the power play after O'Byrne puts a free hand around Staal and brings him down. Pens 0-2 on the man-advantage in first period.
Second period underway. Time to see if the Penguins come with more energy. Colorado absolutely owned the transition game, and uptempo plays to their strength. Pittsburgh will either have to outskate them or slow the pace.
Some box score madness for you. Eight Penguins skaters are a minus. Tyler Kennedy the only plus player. Chris Kunitz the worst at minus-3. The Avalanche are absolutely owning the transition game, something that doesn't happen to the Penguins. Wonder what Bylsma will have to say to his team after that showing. Team now allowed eight goals in last four periods.
Paul Martin is certainly having a $5 million dollar year. 3-1 Avs after David Jones turns Martin into a minus-12. Martin is having an absolutely Gonchar-esque season. A minus-5 with Michalek, his regular partner, and a minus-7 in games without him. And, yes, the Penguins' highest-paid defenseman.
2-1 Avalanche. Jordan Staal scores his 9th of the season. A momentum breaker, and huge goal before the end of the period. Staal, Cooke & Kennedy together for that goal. The best third (second) line in hockey.
2-0 Avalanche. Matt Duchene just made an unreal toe-drag move. Penguins looks absolutely listless, now been outscored 7-3 in last four periods by sub-.500 teams. The defense is struggling.
Kris Letang just deked a Colorado forechecker out of his skates. A small play that won't show up in the box score, but an absolute ankle breaker nonetheless.
Jay McClement scores, 1-0 Avalanche. Steve Sullivan not doing much to help down low. Avalanche came with energy after the 3-on-5 kill and got rewarded for their work.
Ugly. Penguins waste a 5-on-3, lacking all the creativity they've show at times this season. Still scoreless
TJ Galiardi takes what looks like a boarding minor, Orpik clearly not pleased. Not sure if that hug will get him a coincidental minor. With no punches thrown, Pens should be upset to lose that power play.
Bylsma keeps the 14-11-9 unit together, even though Kennedy traditionally plays alongside Staal. Not a bad move, as the Staal line has been wonderful lately. Kennedy with Park and Cooke on third unit.
Arron Asham and Cody McLeod scrap, no one a clear winner. Asham manages to put a nice cut on McLeod's forehead and nose, though.
Kennedy, Sullivan in. Jeffrey, Tangradi, MacIntyre scratched, per Penguins official site.
This article is
What is the duplicate article?
Why is this article offensive?
Where is this article plagiarized from?
Why is this article poorly edited?

Pittsburgh Penguins: Like this team?