Darrelle Revis Will Be Silent Against Tim Tebow, Denver Broncos' Option Offense
November 15, 2011
Justin Edmonds/Getty Images
All year in fantasy football, the best lesson to learn is never to play a receiver that's stuck on "Revis Island."
Darrelle Revis is by far the best shutdown corner in the league and deserves all the respect he can get.
However, on Thursday Night Football this week when the New York Jets travel to Denver to face off with the Denver Broncos, Revis will be all but ineffective.
If there is no high-caliber receiver for Revis to cover and almost no passing game to present a real threat, what will he have left to do?
Revis spoke via the New York Daily News on Tuesday about his views of the option offense in Denver.
He was asked if the option can work at an NFL level:
Yeah, if you have Michael Vick and Chris Johnson at running back. Yeah, it can work. Those are probably the two fastest guys that can get out on the edge.
So can it be effective with Tim Tebow at the helm?
No. Not for a whole season. We know what they're doing. And we feel comfortable in our game plan.
Funny that Revis thinks Tebow and the rest of Denver's offense can't successfully run the option, despite the fact that they've now run for 289 yards and 244 yards their last two games running this same offense.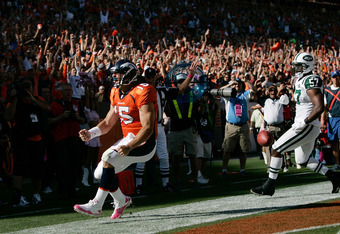 Justin Edmonds/Getty Images
The Raiders had no idea what was coming at them, other than a low-powered passing attack, when Denver came to town.
So that game makes sense.
And sure, the Chiefs aren't the greatest run defense, but they had all week to plan against it.
The Jets have less than four days between the end of the butt-kicking delivered to them by the New England Patriots on Sunday night and their game with Denver on Thursday.
To get back to Revis, he was limited in practice on Tuesday with a slight knee injury. He may be a step behind his normal pace on Thursday if this injury nags him at all this week.
It's definitely expected before a nationally televised game to hear plenty of chatter from both teams as the media does its best to pump up the showdown that will ensue.
I feel that after this game on Thursday, there won't be much for Revis to say other than a retraction of his previous statements.
Denver and career underdog Tebow are poised in perfect position to down the Jets and silence their critics—at least for one more week.
They get to stay home to practice and play on Thursday, while the Jets travel on a very short week.
And if this option offense continues the way it has the last two weeks—which it should, considering the adjustments and improvements head coach John Fox will be making this week to his tight ends and offensive line play—Revis should be a non-factor and Denver should cruise through their third consecutive win.