LSU vs. Ole Miss: TV Schedule, Live Stream, Radio, Game Time and More
November 15, 2011
Joe Murphy/Getty Images
The No. 1 ranked LSU Tigers will hit the road to take on the slumping Ole Miss Rebels, who just lost to Louisiana Tech. 
That marked the fifth straight loss for the Rebels, and they will have their hands full when the undefeated Tigers come into town. 
Houston Nutt is still coaching, despite the news that he will not return next season.
He has the chance to go out on a high note, as a win over the Tigers would be the greatest upset of 2011.
Unfortunately, that intense LSU defense will be ready to stop whatever comes there way. 
With that said, let's take a look at some specifics of this SEC West showdown. 
When: Saturday, Nov. 19 at 7:00 p.m. ET
Where: Vaught-Hemingway Stadium, Oxford, MS
Watch: ESPN, ESPN3.com
Listen: WNXX 104.5 FM in Baton Rouge, WQLJ 93.7 FM in Oxford
Betting Line: LSU (28.5) 
LSU Injury Report 
No new injuries to report. The Tigers have been blessed this season in regards to injuries, which certainly has helped them stay at No. 1 in the country. As for off the field issues, that's been a completely different story this year. 
Ole Miss Report 
Again, no injuries to report for the Rebels. However, center A.J. Hawkins was suspended last week for violation team rules, and his status in uncertain for this Saturday.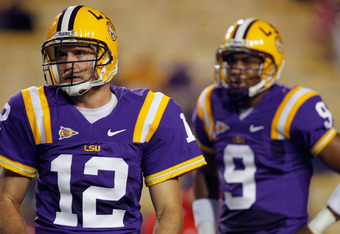 Chris Graythen/Getty Images
BCS/Top 25 Implications 
The Rebels are an after thought in the polls at this point in the season. There was hope they could pull some upsets this season, but 2011 has definitely been a failure. 
For the Tigers, they shouldn't have any issues in this game and they will remain at No. 1 in all the polls. They've proven they're the best team in the country plenty of times this season, and with only one test left on the schedule (against No. 6 Arkansas), they're on the brink of reaching the title game. 
What They're Saying 
Jim Kleinpeter covers the Tigers for The Times Picayune, and he had a series of tweets on Monday about what LSU head coach Les Miles had to say about last week and this upcoming game against the rebels.
One tweet in particular stood out, as it shows just how much Miles values some of his players.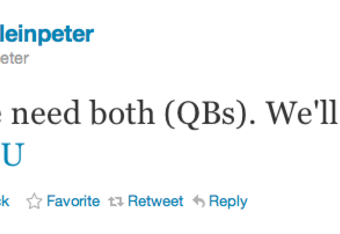 The system has worked out since Jordan Jefferson returned from his suspension, but one has to wonder if Miles would be using both Jefferson and Jarret Lee had Jefferson never been suspended in the first place. 
Jefferson was named the starter last week, and he'll likely stay there unless he screws it up. 
Miles is content with playing both and it will remain that way for the rest of the year, which could hurt them in the long run, as both players have been known to make mistakes in key moments. 
Hugh Kellenberger covers the Rebels for the Clarion Ledger and he tweeted Nutt's responses to a number of questions at his press conference. 
The best of the bunch was Nutt talking about his team and how this season they just haven't been all there.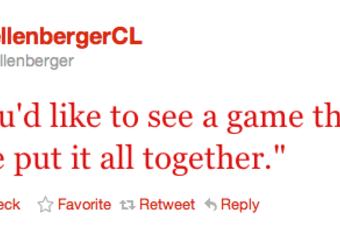 After losing to Louisiana Tech 27-7 last Saturday, it shows how much this team cares about playing for Nutt. The announcement about him not returning next year came entirely too early, as it ruined any chance Nutt had of motivating his team. 
Nutt will certainly try the routine of "let's shock the world," but his players aren't going to bite. They've been studying the Tigers all week, and they know how good LSU is. 
The Rebels haven't played sound football all season long, and they aren't magically going to start doing so just because they're playing the best team in the country. If the Rebels couldn't come to play against a WAC team that was favored to win, don't expect them to all of the sudden be a real football team against LSU. 
LSU Player to Watch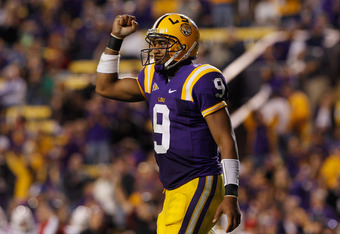 Chris Graythen/Getty Images
Jordan Jefferson is back as the starter, and even though he will split time with Jarret Lee, he is still the player to watch this week. 
The senior quarterback wasn't overly impressive in last week's game against Western Kentucky, but the Tigers did have a slow start. That cannot happen two weeks in a row, especially since the Tigers will be away from home this Saturday. 
Ole Miss Player to Watch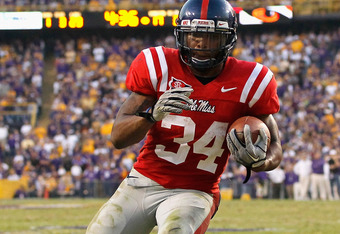 Kevin C. Cox/Getty Images
Brandon Bolden has to step his game up if the Rebels want any shot at pulling the upset. He's been banged up a few times this season, but having played in four consecutive games now, Bolden should be in a good rhythm. 
The senior running back has seen his numbers drop over the last few weeks, but the defenses' Bolden was up against aren't nearly as talented as LSU, which means Bolden has to find his inner workhorse and be better on Saturday or else the Rebels are toast. 
Key Matchup 
When the Rebels are playing good football, it means they're running the ball effectively. The key matchup this Saturday is Bolden and the Rebels run game against the nasty Tigers defense. 
LSU is ranked No. 3 in the nation against the run, only allowing 83 yards per game. Bolden has the experience against tough teams, so it will be interesting to see if he returns to old form and can out play the Tigers.
Key Storyline 
Will the Tigers avoid the upset? LSU has a very difficult game against Arkansas in two weeks, and it would be too easy to overlook the lowly Rebels, but that wouldn't end well. 
A trap game at it's finest, the Tigers must keep a level-head and stay focused on the task at hand, which is stomping the Rebels for the second straight year. Les Miles would love to hand Nutt a beat just one more time before he leaves the SEC. 
Prediction
LSU's defense will dominate for all four quarters, including multiple turnovers that lead to touchdowns for the Tigers. The Rebels will come out strong, but it will all fizzle away as the game moves on because the Tigers are just too good to handle. 
Tigers 56, Rebels 13