Georgia Southern vs. Alabama: TV Schedule, Live Stream, Radio, Game Time & More
November 15, 2011
Kevin C. Cox/Getty Images
The Alabama Crimson Tide are set for Senior Day against the Georgia Southern Eagles.
With the loss to LSU in the rear view mirror coach Nick Saban has to find a way to keep his players grounded before the Iron Bowl during Thanksgiving weekend.
That shouldn't be a problem for Saban.
The Eagles are no slouch. At 9-1 on the season they're currently ranked No. 2 in the FCS and won the regular season Southern Conference title.
The Tide seniors (and a few juniors) will play their last game in Tuscaloosa on Saturday.
Streeter Lecka/Getty Images
Where: Bryant-Denny Stadium; Tuscaloosa, Alabama
When: Saturday, November 19th at 2 p.m. EST
Watch: ESPN Gameplan
Live Stream: ESPN 3
Listen: Georgia Southern Radio Affiliates. Alabama Radio Affiliates.
Betting Line: Off
Key Storyline: Bigger Things
The Iron Bowl looms large for Alabama while the postseason looms large for Georgia Southern.
The Tide must not take anything for granted and need to put this game away early if they want to start focusing on the Tigers.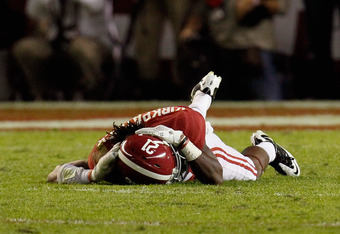 Kevin C. Cox/Getty Images
The Eagles will want to play them tough, but they also know they cannot risk injury to any of their players.
Who Might Not Play for Georgia Southern
None to report
Who Might Not Play for Alabama
Dre Kirkpatrick, CB - Questionable (Neck)
BCS/Top 25 Implications
Slim to none. Even considering an Alabama loss here is absurd. They would obviously plummet in the rankings and win virtually means nothing.
What They're Saying
The Tuscaloosa News talked about Senior Day at Bryant-Denny Stadium writing:
That the University of Alabama's senior class can establish itself as the winningest class in school history Saturday against Georgia Southern is fitting enough.

That it can do it on Senior Day is even more so.

Alabama's outgoing seniors are 45-6 in their careers, a mark that ties them with the 1994 Alabama class that also won 45 career games ... If UA were to pick up wins over Georgia Southern, Auburn and a bowl opponent, it would establish a record of 48 wins, an average of 12 season, for future classes to aspire.
That is an astonishing mark.
Player to Watch for Georgia Southern: Robert Brown, RB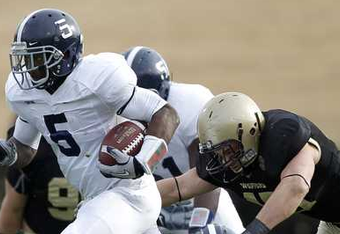 The Eagles have nine different players with at least 100 yards rushing on the season and six different players with at least three touchdowns.
They average 320 yards per game on the ground.
Brown is their leading rusher at just under 84 yards per game. Their rushing attack as a whole is something to watch...if they weren't playing Alabama.
Player to Watch for Alabama: Dont'a Hightower, LB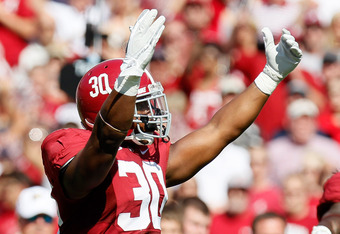 Kevin C. Cox/Getty Images
This defensive monster is one of the best linebackers in the country.
Hightower uses a combination of size, speed and instincts to make plays all over the field.
He's the team's leading tackler and also has three sacks. Hightower is the linchpin in the middle of this absolutely dominant defense.
The Eagles will have a hard time dealing with Alabama's front line and an even harder team dealing with Hightower.
Key Matchup: Georgia Southern O-Line vs. Alabama Front Seven
If the Eagles want to have any chance at running the football they'll need to do so against a team that gives up only 51 yards per game.
That absolutely ridiculous number is the key to this game. Alabama's secondary is leaps and bounds more talented than the Eagles' receivers and quarterback.
If Georgia Southern is even considering scoring points they'll have to do it the way they've done all season.
Unfortunately, their strength just happens to be Alabama's strength.
Prediction: Alabama 49, Georgia Southern 6