Forget Spain, North Korea Are the Best Team in the World
November 18, 2011
Kiyoshi Ota/Getty Images
There were many conclusions drawn from England's 1-0 victory over Spain at Wembley Stadium in a "meaningless" international friendly. Spanish manager Vicente del Bosque played all his big guns, but no amount of huffing and puffing could ruffle Scott Parker's feathers and Frank Lampard secured the win. Seeing as Spain are the defending European and World Cup Champions, that makes England the best team in the world right?
Well no, it doesn't. North Korea are now the best team in the world.
My reasoning isn't simply because this was a friendly and therefore has no actual significance and Fabio Cappello used this as a dress-rehearsal to see how a team without Wayne Rooney would fare. But Spain has been beaten before since their initial triumph in the 2008 tournament and have therefore lost their "champions" moniker.
After Fernando Torres out-muscled Philip Lahm and chipped Jens Lehmann in Vienna, Spain claimed their first major international trophy since 1964. La Furia Roja then went on an epic unbeaten run that took them through World Cup qualification and into the tournament in South Africa. They were heavy favorites, but it was here that the first stumbling block emerged.
Following a hard-fought contest on the night of June 16th 2010, Spain (by my reckoning) officially relinquished their title as the best team of Europe to none other than tournament co-hosts Switzerland. Gelson Fernandes tucked away a rare Swiss chance, and Ottmar Hitzfield's side defended their way to a famous 1-0 victory.
Unfortunately for the world's most neutral nation, their status as best side in Europe lasted a paltry five days before they were defeated 1-0 by Chile. Now at this point, the title of "Best Team in Europe" becomes somewhat stretched because as it turns out, Chile is about as far from Europe as you can get. But we really don't have to worry about this as the Spanish, visibly upset at having their crown taken away, defeated the South American's 2-1 on June 25th.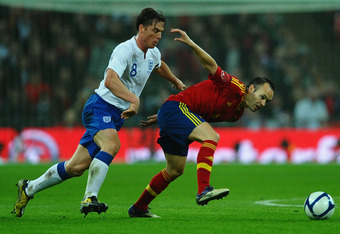 Laurence Griffiths/Getty Images
This match set a particular president as Marco Bielsa's Chilean team were renowned for their highly-energetic, pressing tactics. They effectively took the game to the Spaniards, and it was due to a poor goalkeeping decision that David Villa scored before Andrés Iniesta put in a deserved winner. Chile attempted to match Spain with their version of intense football and failed.
Lesson learned: you can't out-Spain Spain.
Iker Casillas led his side to the World Cup trophy and the Iberians were now European and World Champions, the best team in soccer, etc. In official competition, they have not been beaten since so many would assume that they are the world's best, when in fact they have long since lost claim to that title.
On September 7th 2010, Spain flew to Argentina to take on a side that had comes to terms with their humiliating World Cup exit at the hands of Germany and turfed Diego Maradona. Esteban Cambiasso was re-instated into a midfield that matched Spain's, and Lionel Messi finally scored a long-awaited goal for his country. Argentina ran out 4-1 winners, out-playing the Spaniards and showing off a cutting edge that saw four goals on only seven shots.
At long last, Argentina were on top of the soccer world where they feel they belong. The team were looking to keep this status going into the 2011 Copa America, but alas it was not to be and Uruguay handily defeated them in their own backyard regardless.
October 8th 2010 was the fateful date, as the South Americans made a trip to Japan to take on Samurai Blue in the Kirin Cup. I have to admit I didn't watch this match, but from the Official Match Report, I can say it was riveting stuff and Shinji Okazaki (who has since moved to VfB Stuttgart) scored the only goal of the match.
Japan would end up holding on to this title for over a year, holding off the likes of Vietnam and Uzbekistan in close contests in the autumn of 2011.
Unfortunately all things must come to an end, and so it was that Japan faced North Korea in World Cup, qualifying on November 15, 2011 in Pyongyang, in front of 50,000 well-behaved fans. There is significant background here as this bitter rivalry is based on animosity between the two nations, Japan having occupied much of the Korean peninsula for the first half of the 20th century.
Supreme Leader Kim Jong Il had the last laugh however, as midfield workhorse Nam-Chol Pak headed past Japanese goalkeeper Shusaku Nishikawa. The game ended 1-0 and North Korea now (unofficially) holds the title of World's Best Team, despite having already been mathematically eliminated from Brazil 2014 before the match had been played.
So there you have it. England's 1-0 win on Saturday can be dismissed as an overly-defensive display against a side which are average at best.