Jerry Sandusky Interview: Why Sandusky Did Penn State No Favors
November 15, 2011
Patrick Smith/Getty Images
Jerry Sandusky participated in a phone interview with Bob Costas that aired Monday night, and in doing so kept Penn State University from escaping the horror of the sex scandal for too long.
Sandusky is allowed to defend his innocence, but his defense came off as horribly unconvincing and fake.
If Sandusky committed these crimes—which seems very plausible, given the similarities of the reports by each child—he needs to confess his guilt.
Even if Sandusky is innocent, the best thing he could do for Penn State at this point would be to stay quiet and keep his case in court where it belongs.
Here's a tweet from CNN about the interview.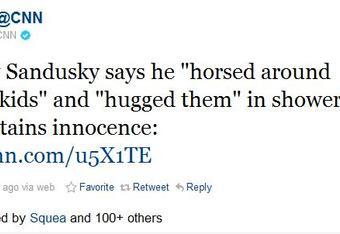 By saying "he horsed around with kids" in the shower, Sandusky is just digging himself a deeper hole. What's stopping someone that hugged kids while naked in a shower from doing anything he thinks he can get away with?
Nothing.
Penn State suffered a loss to the Nebraska Cornhuskers on Saturday. Although you can't blame the loss entirely on the Sandusky situation, it definitely took a huge toll on the remaining coaching staff and players.
Is a college football game worth more than the safety of children?
Absolutely not.
However, Sandusky is just making it harder for the Penn State football team to focus on the remaining games on its slate.
Honestly, Sandusky should keep his mouth closed, because anything he says right now could potentially be incriminating. He was far away from proving his innocence in the Costas interview, instead putting a voice and persona to the face many people despise.
His answers were shaky, especially when Costas asked him if he was "sexually attracted" to young boys.
If Sandusky truly cares about the state of the Penn State football team, he should keep his mouth closed.