Week 11 Waiver Wire: Tim Tebow and 6 Hot Picks to Avoid
November 15, 2011
Jamie Squire/Getty Images
Week 11 waiver wire time!
Tim Tebow is the hot pick this week with Brees and Schaub on bye, but don't be too hasty to grab him just yet.
If you read my Week 10 players to avoid, you'll know I saved some lucky folks from getting Shanahanned with Roy Helu, who was the huge pick. I made the bold claim to avoid Torrey Smith against all the other B/R gurus.
I've got you covered on whom to pick, so now let's look at who to let your opponents waste waiver priority on, starting with Tebow.
Tim Tebow, QB, Denver Broncos
I love that Tebow is cranking out 15-30 fantasy points every game he starts. I love that Tebow is 3-1 and winning NFL games with two passes.
But I do not love that Tebow is facing the New York Jets.
The school of thought for people pro-Tebow is that he's not going to throw the ball, so the Jets' monstrous pass defense won't come into play.
The problem is that they'll move the defense forward. They can leave single coverage on the WRs and move the LBs up and smash Tebow if he tries to run.
I love Tebow most weeks, but if you're filling this week's bye, keep looking.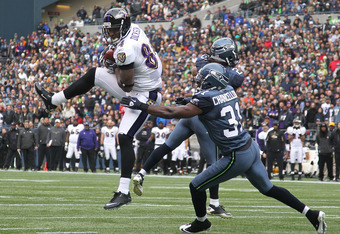 Otto Greule Jr/Getty Images
Ed Dickson, TE, Baltimore Ravens
Joe Flacco does throw to his receivers less than 40 percent of the time. Ed Dickson did have a huge game in Seattle. Flacco is sure to throw to his tight ends a lot in Week 11.
And none of this matters.
Baltimore has to go and face Cincinnati after losing to Seattle. With Baltimore's defense out for blood, it's likely that Flacco won't have to pass much at all.
Even if Flacco does start passing, everyone in the NFL knows he only passes to RBs and TEs, so it'll be expected.
Finally, it's anybody's guess who Flacco's No. 1 tight end is—Dickson or Pitta.
If you're stuck in a situation where you have to gamble and hope for 25 points out of a tight end—fine, play Dickson. Otherwise, look elsewhere this week.
Deion Branch, WR, New England Patriots
Here's the guy that you think you have to pick up, but simply can't.
A touchdown in his last two of three games, five receptions last week and Kansas City on the horizon—what's not to love?
The problem is just that—Kansas City. Their poor pass defense makes it likely that Brady will get to throw to Welker all day long.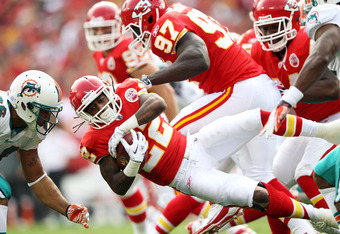 Jamie Squire/Getty Images
When a guy winds up with six receptions on Revis Island, that QB loves him.
I'm going out on a limb here, but I'm going to say Branch isn't even a flex option in Week 11. Read the players I recommend picking up. There's much better out there.
Eric Decker, WR, Denver Broncos
Decker is an incredibly talented wide receiver, and any other week, with any other quarterback, I'd say go for it.
The problem is that you've got no-throw Tebow against the Jets. New York is well aware of Decker's talent and will likely have Revis keep him in check.
If you look at the numbers, 47-plus yards with a touchdown in three straight games, you'll fall in love. But Denver against New York will break your heart if you pick up Decker this week.
Nate Burleson, WR, Detroit Lions
There's one WR on the Lions worth owning, and his name is Megatron.
Burleson did very well last week, but it doesn't change the facts.
He's only had more than four catches three times this season and he's only had more than 50 yards three times this season. That's really important since he's caught just one touchdown this season.
Burleson is good, but with Calvin Johnson able to grab touchdown passes 30 feet in the air, you can figure who Stafford is targeting.
Pick up Burleson as a last resort for a WR3 spot if you have to. But don't expect much in Week 11.
Dexter McCluster, RB, Kansas City Chiefs
McCluster looks like a good pickup on paper, but he's going to be a one-week wonder.
If New England gets significantly ahead, which will likely happen, Cassel will be bombing balls to Bowe and Breaston.
If that doesn't happen for whatever reason, Jackie Battle has gotten the majority of the team's carries for several weeks, and that doesn't look likely to change.
McCluster could get eight carries again, but you can't expect 45 yards. Likewise, you can't expect him to wind up with six receptions for 48 yards.
I talk about playing gambles if you need to, but the problem with McCluster is that his version of an explosive game is one that gets fantasy owners 12 points.
Avoid McCluster for Week 11 and probably for the rest of the season unless Battle goes down.
Roy Helu and Ryan Torain, RBs, Washington Redskins
I'm hoping that I made my point after last week, when every fantasy headline had Roy Helu in it and Shanahan started Torain.
Coach Shanahan is a nightmare for fantasy.
One of these guys could have a good week, but even more likely is that neither of them do.
If you have a Washington player on your team, trade him, drop him, bench him, do anything to avoid playing him. If you wanted random luck, you would've picked your team on auto-draft.