NFL Power Rankings: Teams That Will Come Back Down to Earth
November 15, 2011
Jamie Squire/Getty Images
Every week of NFL games provides another result that surprises the masses, but deciding which scores indicate a team's true skill and talent is the tough part. Some NFL teams will fail to follow up their Week 10 wins.
Not every team is as talented as their win this previous weekend would suggest, so Week 11 will be a shock to some of their fan base.
Here's the teams I expect to come back down to Earth with losses.
Denver Broncos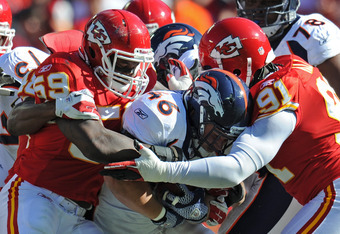 Peter Aiken/Getty Images
The Denver Broncos are 3-1 with Tim Tebow at the helm, but don't expect that trend to continue.
Their one loss was an embarrassing 45-10 decision to the Detroit Lions. Basically, if a team can stop the run, they will beat the Broncos. It's that simple. The Lions may be 27th in the NFL against the run, but they forced Tebow to throw 39 times, which is by far his most attempts in a single game.
The Broncos will face the New York Jets on Thursday night. The Jets will not allow Tebow and the Broncos to scramble around make plays, thus winning the game easily.
Arizona Cardinals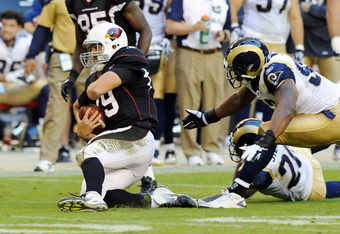 Norm Hall/Getty Images
The Arizona Cardinals have won back-to-back games. They now hold a 3-6 record this year.
However, no one should be claiming the Cardinals are a "good" team. They are in the bottom half of the league in all primary offensive and defensive scoring and yards categories. They've stolen the game from their opponent in two straight weeks, but 13 combined points in the first three quarters of their last two games shows their true colors.
They travel to Candlestick Park to face the San Francisco 49ers (8-1) on Sunday to gauge their progress as a team. However, the 49ers won't fold in the fourth quarter, and will crush the Cardinals.
Tennessee Titans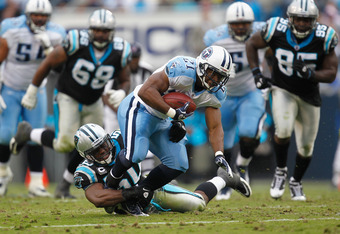 Streeter Lecka/Getty Images
Unlike the two teams above, the Tennessee Titans are actually a solid team across the board.
However, the Titans (5-4) will not be able to reel in the Houston Texans (7-3) for the AFC South crown this season. Matt Hasselbeck has done solid work keeping this team afloat, but their inconsistent defense will be their downfall.
An away game against the Atlanta Falcons will expose their secondary.
Tom Loughrey's Week 11 NFL Power Rankings 
1. Green Bay Packers
2. San Francisco 49ers
3. Pittsburgh Steelers
4. Houston Texans
5. New York Giants
6. New England Patriots
7. New Orleans Saints
8. Dallas Cowboys
9. Baltimore Ravens
10. New York Jets
11. Cincinnati Bengals
12. Chicago Bears
13. Detroit Lions
14. Atlanta Falcons
15. Oakland Raiders
16. Tennessee Titans
17. Buffalo Bills
18. Tampa Bay Buccaneers
19. Miami Dolphins
20. Philadelphia Eagles
21. San Diego Chargers
22. Denver Broncos
23. Seattle Seahawks
24. Arizona Cardinals
25. Kansas City Chiefs
26. Minnesota Vikings
27. Washington Redskins
28. Carolina Panthers
29. St. Louis Rams
30. Jacksonville Jaguars
31. Cleveland Browns
32. Indianapolis Colts