Green Bay Packers Week 10 Report Card: Grading Each Unit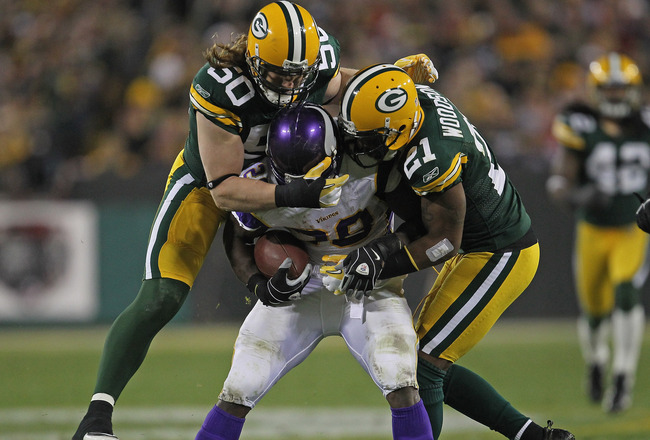 Jonathan Daniel/Getty Images
Last night, the Packers came away with resounding 45-7 win against the Minnesota Vikings, a game where Aaron Rodgers and the offense started out relatively slow, only putting up 10 offensive points in the first half.
Their slow start was mostly due to the pressure Jared Allen and the Vikings were applying to Rodgers.
However, the Vikings offense was never able to get off the ground thanks to a tight Packers defense, making it easy for the Packers to gain momentum and rout their division rival on Monday night.
Here are my overall grades for the offensive, defensive and special teams units, with a further breakdown of the position-by-position grades, for their performance in Monday night's game.
Offense: A-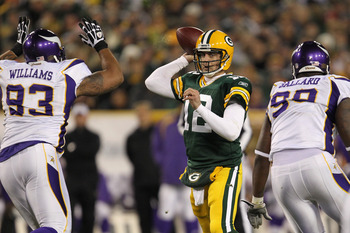 Jonathan Daniel/Getty Images
It's hard not to give the offense an A for putting up 38 points and more than 350 total yards.
Aaron Rodgers continued his perfect season by throwing for four touchdowns.
However, they do lose some points for their offensive line, which was the main reason that the Packers offense struggled for much of the second quarter—Rodgers was sacked twice and hit three times—but the only reason this number isn't higher is because of his mobility and the fact that he was able to get out of many bad situations.
The running game was good but not great, compiling 90 total yards, but Aaron Rodgers accounting for 21 of them. However, James Starks did have a few good plays and rushed for 63 yards.
Overall, the Packers offense gets high marks because of the continued success of the passing game, but the offensive line is going to have to improve if they want to continue their success.
Position-by-Position Breakdown
Quarterback: A+ (this includes Matt Flynn, who was also very effective in the fourth quarter)
Running backs: B+ (Starks seems to be the most effective back, as Grant only rushed for six yards on eight carries)
Wide Receivers/Tight Ends: A (Rodgers threw the ball to 10 different receivers, so none of them gained more than 65 yards, but Finley led in receptions and Nelson got two touchdowns.
Offensive Line: B- (grade goes up because of their improved performance in the second half)
Defense: A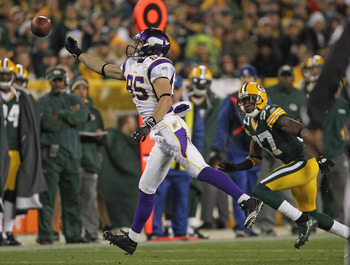 Jonathan Daniel/Getty Images
It's hard not to give the defense an A when they only allow seven points, and those seven points were due to a short field that was caused by a special teams fumble.
The Packers recorded only one turnover, which was an interception by Tramon Williams, but they pressured quarterback Christian Ponder all night long, sacking him three times and hitting him twice.
They were able to limit the Vikings, with Christian Ponder passing for under 200 yards and Adrian Peterson only rushing for 51 yards.
The Packers defense wasn't necessarily playing like it did in the first eight games, when they were giving up yards but forcing turnovers. In fact, they did almost the opposite, playing tight defense and limited the yardage, despite not forcing a lot of turnovers.
However, this would easily be the best performance by the defense thus far.
Position-by-Position Breakdown

Defensive Line: A- (Pickett and Raji played well but didn't seem to be giving the same pressure that the linebackers were)
Linebackers: A+ (The linebackers accounted for all three sacks, and Clay Matthews got his first multi-sack game of the season)
Secondary: A (Charles Woodson played much better this week, despite dropping an interception. Tramon Williams got his second pick of the season, and while the secondary didn't get a lot of interceptions, they made it very difficult for Ponder to throw the ball.
Special Teams: B+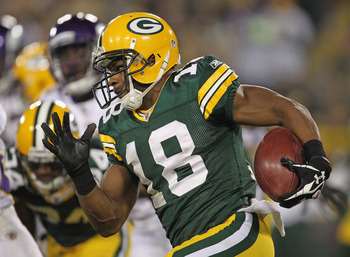 Jonathan Daniel/Getty Images
Randall Cobb would have gotten an A+ if he hadn't fumbled the ball in the second half and caused the Vikings to score their only points, as they only had to travel 15 yards for the Adrian Peterson touchdown.
However, Cobb still had a great night, returning a punt for a touchdown and nearly returning a kickoff for a touchdown soon after his fumble.
Mason Crosby had one chip-shot field goal, and Tim Masthay played efficiently at the punting position, so all in all, a pretty solid outing for special teams.
Position-by-Position Breakdown
Kick/Punt Returner: A- (would have been A+ if Cobb hadn't fumbled)
Kicker: A+ (is still perfect on the season)
Punter: A (only had two punts, but both were solid)
Top Individual Performances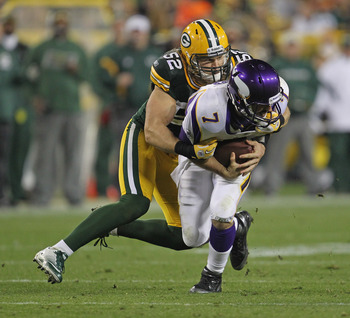 Jonathan Daniel/Getty Images
Individually, Aaron Rodgers gets the highest grade of the night for his continued picking apart of defenses on his way to four touchdowns.
Other solid contributors on offense included Jordy Nelson, who fought hard for his first touchdown, and Jermichael Finley, who led the team in receptions.
On defense, Clay Matthews, Tramon Williams and Charles Woodson receive the highest marks, with Matthews recording two sacks and Williams recording the sole interception of the game. Despite dropping an interception, Woodson was all over the ball last night, and also contributed to pressuring Ponder.
Special teams high marks go to Randall Cobb, who did return one punt for a touchdown and almost returned another.
Despite the fumble, Cobb is proving to have a ton of talent—he just has to avoid the rookie mistakes.
Overall, the Packers get high marks for their performance in Week 10, and they should, as they put on a big-time rout of their division rival on Monday Night Football.
Keep Reading

Green Bay Packers: Like this team?