Penn State, Jerry Sandusky Scandal Shines a Bad Light on American Sports
November 15, 2011
Patrick Smith/Getty Images
When weighing the impact of sports on American society, the positives outweigh the negatives. The relationships built among teammates, coaches, and all members of a sports organization are often very strong. When a team has good chemistry, each team member should be able to trust one another. Sports also promote physical activity and a healthy lifestyle, and while most sports lovers will never play for a prominent college or professional team, watching their favorite teams gives them something to cheer about.
Unfortunately, the scandal that has emerged from the Penn State football program this month has been completely negative.
On Nov. 5, former Nittany Lions defensive coordinator Jerry Sandusky was arraigned on 40 counts of sexual abuse of children. Athletic director Tim Curley, and vice president of finance and business Gary Schultz, were both charged with perjury for failing to report their knowledge of the incidents to a grand jury. Curley went on administrative leave and Schultz resigned the following day.
However, the biggest hammer was thrown down on Nov. 9, when the Board of Trustees announced that head coach Joe Paterno and university president Graham Spanier were no longer associated with the university, effective immediately.
Short of murder, there may be no crime more heinous than the sexual molestation of a child. Sandusky has been charged with sexually abusing eight child males.
Making the situation increasingly disturbing is that on multiple instances, Sandusky was allegedly caught in these acts, but it was never properly reported. Due to the scandal, the four previously mentioned men are all gone from Penn State.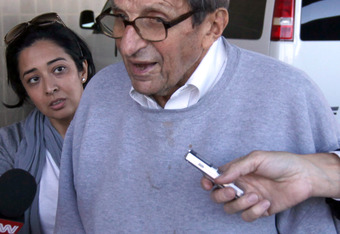 Rob Carr/Getty Images
Additionally, Mike McQueary, a current assistant coach, is looking like he may not be with the university for much longer. He was a graduate assistant at the time when he allegedly witnessed Sandusky in the act of intercourse with a child, but did nothing to stop it.
In recent major college football scandals at Ohio State and USC, players received improper benefits, which are certainly major NCAA violations, but not of criminal nature. In the more-recent scandal at Miami, criminal activity did come into play, as players received improper benefits from Nevin Shapiro, a convicted felon for running a Ponzi scheme. That said, all of those violations pale in comparison to what has happened at Penn State.
Suddenly, the power and importance of football in State College was able to keep an alleged child molester from justice for 13 years. Not only the athletic department, but the university as a whole, failed on its responsibility to provide a safe environment, failing to take action against Sandusky even after multiple people supposedly witnessed him in team showers with male children. This is a result of Penn State University attempting to maintain a false image that their football program, one of the nation's most prestigious, was pristine.
It is sickening to think that sports may have enabled a sex offender to get away with molesting children for so many years, but that seems to be what may have happened in this situation.
This is another wake-up call for American society: while sports have become one of our nation's greatest passions, they should never overshadow the safety and security of our citizens, which should always be our nation's top priority, and is the idea that the entire Constitution was predicated on more than 224 years ago.
A good coach should always be a trustworthy source for their players, both current and former, to talk to about anything. Sadly, it looks like many of the Penn State football players of the Paterno and Sandusky eras no longer have that trustworthy source. While Paterno was known to be loved by his players, it is hard to believe that any of his former players would be able to trust him with personal information, now knowing that he was possibly informed of Sandusky's actions, and still allowed him to remain around the Penn State football facilities.
While this situation is a rare exception to a network of mostly trustworthy relationships between players and coaches, it is disturbing to consider how many players likely confided personal information in not only Paterno, but in Sandusky, who now appears to be possibly the least trustworthy coach in college sports history.
Another very disturbing fallout from this scandal were the actions taken by the students of Penn State University following the announcement that Paterno was fired. That same night, thousands of students took to the streets of State College, causing mass destruction, including flipping a television station's satellite truck. By doing this, the students displayed a lack of respect and consideration for the victims of Sandusky's abuse.
By defending Paterno in such a destructive manner, not only did these students completely embarrass the university they represent, but also presented the impression that the status of their football team is more important than what happened to the children.
One aspect of this scandal cannot be overstated: the focus of this entire case should be about providing justice to the children. These children were allegedly victimized in a fashion that could haunt them for the rest of their lives. Steps should be taken by the NCAA and the government so that not only will Sandusky never hurt a child, and not only that possible child molestation will never happen at Penn State University again, but so that by all means possible, a situation like this will be prevented from occurring in another college sports environment.
Prior to this scandal, Joe Paterno was one of the NCAA's all-time greatest coaches, having just set the Division I record for most all-time victories as a head coach, recording his 409th win on Oct. 29. In the aftermath of this scandal, Paterno's reputation will be forever tainted. In the grand scheme of the situation, none of that really matters.
The evidence that such heinous criminal activity occurred within such a prominent sports program, and the way students reacted so destructively to what was not nearly as important, places a dark blemish upon Penn State University, and on collegiate athletics as a whole, that will not fade away for a very long time.