Stanford vs. Oregon: Breaking Down Andrew Luck's First Interception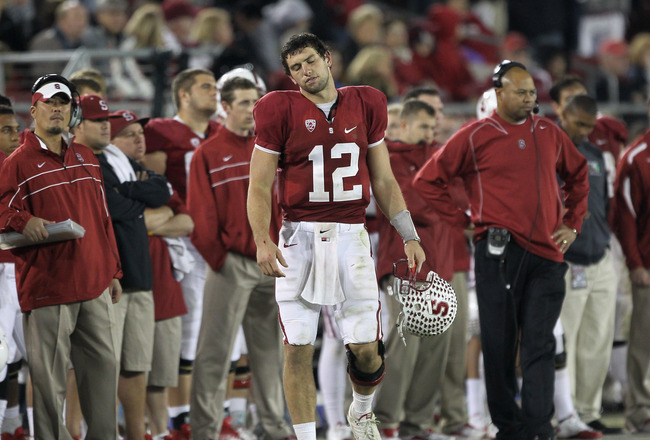 Ezra Shaw/Getty Images
Before the game began, ABC showed a shot of Andrew Luck walking through the tunnel and onto the field.
Something was different about Luck this time around.
He looked wide-eyed and nervous as if, upon setting foot on the field, he finally realized exactly how much his play would affect the outcome of the upcoming game.
Although he didn't play poorly by any means, he didn't play like the Andrew Luck we've become accustomed to watching.
This slideshow breaks down the play in which Luck's pass was intercepted in the first quarter—a play that paved the way for Oregon's first eight points.
Pre-Play 1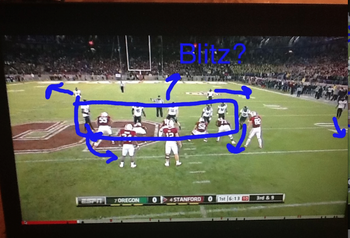 Oregon came out looking like it was bringing the heat.
The Ducks brought six (four defensive linemen, two linebackers) to the line of scrimmage, which obviously gave Luck a reason to believe the Ducks were blitzing.
This also meant the Ducks cornerbacks were playing man-to-man on Stanford's receivers. Luck most likely thought he had to get rid of the ball quickly in order to avoid the pass rush and throw a completion.
Pre-Play 2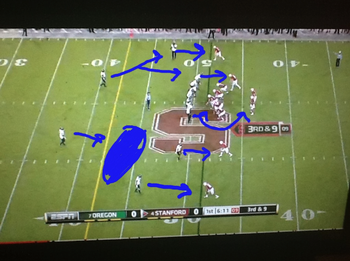 At this point, Luck sees that Oregon safeties John Boyett (bottom of the screen) and Eddie Pleasant are playing zone and are only there to help if any Stanford receiver beats his man in man-to-man coverage.
He sees the middle of the field is completely open but also has to respect the fact that Boyett can creep into the middle of the field, thereby taking that option away.
If Boyett does creep into the middle, Stanford true freshman receiver Ty Montgomery (bottom of the screen) would be man-to-man on Oregon's cornerback.
This has big-play potential if:
1) Montgomery beats his receiver and streak down the field,
2) Luck gets enough time to make that pass (remember, Oregon looks like it's blitzing).
Pre-Play 3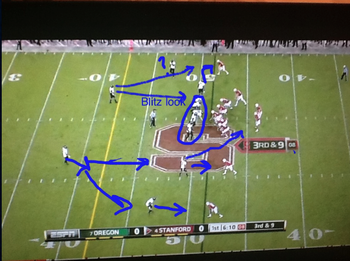 Oregon defensive end Dion Jordan (directly above the blitz-look oval) is now moving into coverage on Stanford WR Griff Whalen.
Why? To create the illusion that TE Coby Fleener (directly to the right of Stanford's offensive line) is solely being defended by Oregon safety Eddie Pleasant.
Also, because tailback Jeremy Stewart is in the backfield, safety Avery Patterson, who's playing man on Stanford WR Drew Terrell (to the right of Ty Montgomery and left of Stanford's O-line), needs to respect a pass to Stewart as well.
Boyett realizes this and is in position to run up and guard Terrell if Stewart plays the pass.
Pre-Play 4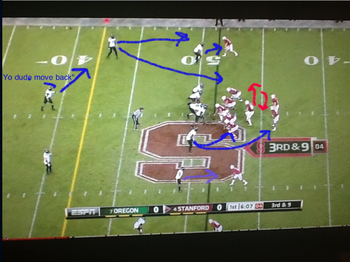 At this point, Stanford TE Fleener runs in motion, then back into his original place. Also, Oregon DE Tony Washington, who's lined up on the right and has two arrows coming off him, comes off the line and into pass protection.
Had Fleener gone in motion to the other side, Washington would be in a position to cover with a safety over the top in case Washington got beat. Now Washington has to be aware of whether or not Stanford RB Stewart pass blocks or goes out to receive a pass while the cornerback on Terrell can focus solely on defending Terrell.
Meanwhile in the secondary, when Fleener went into motion, Oregon CB Terrance Mitchell (directly to the right of the 40 yard line) crept up as if he was showing blitz. Fleener returned to his original spot and Boyett instructed Mitchell to return to his as well.
Snap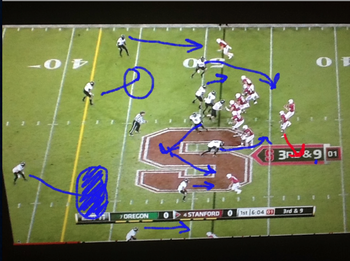 When Stanford snapped the ball, everything I just explained changed. The Oregon CB that was covering Stanford WR Griff Whalen closely at the top of the screen came on a blitz, while three of the Oregon players on the line went into pass coverage.
Oregon rushed only three players after giving off the illusion it would bring five. The SAM (Dewitt Stuckey) went into coverage on Fleener with defensive end Brandon Henna while Boyett stepped forward as if he were coming in to protect against Fleener if he out ran either Henna or Stuckey (which would have left Whalen one-on-one with Mitchell—notice Mitchell was playing loosely on Whalen).
Also, WIL Michael Clay (directly in front of referee) moves in pass coverage and guards the middle of the field.
Post-Snap 1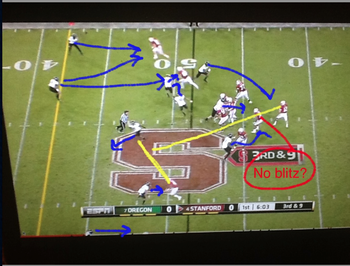 Now, everyone on the field is covered closely. Luck has nowhere to go.
Realizing that Oregon only brought three pass-rushers, it would've been smart of Stewart to realize he might create a mismatch by going out for a pass. Instead, he chooses to help out with already adequate pass protection.
Post-Snap 2
Luck's looking to the left of the field where everyone is closely covered.
Meanwhile, TE Fleener runs into LB Stuckey and knocks him down. If Luck recognizes this, he has a completion to Fleener and maybe a first down.
Pass protection is superb; Luck has a lot of time to make a decision.
Post-Snap 3
As you can see, Fleener is wide open because Stuckey falls down. Luck doesn't see him because he is still staring down the left side of the field.
Post-Snap 4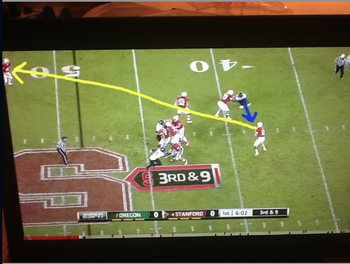 Luck finally turns his head and sees Fleener wide open. He also recognizes he has to get rid of the ball because the pass rush is coming from his right.
Post-Snap 5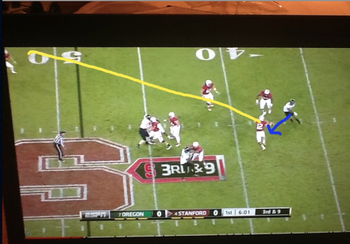 Knowing he doesn't have much time before a) Fleener's defender, Stuckey, gets back up again and b) the pass rush gets to him, Luck throws the ball awkwardly without his hips square to the receiver and his feet set (something that we're not used to seeing from Luck).
Post-Snap 6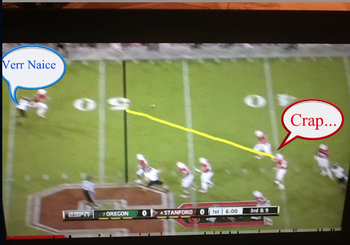 Luck throws a bad ball right as Stuckey gets up. This is a gift for Stuckey.
Interception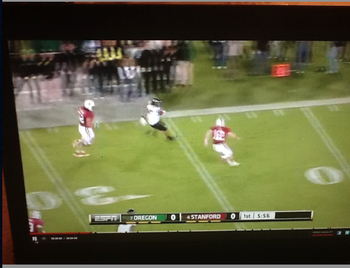 Stuckey picks off the ball from Luck and paves the way for Oregon's eventual touchdown. This is an unbelievable play design from Oregon defensive coordinator Nick Aliotti.
Keep Reading

Stanford Football: Like this team?