2012 MLB Offseason: Rating the Top-15 Left Fielders According to TPR
November 15, 2011
Jonathan Daniel/Getty Images
Before we get started tackling the top-15 left fielders, we need to review some ground rules and talk about what this TPR thing is all about. First, the ground rules: there is no DH position, so all designated hitters are put at their most appropriate defensive spot. A number of those are eligible in left field. Additionally, a number of players are eligible at more than one position. They will rate only at their primary position.
The wheres and what fors are not as important as the why. I've had quite a few people ask me why this guy or that guy wasn't in. The honest answer is that they didn't have as many runs as the other guys. As Peter Brand (from Moneyball) said, you aren't buying players, you're buying wins. Well, I say you are buying runs. So, before the offseason gets going too crazy, why not look at who actually gives his team the most runs.
So, when deals are made, we can look at how the whole team is affected by the shifting around of parts. Often, trades and signings aren't evaluated correctly because the player isn't evaluated correctly, but because they also don't look at how the rest of the team is affected. So, before we get to the Winter Meetings, we will have everything in place for you.
15. Shelley Duncan, Cleveland Indians
Fielding: -5.5
Hitting: 19.9
Base Running: 1.3
Total Player Rating: 15.7
Duncan actually barely cracked the top 20, but he also didn't claim the left field job until the second half of the season. It remains to be seen whether he can ever be a full-time regular, but he will get his opportunity.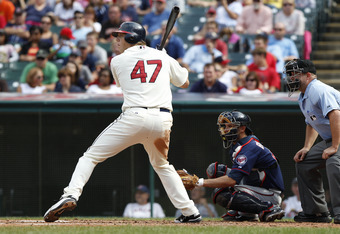 David Maxwell/Getty Images
14. Chris Heisey, Cincinnati Reds
Fielding: -0.9
Hitting: 18.7
Base Running: 3.1
Total Player Rating: 20.9
Heisey isn't actually the 15th-ranked guy, but there are a few that qualify at other positions first. Heisey is one of the reasons the Reds are considering dealing Joey Votto. They figure they can stick Yonder Alonso at first base, leave Heisey in left and shore up other areas of the ballclub.
13. Chris Denorfia, San Diego Padres
Fielding: 16.8
Hitting: 4.4
Base Running: 0.1
Total Player Rating: 21.3
Denorfia is like a lot of the Padres. He doesn't blow you away, but you look up and he has decent numbers given the stadium he plays in. The Padres may need more star power to compete for the division, but they should be more competitive next season.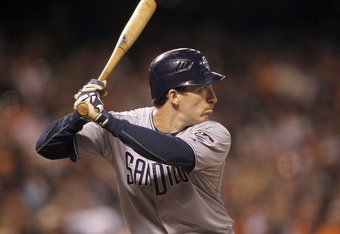 Ezra Shaw/Getty Images
12. Nolan Reimold, Baltimore Orioles
Fielding: 5.0
Hitting: 17.9
Base Running: 2.6
Total Player Rating: 25.5
Reimold gets overlooked a lot, but he was very solid this past season. He really made the most of his opportunity to hold down the spot. While Adam Jones and Nick Markakis grab the headlines, he might actually be the best all-around player in that outfield.
11. Johnny Damon, Tampa Bay Rays
Fielding: 1.1
Hitting: 37.0
Base Running: -3.2
Total Player Rating: 34.9
Damon may have priced himself out of some markets. While he had a positive fielding rating, that likely came from lack of exposure. He really can't throw anymore and his speed is not what it once was. Still, he can produce well at the plate and he hardly ever misses time due to injury. He will sign somewhere.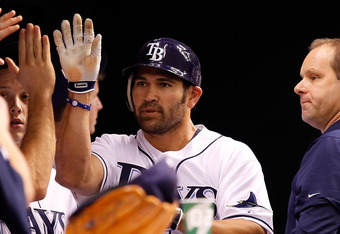 J. Meric/Getty Images
10. Josh Willingham, Oakland Athletics
Fielding: -18.3
Hitting: 59.6
Base Running: -5.0
Total Player Rating: 36.3
Willingham is another free agent, but he will get considerably more play than Damon. It's funny that he really isn't any better on a single-season basis, but since he is younger he will get more multi-year offers. Also, his offensive numbers look more impressive.
9. Desmond Jennings, Tampa Bay Rays
Fielding: 3.6
Hitting: 32.9
Base Running: 5.7
Total Player Rating: 42.2
Jennings did this over the course of half a season. Imagine the numbers he can put together over the course of a full season. He might be switching to center field.
8. Gerardo Parra, Arizona Diamondbacks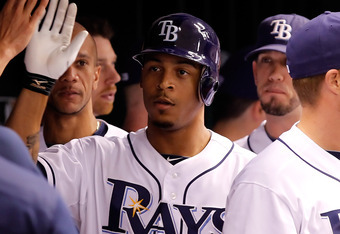 J. Meric/Getty Images
Fielding: 28.8
Hitting: 18.6
Base Running: 1.3
Total Player Rating: 48.7
Parra is another guy that rarely gets mentioned as a good player. Yet, he is an example of someone that is good at every facet of the game, so he ends up showing up on a list like this. I'm sure he wouldn't make many fans' top-10 list for left fielders, but he deserves to be.
7. Carlos Gonzalez, Colorado Rockies
Fielding: -9.8
Hitting: 58.5
Base Running: 5.2
Total Player Rating: 53.9
You would think that CarGo would rate higher on a list like this, but the fielding drags him down some. Even if he was mediocre he would finish in the top five. This is partially on the Rockies because they can't seem to settle on where he should be defensively.
6. Allen Craig, St. Louis Cardinals
Fielding: 9.1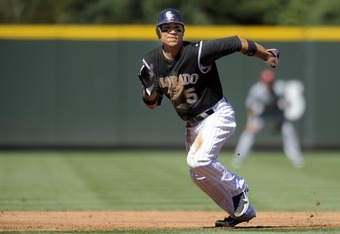 Jack Dempsey/Getty Images
Hitting: 42.4
Base Running: 5.5
Total Player Rating: 57.0
Folks, this is the Cardinals fourth outfielder. One thing is for sure, if Albert Pujols leaves, the Cardinals won't be in as bad a shape as people think. Berkman would shift to first and Craig would shift to right field.
5. Josh Hamilton, Texas Rangers
Fielding: 10.8
Hitting: 67.8
Base Running: 0.2
Total Player Rating: 77.8
Hamilton played some center field this past year and may play more next year depending on how the host of candidates do. This year was an off year for him and he is still one of the top-five guys at the position.
4. Matt Holliday, St. Louis Cardinals
Fielding: -7.0
Hitting: 96.5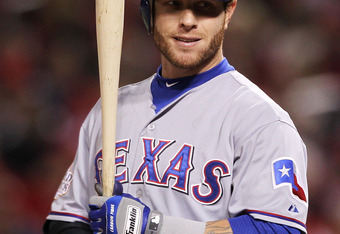 Ezra Shaw/Getty Images
Base Runner: 2.6
Total Player Rating: 92.1
Holliday also had a down season when it came to health. Yet, he was productive when he was in there. If the Cardinals re-sign Albert Pujols, they will have another season of Berkman, Holliday and Pujols in the same lineup. They couldn't seem to have all three in the same lineup at the same time this past season. If they are all healthy they could repeat as champions.
3. Brett Gardner, New York Yankees
Fielding: 78.2
Hitting: -4.3
Base Running: 18.4
Total Player Rating: 92.3
Gardner is perhaps my favorite example of how value is often hidden. When you look at his offensive numbers you would think he were a marginal regular. Heck, that is even when you look at the so-called sabermetric numbers. Fortunately, baseball is about more than just what you do in the batter's box.
2. Alex Gordon, Kansas City Royals
Fielding: 28.8
Hitting: 109.8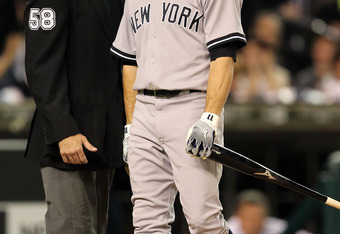 Leon Halip/Getty Images
Base Running: 8.5
Total Player Rating: 147.1
Chances are he won't be this good next season, but since he is more than 50 runs better than third place, you can bet he will be back in the top five again. In particular, the fielding was a very pleasant surprise.
1. Ryan Braun, Milwaukee Brewers
Fielding: 3.5
Hitting: 159.9
Base Running: 7.5
Total Player Rating: 170.9
Considering that Gordon likely will come back to the pack, Braun's lead over the second best left fielder is staggering. Whether Prince Fielder remains or not, he will continue to be the standard at the position.
Bottom Feeders
Juan Pierre, Chicago White Sox
Fielding: -22.8
Hitting: -46.8
Base Running: 15.9
Total Player Rating: -53.7
We often talk about addition by subtraction, but that is an understatement in the White Sox' case. They have been counting down the days to when Pierre would be free and he finally is. He is not coming back.
Raul Ibañez, Philadelphia Phillies
Fielding: -27.1
Hitting: -17.5
Base Running: -4.2
Total Player Rating: -48.8
If the Phillies do nothing else but re-sign Jimmy Rollins, they will still likely be better than they were this year. Remember, this includes losing Ryan Howard for the season. This is how much Ibañez dragged them down last season.
Rajai Davis, Toronto Blue Jays
Fielding: -18.2
Hitting: -35.2
Base Running: 8.4
Total Player Rating: -45.6
Davis began in center field and then moved to left when Colby Rasmus came to town. Still, Eric Thames looks to have solidified the left field slot. So, we have another case of addition by subtraction.