Kansas City Chief Fans Are Going to Get Just What They've Wanted
November 15, 2011
Jamie Squire/Getty Images
You've got your wish Chief fans.  Matt Cassel will not be the starting quarterback for the Chiefs for the remainder of the season.  That appears to be the case at this point.
Tyler Palko will, based on everything I've read from fans on forums and blogs, lead the Chiefs to at least six, if not seven wins.
As was witnessed against Denver, Palko came in and was able to lead them to a field goal.  Do you know how many times a back-up quarterback has come in at the end of a game and went down the field?  Many, many times.
Monday, however, Palko gets to be "the man".  Not only that, he gets to do so on the road, in New England. 
You've whined, moaned and complained that Matt Cassel is at best a back-up for three years.  Well, now it's your chance to see a back-up.
The Patriots can be passed on, as long as the quarterback has time.  Do you think, all of a sudden, the Chiefs will decide to block for Palko because they didn't like Cassel?
The Patriots can be defeated if the opposing team can disrupt and hit Brady.  History proves that.  The Chiefs couldn't put a pass rush on my daughters softball team.
So, just what do you think is going to magically happen now that you've gotten your wish?
I'll tell you.  The Chiefs will get obliterated, just like they would have with Cassel behind the center.
Make no mistake, I do not think Matt Cassel is an elite quarterback, not by a long shot.  I just don't think he's as bad as most Chief fans do.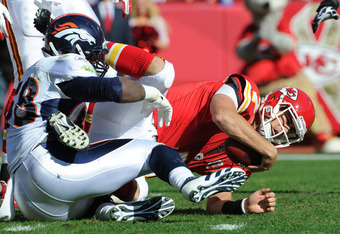 Peter Aiken/Getty Images
Today, there was a very good article in the Kansas City Star.  Here are some exerts from it:
"The Chiefs showed in a 17-10 loss to a bad Denver Broncos team Sunday that their offense is broken—and that most everyone truly was to blame. It wasn't because quarterback Matt Cassel had a poor outing, although that was part of it".
"On most passing plays, Cassel hardly had time to set his feet before defenders had surrounded him".
"Left tackle Branden Albert said Cassel had no chance Sunday, considering how often he was hit and how quickly defenders such as Elvis Dumervil and Von Miller were in the backfield.
If he can't settle in the pocket," Albert said, "he can't make his throws."
"Cassel is a useful quarterback only if the moving parts around him are doing their jobs. That has been the understanding all along: Cassel can make the offense work, but not if there are breakdowns throughout the offense. There were breakdowns everywhere Sunday, most noticeably in pass protection".
"Cassel took on much of the blame himself, but some of his teammates said Sunday that they didn't believe the loss was his doing".
So, you got your wish.  As they say, be careful of what you wish for.  As a Chief fan for 45 years, I will always root for them to win.  I'm not capable of anything other than that.
With that said, however, the ignorance and blindness of so many fans has made me very curious to see how much better our Chiefs will be with Matt Cassel on the sidelines.