Jerry Sandusky Interview: Claims of Innocence to Bob Costas Hardly Surprising
November 15, 2011
There's no doubt that the world is shocked to hear Jerry Sandusky proclaim his innocence to Bob Costas, however timidly, in the case of a child sex abuse scandal that has rocked Penn State and Joe Paterno.
The court of public opinion has every right to rule that a man who admittedly "horsed around with kids I have showered after workouts" and conceded that he "shouldn't have showered with those kids" is still a monster, and a fraudulent one at that.
But realistically, what could anyone have expected him to say? That he thinks he's guilty? That he deserves to go to jail for a long time for what he did? That he hates himself for what he's done?
Sure, these things may all be true, especially for anyone who's followed the unfolding of the facts, but no one in their right mind should even imagine he'd say what everyone thinks he should say, especially since he could very well be mentally disturbed and is most definitely entering into what is sure to be an exhaustive criminal trial.
We can safely assume that Sandusky is at least morally disturbed, given that he's alleged to have abused young boys that he met through The Second Mile, a foundation for troubled youth that he founded back in 1977. Chances are, he's not all there upstairs, either, if he thinks that doing what he's charged with doing is in any way indefensible.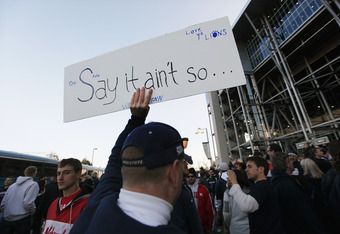 Mario Tama/Getty Images
That aside, though, no one should expect any person pleading innocence in a court of law, as Sandusky has in this case, to confess to any crimes, let alone on national television. It would not behoove him to do anything other than maintain that innocence, even if he is, in fact, guilty of any, if not all, of the 40 counts of sexual abuse that he and his lawyers are currently fighting.
Whether that stance is morally right is another story entirely. Jerry Sandusky may be a deranged man who has done horrible, unspeakable things to the children of others, but he is not stupid, at least not stupid enough to confess to charges against which he's attempting to defend himself.
Let me be clear—I am not trying to defend Sandusky or condone his alleged sexual misconduct in any way, shape or form. Rather, it's important to note that Sandusky should not be expected to indict himself in any manner.
That being said, he certainly said plenty to Bob Costas on Rock Center to suggest that he's far from innocent. Aside from Sandusky's aforementioned admission of "horsing around" in the shower, he also took a curiously long time to respond when Costas asked him, point blank, if he was sexually attracted to underage boys.
Rather than answer with an outright "no," Sandusky paused, considered the use of "sexually attracted" and then went on to say that he "enjoy[s] young people" and "love[s] to be around them" before answering in the negative.
Such a response won't be enough to convict Sandusky in a court of law, but it's more than enough to condemn him in the court of public opinion.
And really, that's about as much as anyone could've expected Jerry Sandusky to let slip when speaking to Bob Costas.