Michigan St. vs. Duke: Breakdown by Position of Matchup at Madison Square Garden
November 15, 2011
J. Meric/Getty Images
Tuesday night's matchup between the Duke Blue Devils and Michigan State Spartans at famed Madison Square Garden could end in historical fashion, as Duke coach Mike Krzyzewski is poised to become the all-time leader in Division I college basketball victories with a win over the Spartans.
Duke is coming off of a blowout 41-point victory over Presbyterian, while State travels mainland after a defeat in Friday's highly publicized Carrier Classic against the No. 1 ranked UNC Tar Heels aboard the USS Carl Vinson.
While MSU will surely be in high gear following a season opener with the nation's best, the Blue Devils have not seen a team of the Spartans' caliber to this point and will likely have to ratchet up the intensity following a couple of fluff games to open up their 2011 campaign.
Both squads feature major changes from last year's rosters when Duke dropped MSU 84-79, a game in which the Dukies were propelled by a 31-point explosion from the eventual No. 1 selection in the NBA Draft, Kyrie Irving.  
Both Krzyzewski's and Tom Izzo's groups must put faith into some fresh faces this season, specifically State, where the depth chart has seen a drastic transformation from the last time these teams met.
Let's take a glimpse at how some of Tuesday's matchups will look.
Point Guard: Keith Appling (SO) vs. Seth Curry (JR)
Appling looked shaky at best in his Spartan debut and must find a way to run the offense more effectively against Curry and the Blue Devils.  His minutes were limited due to foul trouble, and a more cautious mindset would do the sophomore guard well in this one.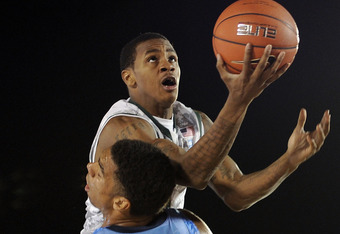 Harry How/Getty Images
Curry showed the ability to lead Duke effectively last season following the premature exit of Irving due to injury.  His experience in the backcourt in big-time games, such as this one, will prove to be a huge advantage versus Appling, who is still on the short end of a long learning curve.
Shooting Guard: Brandon Wood (SR) vs. Austin Rivers (FR)
Wood transferred to MSU in the offseason to finish his final season of eligibility as a Spartan under Tom Izzo.  His  performance in his first game with the green and white was lacking wow-factor, and he will need to step into a leadership role quickly to ease the tension on his young point guard. 
Look for Wood to take advantage of his experience in this one against Duke's freshman opponent at the 2-spot.
Austin Rivers was Duke's No. 1 recruit in the offseason and has earned the right to crack the starting lineup at this early stage in his career. 
While the young guard has already shown promise for the future, this game will be very indicative of just where he stands at this point in time with a tough matchup against a seasoned facilitator in Wood.
Small Forward: Branden Dawson (FR) vs. Andre Dawkins (JR)
Branden Dawson provided a silver lining for State in the Carrier Classic in that a.) he returned from what looked like a serious knee injury, and b.) he was a solid all-around contributor in just his first appearance in the college ranks.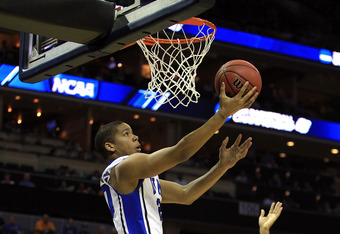 Streeter Lecka/Getty Images
The Spartans' highest rated freshman appears to be fairly refined for his lack of experience, and, similar to Rivers, this game will be very telling as to his current skill level.
Dawkins has yet to show improvement on the offensive end for Duke at this point in their season, but will undoubtedly look to take advantage of his quickness against the Spartans' inexperienced freshman. 
He has shot a low percentage from 3-point land thus far, compared to his previous two seasons under Krzyzewski, and if he breaks out of his slump in this one, it could be bad news for MSU.
Power Forward: Draymond Green (SR) vs. Mason Plumlee (JR)
The senior Green showed against an oversized UNC group that height means little compared to intensity when it comes to rebounding, and was able to pull down a game-high 18 boards against the likes of Tyler Zeller and John Henson. 
If Green is able to turn some of those boards into two points more effectively, then offensive boards could turn out to be the story in this one.
Mason Plumlee has performed well this season, averaging a double-double through the Dukies' first two games.  He has shot a high percentage in a large number of minutes and will be tasked with the difficult matchup of containing Green on the boards. 
It's hard to imagine his 6'10" frame shutting down the Spartan forward when the Tar Heels' twin towers weren't up to the task.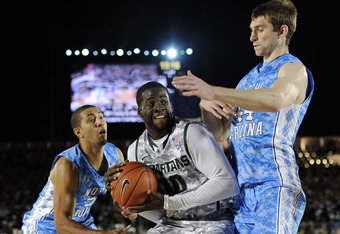 Harry How/Getty Images
Center: Derrick Nix vs. Miles Plumlee (SR)
Derrick Nix will likely get the start for Izzo in this one after coming off the bench in game one for Sparty. 
His intensity in Friday night's loss was hard to miss, and although his mechanics are sometimes questionable, the big man often finds a way to put the ball in the hoop when it appears he is out of position or overmatched. 
This game will be an important one for Nix to see if he can finally come into his own and produce on a consistent basis when called upon to do so.  It is still a possibility that he could come out as the Spartans sixth man behind Adreian Payne.
The second of the Plumlee brothers, also standing at 6'10", has been outplayed by his twin to this point and draws a tough matchup against the relentless, and often overpowering Nix.
If he is unable to slow down the big man on the boards, and both Green and Nix are able to dominate the glass, the Spartans have a real shot at coming away with a victory in this one.
Bench: Payne/Trice/Thornton vs. Thornton/Kelly/Cook
The Spartan "benchies" will be led by game one starter Austin Payne, who is likely to split minutes with Derrick Nix. 
Payne will be joined by freshman guard Travis Trice who racked up more minutes than expected against the Heels in light of the starter Appling's foul trouble.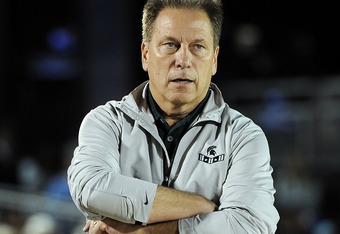 Harry How/Getty Images
Senior Austin Thornton looked atrocious aboard the aircraft carrier and is the true definition of hit-or-miss from mid-range for Izzo's crew.
The Blue Devil bench saw extended minutes in their previous blowout victory, and while it is unlikely they will grace the floor as frequently in this one, it will be important for F Ryan Kelly, along with guards Tyler Thornton and Quinn Cook, to supplement a starting lineup that could find themselves in foul trouble against an aggressive Michigan State team.
This one could go either way, especially being played on a neutral court, and should be a fun one to watch this early in the season. 
Although the Spartans are outranked substantially by Duke, don't be surprised to see them come away with a victory in this one if they are once again able to dominate the glass and if they can avoid the mistakes that plagued them in a competitive match against a noticeably better UNC squad.