Boise State Football: Grading the Broncos' Loss to TCU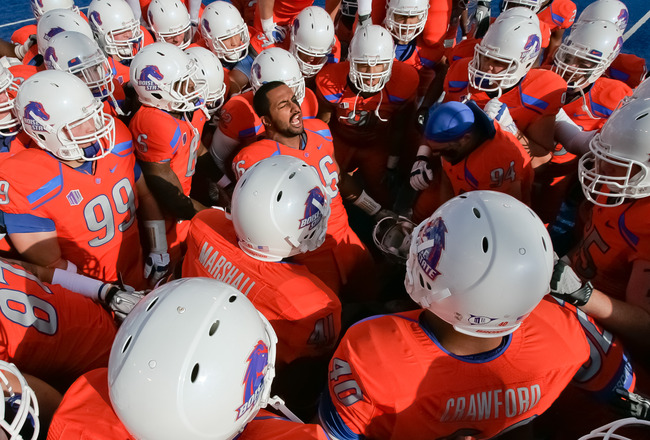 Otto Kitsinger III/Getty Images
For just the third time in Kellen Moore's record breaking four-year college career the No. 10 Boise State Broncos have lost. TCU came in to Boise and exploited weaknesses that have been pointed out this entire season.
As heart breaking as it seems, all is not lost for Bronco fans and players, as there is still plenty of football left this season. Obviously, the National Championship is out of the question for Boise State, as it should be for a one loss team when there are at least two other undefeated teams, but there still remains a slim chance at a BCS bowl.
For that to happen, Boise State absolutely has to win out and win big. Though losing to the now, No. 19 team in the country by one point looks a lot better than losing to an unranked Texas Tech, or an unranked Georgia Tech, it is moot if Boise loses again.
So what is it that Boise State needs to work on to ensure one loss doesn't turn in to an end of the season nightmare for the Broncos? Take a look at this week 's report card to find out.
Quarterbacks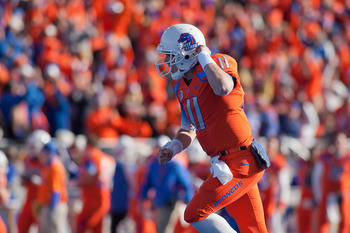 Otto Kitsinger III/Getty Images
Grade: A-
Kellen Moore was statistically spot on for a usual Boise State outing and the Hiesman voters don't seemed phased by a one-point loss to a very good team as Moore remains in the No. 2 spot behind Andrew Luck (who also lost on Saturday).
Moore completed 73% of his passes against the Horned Frogs and added two more touchdowns to his career stats. He also racked up 320 passing yards while spreading the ball to ten different receivers and did not throw an interception.
The reason for the A- is that Kellen Moore looked very flustered in the final drive, which is something I have never seen.
Known for his prowess under pressure in the two-minute offense Moore threw some uncharacteristically bad passes. One of which came on a 4th down which was saved by a very questionable pass interference call giving the Broncos the opportunity to miss a game-winning field goal.
All in all, Kellen Moore still performed very well and will likely reach the coveted 50-win mark as Boise State still has four more games if you count their bowl.
Running Backs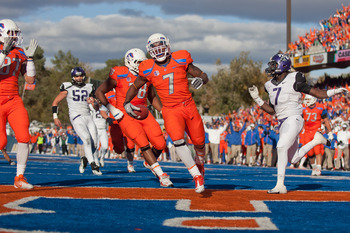 Otto Kitsinger III/Getty Images
Grade: B
There is a tale of two backs in this game. The first was given sole ownership of the spotlight and took full advantage of it, the other set in motion the events that gave the Horned Frogs the lead they needed to win.
With Doug Martin out due to injury, the running game fell to D.J. Harper and he performed very well. Carrying the ball 24 times for 125 yards with a touchdown against the best defense the Broncos will face in the Mountain West is very respectable for the back-up running back.
Harper definitely laid to rest any fears of a degradation to the Bronco running game with the loss of Doug Martin.
Junior Drew Wright came in to give Harper a rest looking to expand on the running game by carrying the ball three times for 20 yards. However, it was on his final carry that wright fumble the ball allowing TCU to recover it. This turnover led to the Horned Frogs final scoring drive where they went ahead of Boise State.
Wide Receivers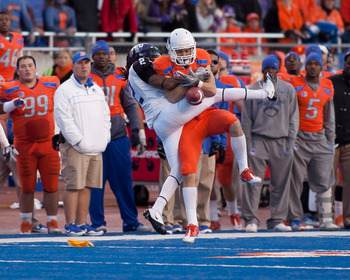 Otto Kitsinger III/Getty Images
Grade: A+
The group of wide receivers Kellen Moore tossed his 320 yards to did everything that was expected of them.
Dallas Burroughs definitely had the most spectacular catch of the evening for the Broncos on a 54-yard touchdown pass where he was streaking past the TCU secondary on his way to the end zone.
Matt Miller and Tyler Shoemaker also had good games with Miller catching nine passes for 73 yards and touchdown, while Shoemaker averaged 13.8 yards a catch on five receptions.
The Bronco passing game is fine and was not at all an issue during this game.
Offensive Line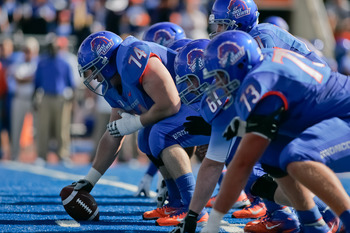 Otto Kitsinger III/Getty Images
Grade: A
Though Moore was sacked a few times in this game, the offensive line for Boise State provided more than enough protection for both the pass and run game to be effective.
Sacks are inevitable when playing a defense like TCU's, but the fact of the matter is, this game could have been much uglier if the line had not shown up at all.
Along with the receivers, the O-line may have been the most prepared for this game.
Defensive Line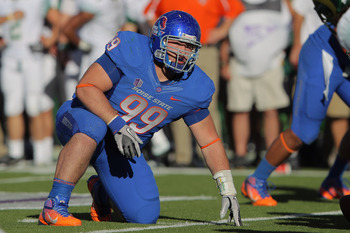 Doug Pensinger/Getty Images
Grade: C+
The loss of Billy Winn may have played a part in the defensive lines inability to put adequate pressure on Casey Pachall, but there are at least two other NFL caliber D-lineman on that team.
Granted, TCU, pound for pound, has the heaviest offensive line the Broncos have faced, but they are not much bigger than Georgia, whom the Broncos manhandled.
Pachall had all the time in the world to allow his receivers to go long and get open, which was the deciding factor in this game.
The reason the score is not lower is that the Broncos were stellar against the run, only allowing an average of 1.3 yards per carry on 36 rushes. Once again showing that Boise State is one of the best run stopping defenses in the country.
Line Backers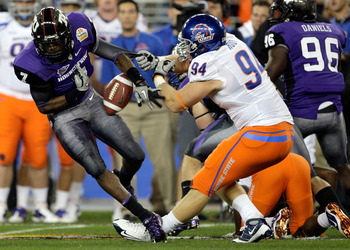 Jamie Squire/Getty Images
Grade: C
I'll be honest with you, I don't really know what grade to give the linebackers. Somewhere between the mediocre play of the D-Line and the absolutely atrocious play of the defensive backs, the line backers have to step up and fill in the holes. Sadly, they didn't.
There was not a single stand-out play the Bronco line backers made. However, I do remember Byron Hout committing an especially egregious face mask that pushed TCU closer to the end zone on one of their scoring drives.
That, along with their ho-hum play, gets them the lowest grade I've given them this season.
Secondary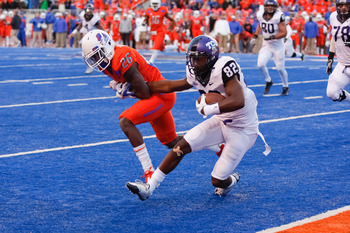 Otto Kitsinger III/Getty Images
Grade: F
If there were one piece of this Bronco team I could hang the Boise State loss on, it would be the Bronco secondary.
I have been saying it over and over, Boise State is getting lucky by playing teams that are not good at the passing game. TCU was not the first team to beat the Broncos down field, but they were the first that could beat them, that had a good enough quarterback to make the long pass and good enough receivers to catch them. All of that together exposed the Bronco secondary as very weak.
Of course, with Jamar Taylor being injured, the defensive backs were without their best performer but that doesn't account for the remaining pieces of the coverage. TCU found out that anyone matching up against Boise State CB Ebenezer Makinde one-on-one was at an immediate advantage as Makinde was exploited all day on the deep pass.
Then, on the two-point conversion, CB Quaylon Ewing-Burton should have just batted the ball away instead of trying to catch it, as he was in a position to do so. I guess hind-site is 20/20, but this surely added to the list of mistakes the Bronco secondary committed.
Boise State needs to get this obvious flaw fixed before San Diego State brings the same game plan as TCU.
Special Teams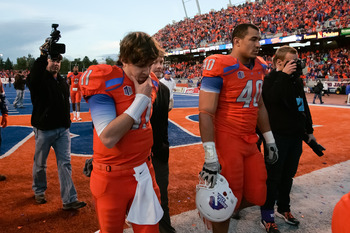 Otto Kitsinger III/Getty Images
Grade: F
Once again the Broncos hopes sail wide right, even after I have been saying that there will come a day when Boise State will rely on a field goal. Well, this was the day and Dan Goodale confirmed my fears that the kicking game is not nearly where it should be for a team in the Top 10 of the BCS rankings.
Not only that, Brad Elkin, who is normally solid on punting, kicked the ball out of bounds late in the game, setting up great field position for TCU that led to a touchdown for the Frogs.
It's safe to say that a field goal will likely be needed again this season, especially if the Broncos are lucky enough to get an at-large bid to a BCS bowl. I hope they are ready for it then.
Coaching
Ethan Miller/Getty Images
Grade: C-
There are only two things I will address as to why Chris Petersen and his coaches get a C- for this week.
The first is the fact that the defensive game plan was virtually unchanged when it was obvious Boise State was susceptible to the deep pass. Perhaps they thought the Broncos could just outscore the Horned Frogs in an offensive shootout?
I don't know.
The fact of the matter is, during the whole game we saw the same defense, which means TCU did too, and they took advantage of it.
Second, I think the Broncos had enough time to try for one last attempt at the end zone before attempting the field goal. Kellen Moore and the receiving corps were the only thing that seemed to be working for Boise State on Saturday night and I really feel if they gave the end zone just one more shot then the outcome could have been different.
Intangibles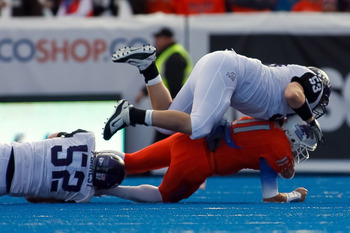 Otto Kitsinger III/Getty Images
Grade: C
There are two things the Broncos could have better controlled that may have changed the outcome of the game.
The first is turnovers. TCU turned two Bronco fumbles into touchdowns during this game, something that will kill any team no matter how good or bad they are. The final nail in Boise State's coffin came the drive after a fumble.
Second, Boise State needs to maintain intensity. The Broncos came out of the tunnel in both halves fired up and taking the fight to TCU, but that waned fairly quickly as TCU seemed to have an answer to Boise State's momentum shifts every single time.
Boise State's speed and intensity is what breaks them out early and often, but in the last few games, it just has not been there.
Keep Reading

Boise State Football: Like this team?