UFC: Why Frank Mir Will Be the Kryptonite for Junior Dos Santos
November 15, 2011
Just days removed from securing the UFC Heavyweight Championship from Cain Velasquez, fans are eager with anticipation to find out who Junior dos Santos will be defending his championship against first.
With the No. 1 contenders match pitting Alistair Overeem against the UFC's golden boy Brock Lesnar taking place at UFC 141 on Dec. 30, fans will more than likely get their answer in less than one months time.
Frankly speaking though, I do not see either fighter posing any kind of threat to the newly crowned champion.  
Overeem is owner to a well-known stand-up game but lets face the truth, Fabricio Werdum had the better of the striking game when they clashed for the Strikeforce Heavyweight Championship.
As a matter of fact, if it wasn't for the flopping of Werdum he might have walked away the new champion. Overeem also has 11 losses in his career and has lacked elite Heavyweight competition. The chances of him even getting by Lesnar are very slim in my opinion.
Lesnar has an obvious flaw in his game and that is he is 100 percent reliable on scoring a take down and holding his opponent on the ground. JdS has proven time after time that he has been able to avoid the take-down attempt and even when he has been taken down, JdS has shown an amazing ability to quickly regain his feet.
Lesnar's stand-up game is almost non-exsistent so if JdS is able to continue what he has done up to this point, expect Lesnar to be quickly dispatched in their fight.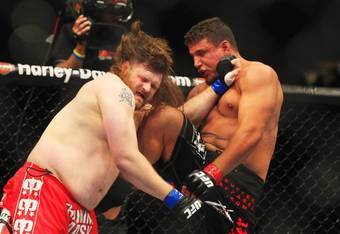 So who will be the man to defeat Junior dos Santos if these two are unable to complete the task? That man is the former Heavyweight Champion, Frank Mir.
Mir is possibly the most well-rounded heavyweight in the UFC and maybe in the history of MMA. Reasoning for selecting Mir as the successor to JdS isn't found in his Jiu-Jitsu background, knockout capability, soild chin, or his improved wrestling. It pertains to one simple aspect, stand-up striking defense.
It isn't a secret that Mir can end any fight in a matter of seconds with a well timed submission or the fact that he packs a lot of power behind his punches. He is a more diverse striker than dos Santos is and has the talent to block a lot of stand-up punishment, a skill that JdS hasn't run into to this point in his career.
Junior dos Santos is a talented striker and seems to do very well working with space but this plays right into the strength of Frank Mir and would allow Mir to dictate where and how he wanted the fight to go.
Fans all around would now consider Cigano to be one of the most talented strikers in the game but he had issues putting away Roy Nelson, a trait that Mir and Nelson share. Simply said, Mir isn't easily knocked out.
This is important because even if Mir gets knocked down, will JdS be so willful to swarm all over him like he showed with Velasquez due to the lethal guard that Mir possesses? I'd have to say he would be cautious to say the least.
This fight itself isn't too far off in the horizon because with a victory over Antonio "Minotauro" Nogueira on December 10th at UFC 140, Frank Mir will be on a three fight winning streak. That's a better win streak than Lesnar, Velasquez, and Carwin combined. 
Will Frank Mir be able to claim his 3rd UFC Heavyweight Championship in the near future, only time will tell but if there is anyone that can defeat JdS, Frank Mir is that man.