Mike Matheny: Should Mark McGwire Remain Batting Coach Under Matheny?
November 14, 2011
Tom Pennington/Getty Images
Should Mark "Big Mac" McGwire be retained as a batting coach on new manager Mike Matheny's staff? McGwire was the coach for the right-handed hitters, and Mike Aldrete, 50, coached the left-handers in 2011.
Both batting coaches played for Tony La Russa in Oakland. Now, the man replacing La Russa (Matheny) has a choice to make about TLR's image rehabilitation project (McGwire).
The two hitting coaches helped guide the Redbirds to a juggernaut offense. The Cards led the National League is several offensive categories, including batting into double plays. Fan frustrations over the double plays, however, drew a lot of scrutiny.
Mark and his questionable baseball choices as a player have long been drawing scrutiny. His philosophy about batting in the major leagues has especially been surrounded by controversy, since allegations of steroid use stuck his way.
Before admitting to playing under the influence of steroids, he'd exercised his right to remain mum during the infamous congressional hearings in 2005. Ironically, McGwire was grilled at the hearings by William Lacy Clay Jr., a U.S. Representative from St. Louis, Missouri.
Before then, McGwire had grilled huge home run numbers and broken Roger Maris' record of 61 in a season. "Mac" hit the record-breaking bomb on September 8, 1998 against the Cubs at Busch Stadium.
After that, St. Louis had yet another moment to add to their storied franchise's legacy. Until, that is, all proverbial underground heat broke loose.
Allegations from former teammate Jose Canseco surfaced that McGwire had been juicing. Curiously, Canseco remained without a baseball job while La Russa hired McGwire.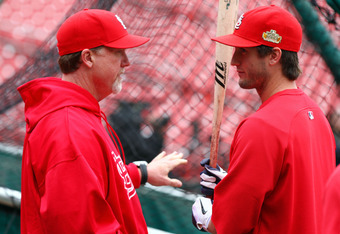 Dilip Vishwanat/Getty Images
Early in 2010, Mark then admitted that he'd used steroids.
Not surprisingly, after retiring in 2001, Mark has yet to be inducted into the Hall of Fame. To this day, his bronze statue commissioned by the Cards has yet to be unveiled.
As byproducts of his dishonesty in secretly using steroids, those two truths aren't coincidences. On the other hand, coincidence or not, Albert Pujols had his two lowest batting average seasons under McGwire's tutelage.
To be fair, David Freese credited McGwire with helping the 2011 NLCS and World Series MVP (Freese) with power hitting.
Listening to an interview played during a postgame show featuring Michael Claiborne this past season, I heard McGwire expound on his (Mark's) batting philosophy.
McGwire's approach as a coach is similar to his playing style: Hit gap to gap, stay confident, don't multitask in the batter's box and scorch inside pitches.
He also said he believes the game hadn't changed much since he retired, except for the amount of information available. To Mark, the available data should be studied to determine a pitcher's tendencies.
He praised Freese as the closest thing McGwire has seen to a true baseball player. Mark said Freese knows how to hit, has confidence and is patient. McGwire looked like a baseball prophet during Freese's incredible NLCS and World Series runs.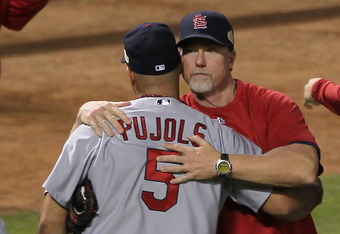 Ezra Shaw/Getty Images
Further, with most pitchers throwing inside just to show in the modern era, McGwire supposes most are uncomfortable tossing inside. Pitchers are now trained to go away. Pitching inside, McGwire believes, is part of the game that may never come back.
Well, with Matheny, Mark could be part of the coaching staff that doesn't return. New managers usually hire their own staffs. I expect—I pray—that Matheny partially does the same.
Meanwhile, Mark should be allowed to leave St. Louis with a World Series Championship—grace, honor and dignity—never to return as a coach for the Cardinals.
Given Matheny's reputation as a good teammate, a great friend, a fine father and a humble man, it seems unlikely McGwire would be a good fit.
If Matheny's legacy as a human being is true, then he'll likely shy away from Mark's legacy faster than a nerd would from Miss World.
Matheny won the first Darryl Kile Award. Presented by the Baseball Writers' Association of America (St. Louis' Chapter), the award is decided by Cardinals players every year. It's handed to the Redbird who best represents the aforementioned traits.
Matheny will prove worthy of the honor, plus win big points from me, by not retaining Mark McGwire as a batting coach. Let the specter of "Big Mac" and his steroid past go haunt some other franchise. This here is Cardinal Nation.
Contact Lake Cruise: Lakecruise@att.net