WWE: Will the Rock Finally Come Back for Good?
November 14, 2011
Lights, cameras, action!
The man who is not afraid to sweat, not afraid to bleed, you know the rest so there is no need, The Rock is back.
Yes, WWE Monday Night Raw will be "rocked" by none other than The Rock.
The nine-time WWE Champion is set to host a three hour special of Raw and gear up for his first match in seven years at the 25th annual Survivor Series this weekend in New York.
Yes, he is back, but for how long?
There is not a bone in my body that doesn't get chills when I think about the possibility of The Rock doing more than just two matches.
Currently, The Rock is set to team with John Cena at Survivor Series to face The Awesome Truth (The Miz and R-Truth).
Also, a match has been set a year in advance, something unlike we have ever seen, for Wrestlemania 28 in The Rock's hometown of Miami.
His partner this weekend is the same man he will face at Wrestlemania: John Cena.
Two generations will collide, just as it did so nearly 10 years ago at Wrestlemania X8 when The Rock faced and defeated a past generation of wrestlers represented by Hulk Hogan.
Can The Rock defeat a new generation or will Cena defeat The Great One?
The bigger question I ask myself is the possibility of The Rock being more involved than just these two matches.
Could Cena wind up the WWE Champion before the big match comes around and The Rock get a shot at becoming a 10-time champion?
Is it possible for The Rock to participate and win his first Royal Rumble in 12 years?
The odds aren't good for any of those events to occur, but you just never know.
The biggest problem with The Rock even returning for just a year is his movie schedule.  According to IMDB.com, he is set to film Snitch, Goliath, and Fast and Furious 6 for 2013 releases, all but filling up The Rock's iPhone 4S calendar.
However, WWE does shock me from time to time, even at my level of interest towards the current product.
I never thought in my wildest dreams that The Rock would host Wrestlemania 27 in my hometown, and he did.
While The Rock will be in his hometown come Wrestlemania, Cena will be in his tonight as Raw emanates from Boston.
However, with no pun intended, I don't think it matters that the WWE is in Cena's hometown.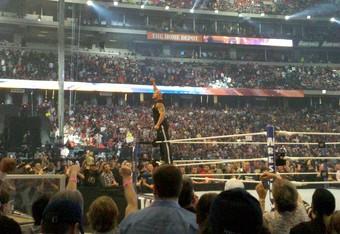 Regardless, the roof is likely to explode off of the TD Garden for The Great One.
I haven't been this excited for a Monday Night Raw since Bret Hart's return or The Rock being announced as the special guest host of Wrestlemania 27.
Who knows what will happen tonight on Raw.  All I have is a lot of questions and little answers.
Honestly, that is the way it should be when you watch the WWE, you shouldn't have any clue of what can or will happen, that is when WWE is at it's best, when it is unpredictable.
The only answer I have is Raw is sure to be electrifying and exciting and The Rock will not disappoint.
One thing is for sure, John Laurinaitis and his right hand man Carlton Banks better head for the hills when The Rock busts into the locker room.  Gear up for some funny moments to add to The Rock's already impressive collection of laughter over the years.
The Rock is ready for Raw as he posted on his Twitter account earlier today:
"Beasting. Hungry. Im coming home to eat. Tonight. Live."
This should be good...