College Basketball: 4 Teams Who Could Get Upset Tomorrow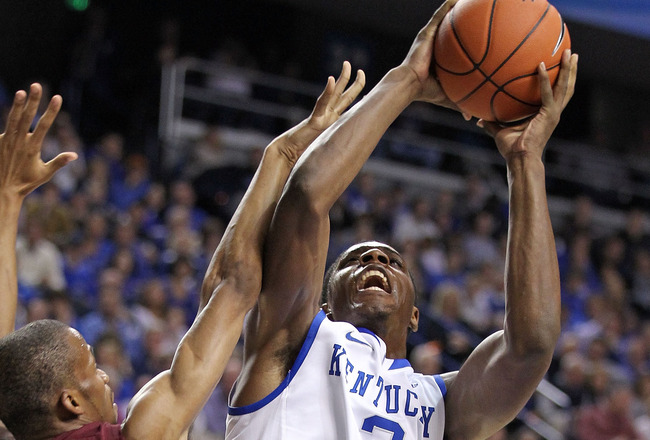 Andy Lyons/Getty Images
College hoops is here!
The first weekend of games saw two ranked teams get upset, a mid-major team almost win at Cameron, and two powerhouses play on an Aircraft Carrier.
Tomorrow we will have 24 straight hours of college basketball, so more crazy things are sure to happen.
Here are four teams that could get upset tomorrow.
No. 2 Kentucky (versus No. 11 Kansas)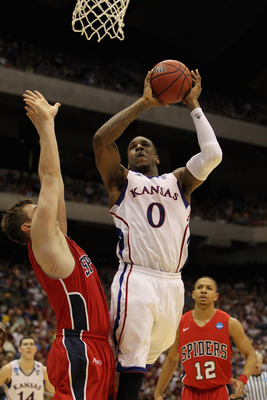 Ronald Martinez/Getty Images
It is going to be interesting to see if Kentucky's freshmen are mature enough to handle a hostile environment and an extremely talented Kansas team.
Is Marquis Teague ready for the quickness of Tyshawn Taylor?
Is Anthony Davis physical enough to "bang" with the Kansas big men?
Can Kyle Wiltjer find a way to guard someone with the skill of Thomas Robinson?
Is Michael Kidd-Gilchrist ready to make big plays late in this game?
We know that Kentucky is very talented but we also know that most of that talent is freshman talent.
Right now I am just not sure if this freshman talent is ready to play in Madison Square Garden against a top-15 team like Kansas.
Kentucky needs big games from "veterans" Terrence Jones, Doron Lamb and Darius Miller just so the freshmen do not have to have perfect games.
Kansas has a decent chance of knocking off the second-best team in the nation tomorrow night.
No. 6 Duke (@ Michigan State)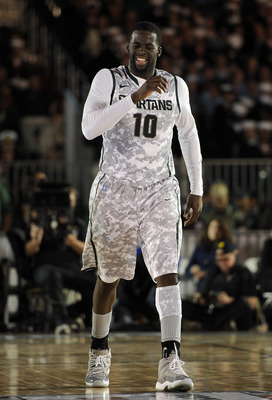 Harry How/Getty Images
Michigan State was able to outrebound North Carolina 49 to 34.
North Carolina has a frontcourt of potential All-Americans in John Henson and Tyler Zeller and a potential lottery pick in James McAdoo.
Michigan State was able to outrebound one of the most gifted front courts in college basketball history by using their bodies (Draymond Green had 18 rebounds) and being opportunistic.
The North Carolina frontcourt should be much better than the Duke frontcourt. The Duke frontcourt consists of three Plumlees and Ryan Kelly.
If Michigan State plays the same way they did against North Carolina, they should be able to have about 20 second-chance points against a mediocre Blue Devils frontcourt
If they can shore up their perimeter defense as well, the Spartans might be in for a double-digit statement victory against Duke.
No. 3 Ohio State (versus No. 10 Florida)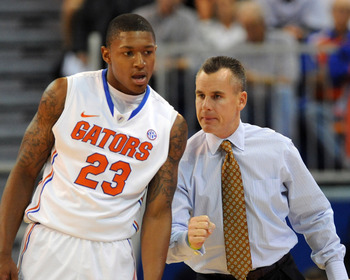 Al Messerschmidt/Getty Images
It is going to be interesting to see if Florida can outshoot the Buckeyes.
The Gators have four All-Conference caliber guards but only have one serviceable big man.
The Buckeyes, on the other hand, have four quality post players but only one real threat from the outside.
The Buckeyes are going to want to slow the game down and get Patric Young in foul trouble so the Gators have no one left to guard All-American Jared Sullinger. After they get Young out of the game the Buckeyes will try to pound it inside on just about every possession to take advantage of Florida's "weakness" down low.
The Gators, on the other hand, are going to penetrate and kick out to open shooters all night long. Erving Walker and Kenny Boynton should be able to beat the Ohio State guards off the dribble and kick out to shooters Mike Rosario and Bradley Beal.
I think Florida can hit just enough outside shots to beat the inside game of Ohio State.
No. 10 Memphis (vs. Belmont)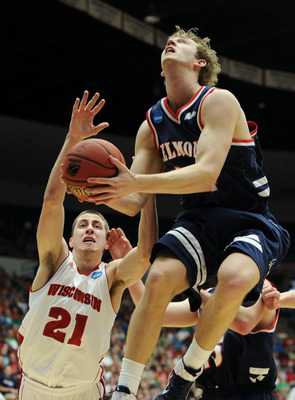 Harry How/Getty Images
I think Belmont has a good chance of upsetting the 10th-ranked Tigers.
Belmont gained confidence when they came within one point of being the first team to win a non-conference road game in Cameron Indoor Stadium since St. Johns did so in 2000. So basically Belmont almost has the talent to do what no team outside of the ACC has done in 11 years.
Also, it can be said that Duke has a little more talent than Memphis.
So now Belmont is facing an "inferior" Memphis team and they have gained some confidence and swagger from their stunning performance at Duke Friday.
If Belmont can outrebound the Tigers, force the Tigers into difficult shots and play under control then they will upset the 10th-ranked Tigers.
Keep Reading