DeSean Jackson a Chicago Bear in 2012? Yes, Please.
November 18, 2011
Chris Trotman/Getty Images
The Chicago Bears might just be the NFL team with the most momentum behind it over the last month.
Analysts are popping up left, right and center proclaiming Chicago a Super Bowl XLVI contender. They certainly aren't misguided in their judgements, but the fact remains that the Bears will not be crowned as repeat NFC North champions and could easily finish third in the division. This seems unlikely considering Matthew Staffords' injury, the seemingly opposite directions in which the Bears and Lions are trending and Chicago's lighter strength of schedule for the rest of the season.
Either way, the road to the big game goes through Green Bay, whether in the Divisional round or the NFC Championship.
And the Packers look scary good.
As such, I turn my attention to next season. What can the Bears do to level the playing field with the potentially dynastic Cheeseheads?
Last year they made an impact move bringing in the Freak of Nature a.k.a. Julius Peppers, which has paid off nicely so far. But anyone who knows anything about the NFL will tell you the talent gap that exists between these two teams is still wide.
Looking at Chicago's free-agent situation for next year, they look primed to keep the majority of their starting lineup in tact. The most important unrestricted free agents on defense are Brian Urlacher, Lance Briggs, Zack Bowman, Tim Jennings, Craig Steltz and Israel Idonije.
Barring an Olin Kreutz-like fallout between Urlacher and the front office, fans should expect to see Urlacher finish his career in navy and orange (or at least until his production drops off significantly). He has clearly stated his desire to stick around. We can assume we are watching Briggs play his last season in Chicago. The rest of the names on defense are either likely to stick around or will not be horribly difficult to replace.
The story is similar on offense. Matt Forte is going to get paid in the Escalade. If not, I will never write another article on the Bears ever again. So let's assume he at least gets the franchise tag. That leaves Earl Bennett, Roy Williams and Roberto Garza as the only other significant free agents.
This gives the Bears some flexibility to explore the free-agent market aggressively. Not with Philadelphia Eagles Dream Team aggression, but nonetheless, they will find themselves having some of the deepest pockets in the league this coming offseason.
In what direction should the Bears go? They could sign a few wily vets to shore up multiple positions like when they brought in Chester Taylor and Brandon Manumaleuna with larger contracts than most teams would have given them at the time. Or, they could go the Peppers route and throw big money at that one impact player to take them to the next level.
Like most fans, I feel the latter is much sexier.
So which position do they address?
A simple question: wide receiver.
Not that you, the well-informed fan, needs any convincing, but we'll look at the numbers anyhow:
Cutler threw for an anemic 123 yards on nine completions in the Bears' otherwise convincing 37-13 win over the Detroit Lions in Week 10 (Earl Bennett was the only player with more than one catch). The defense/special teams outscored the offense 21-16.
The Bears do not have a receiver who ranks in the top 40 league-wide in receptions, targets, yards, touchdowns, catches for 20+ yards or yards per game (including running backs and tight ends).
Matt Forte has nearly double (42) the number of receptions as does the next closest player, Devin Hester (22).
The Bears receiver with the most touchdowns, Dane Sanzenbacher (3), has caught five total passes in the last four games.
There has not been a 1,000-yard receiver in Chicago since Marty Booker did it back-to-back in 2001 and 2002. Johnny Knox has come the closest with 960 yards last year but will not come anywhere close this season.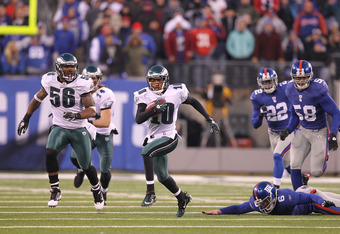 Al Bello/Getty Images
It is no great secret that Chicago has always lacked that Top 10 guy splitting out wide since...forever, a role Hester was unfairly expected to fill while concurrently building his resume as the biggest game-changer the NFL has ever seen as a punt/kick returner.
So why am I beating this fact like a dead horse, not dissimilar to the way the Bears will pound Saint Tebow in a few short weeks? (Get it, you know, because he plays for the Broncos. Dead horse. Pun.)
Because it can't be stressed enough how much the lack of a big-time receiver has held this team back from real success. And although Lovie Smith has his defense on Monsters of the Midway status as of late, the core of the D won't be around forever—and in this day and age, offense wins championships. The time is now while guys like Charles Tillman, Peppers and Urlacher still have life in them, to commit some real money to a someone who can get open downfield and spread the offense.
Enter DeSean Jackson.
The timing could not be better for the Bears to make a move.
Jackson was very publicly deactivated for the Eagles' Week 10 loss to the Cardinals after missing all or most of Saturday's special teams meeting, depending on who you ask.
Jackson has been vocally upset since before the 2010 over the lack of a contract extension as his initial rookie deal sets to expire at the end of the year. While the Eagles threw Scrooge McDuck cash at Pro Bowl-caliber defenders in the offseason and rewarded Vick with enough money to buy every mistreated pitbull in the country a Jet Ski, Jackson sits idly by making blue collar minimum wage.
To make matters worse for the Jackson-Philly relationship, rumors abound that the reason for his distracted, subpar performance this year and for missing that meeting stem from serious financial trouble: He owes agent Drew Rosenhaus (who has yet to actually negotiate a contract for Jackson) money "in the hundreds of thousands."
Before we get too far ahead of ourselves, there is another prerequisite that we have to look at before considering Jackson's availability, and that is whether Philadelphia will make an effort to re-sign him. History suggests that the answer is unequivocally, no.
Jog your memory for a moment: Lito Sheppard, Brian Dawkins, Jeremiah Trotter, Terrell Owens. Each was run out of town by the Eagles at the first sign of discontent. Despite his ridiculous talent, I do not see Philly finding room in their bloated payroll to keep Jackson in the locker room. The only big contract coming off the books next year is Steve Smith's, otherwise the Eagles will owe over $60 million just to their 15 highest-paid players.
So let's review: Jackson wants a new contract and is mired in financial woes; he was recently benched and has been on the hot seat ever since; the Eagles have little tolerance for trouble makers and likely cannot afford him regardless.
It appears DeSean Jackson, he of the back-to-back Pro Bowl selection association, is ripe for the picking.
You're probably rebutting in your head that the main reason Jackson is available is because he is a locker room cancer. You might be right, but then again, we won't know until Jackson is actually paid his market value.
And if there is a locker room built to handle a personality like D-Jax it is the Bears'. With character guys like Peppers and Urlacher, a quarterback like Cutler who most certainly does not put up with foolishness and a p-h-a-t contract to pay back his agent/daddy, you have to feel comfortable predicting that Jackson would not be too difficult to keep in check off the field.
You need more convincing? Go to YouTube and make sure there are no bugs in the room to fly into your jaw-dropped grill while you observe his freakish knack for the big play. Did I mention his back-to-back 1,000-yard seasons the last two years while finishing first and second in average yards per catch? And a little-known fact: He is the first player to be selected to a Pro Bowl at two positions (receiver and returner), so you've got one of the best returners in the game to supplant Hester when he's tired, injured or ineffective.
The stars are aligned.
Jerry Angelo, don't make me take your job.