Ahmad Bradshaw Injury: Updates on Giants RB's Week 11 Status and Fantasy Value
November 14, 2011
Nick Laham/Getty Images
So maybe Ahmad Bradshaw is more valuable to the New York Giants than we thought.
Bradshaw missed last week's win against the New England Patriots and was out with the same foot injury on Sunday against the San Francisco 49ers.
Brandon Jacobs was only able to churn out 55 yards on his 18 carries as Eli Manning was forced to drop back to pass 40 times and the Giants loss their third game of the season.
A speedy Bradshaw return is extremely important at this point before the season spirals out of control. The next four games are against the Eagles, Saints, Packers and Cowboys.
Here is the latest on Bradshaw's status for Week 11.
Update: Wednesday, Nov. 16. 11:06 P.M EST by Michael Dixon.
Mike Garafolo is reporting via Twitter that while some progress has been made, Bradshaw will miss practice.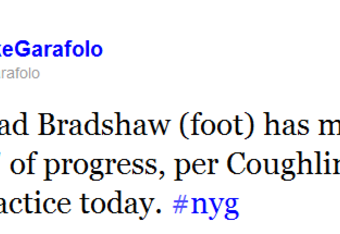 It's only Wednesday but Bradshaw has missed the last two games. If he can't practice, it doesn't bode well for his ability to play. It certainly doesn't bode well for his ability to play well.
Update: Monday Nov. 14. 3:00 P.M. EST
No updates have been announced by the Giants to this point for his status against the Philadelphia Eagles.
Its worth mentioning that head coach Tom Coughlin told reporters before Sunday's loss to the 49ers that surgery on Bradshaw's foot is not in the teams plans "at the moment".
Make sure to check back throughout the week to get a better idea of if Bradshaw will be on the field in Week 11.