College Basketball Predictions: Preseason 1st and 2nd All-Big East Teams and POY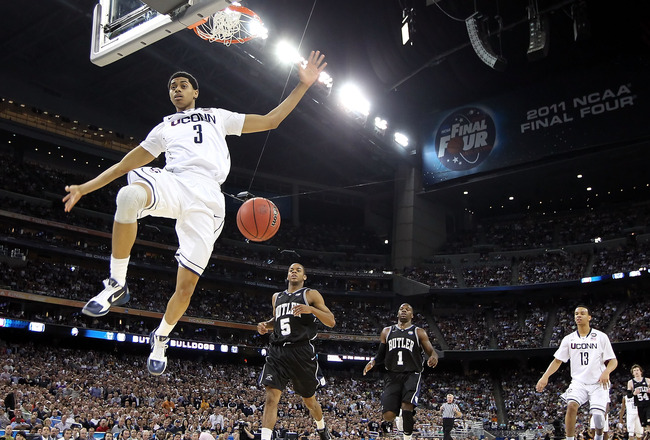 Connecticut sophomore star Jeremy Lamb
Streeter Lecka/Getty Images
This season, the Big East is loaded at the top, with six teams in the preseason ESPN/USA Today Top 25 poll. The team with the most potential is the 2011 national champion Connecticut Huskies, who return the majority of their key personnel from last season, along with the addition of superstar freshman center Andre Drummond.
Joining Connecticut at the top of the conference are Syracuse, Louisville, Pittsburgh, Marquette and Cincinnati. Along with being rated as one of America's most powerful conferences year-in and year-out, they also annually churn out the best professional prospects in the country.
That being said, competition is fierce each year for All-Big East honors at the end of each college basketball season.
Here are the preseason first and second team All-Big East selections, along with the preseason 2012 Big East Player of the Year.
2nd Team: Scoop Jardine, Syracuse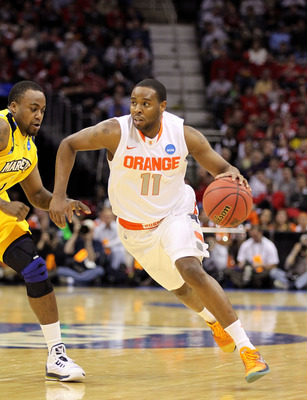 Philadelphia native Scoop Jardine
Andy Lyons/Getty Images
The 6'2" senior combo guard will be the driving force in the Syracuse backcourt this season. The Orange are loaded, and they will look to him as a steadying force, providing leadership, scoring, assists and rebounding on the offensive end of the floor, as well as being a pest in their nationally feared match-up zone defense.
2nd Team: Herb Pope, Seton Hall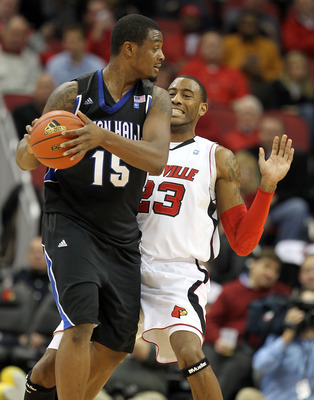 Double-Double machine Herb Pope
Andy Lyons/Getty Images
The senior power forward deserves a fantastic senior season, and I think he will have it. He has already survived two near-death experiences in his young life. The 6'8", 240-pound rebounding machine looks to finish his Pirate career averaging a double-double and putting himself in position to be drafted into the National Basketball Association next June.
2nd Team: Kevin Jones, West Virginia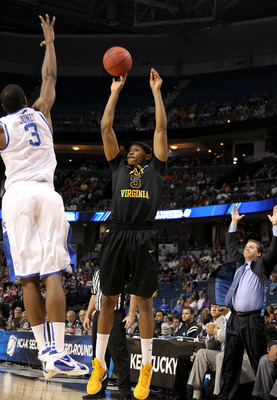 Mountaineer star Kevin Jones
Mike Ehrmann/Getty Images
The 6'8" small forward will be the leader on a young Mountaineer team this season. The senior is a lengthy prospect who will dazzle opponents with his scoring and rebounding numbers in his final season in Morgantown.
2nd Team: Jae Crowder, Marquette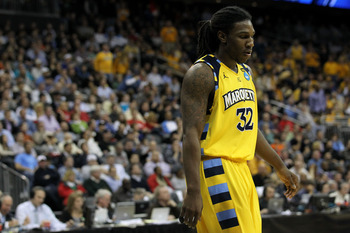 Marquette's Jae Crowder
Nick Laham/Getty Images
The 6'6", 240-pound combo forward has a motor that never stops for the Marquette Golden Eagles. He is a consistent double-double threat, who is also capable of defending the opposing team's most gifted offensive player.
2nd Team: Maalik Wayns, Villanova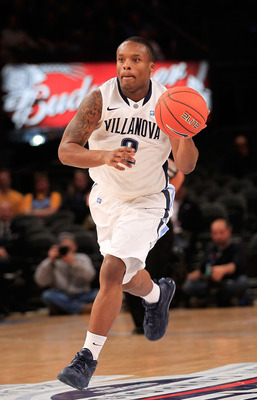 Villanova's next star guard, Maalik Wayns
Chris Trotman/Getty Images
Villanova has a history of producing big-time Big East guards under head coach Jay Wright, and the 6'2" point guard is next in line. With the graduation of Corey Fisher and Corey Stokes, the Philly native has the talent to keep the Wildcats afloat this season.
1st Team: Darius Johnson-Odom, Marquette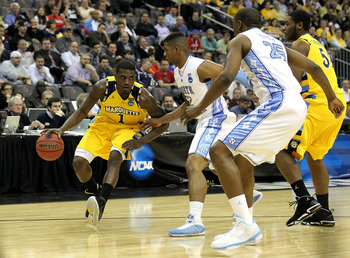 Marquette star Darius Johnson-Odom
Nick Laham/Getty Images
Darius Johnson-Odom is the heart and soul of this year's Marquette squad. The 6'2" shooting guard is a knock-down shooter from distance who also excels at taking the ball strong to the basket. He will team up with Jae Crowder to make the Golden Eagles a threat to take Marquette past the Sweet 16 this season.
1st Team: Yancy Gates, Cincinnati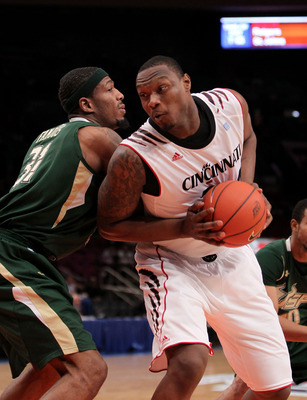 Bearcat star Yancy Gates
Nick Laham/Getty Images
The physical specimen is a bruising power forward prospect. The 6'9", 260-pounder is primed and ready to dominate the interior this season for the Bearcats, while positioning himself into a prospect for the 2012 NBA draft. He has had a tendency to drift away from the basket in the past, but if he strays from doing so, his numbers should be monstrous this season.
1st Team: Kris Joseph, Syracuse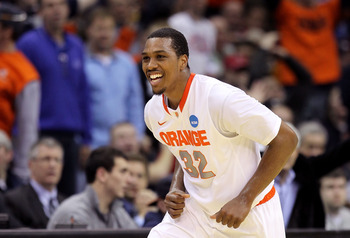 1,000 point scorer Kris Joseph
Andy Lyons/Getty Images
The 6'7", 210-pound small forward fits the bill as a top-notch professional prospect. He is a long, athletic prospect who is always active, especially around the glass. He will be the No. 1 scoring threat for the insanely deep Syracuse team who will be extremely fun to watch this season.
1st Team: Ashton Gibbs, Pittsburgh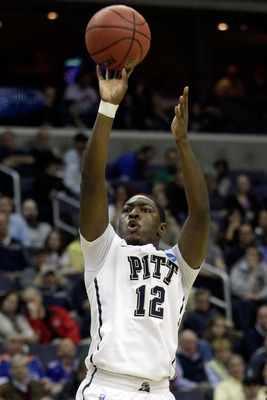 Pittsburgh Panther star Ashton Gibbs
Rob Carr/Getty Images
Ashton Gibbs is the definition of a college star. He is a phenomenal long-range shooter who plays smart basketball for the Pitt Panthers. The 6'2" guard is in the process of transitioning from shooting guard to point guard full time. He is the front-runner to lead the conference in scoring in his final college season.
1st Team: Peyton Siva, Louisville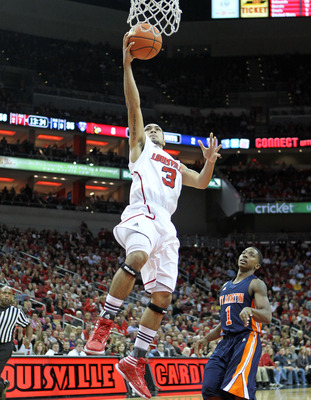 Seattle native Peyton Siva
Andy Lyons/Getty Images
The 6'0" Seattle native is a budding star for the Louisville Cardinals. While he is undersized for the point guard position, he compensates with his extreme athleticism. He is one of the fastest point guards in college basketball, and is explosive when changing gears. Look for him to have a banner season in what might be his last in a Louisville uniform.
Big East Player of the Year: Jeremy Lamb, Connecicut
Preseason Big East Player of the Year: Jeremy Lamb
Jim Rogash/Getty Images
The 6'5" shooting guard physically is a can't-miss NBA prospect. He has a tremendous wingspan, runs the floor extremely well and is oozing athleticism. His ball-handling skills are above average and he is a very good jump shooter off the dribble. He is a late bloomer and his game has been taking off since his enrollment at UCONN. Look for this to be his last season in Storrs, and it will be a memorable one.
Keep Reading