A.J. Green Injury: Updates on Bengals Star's Week 11 Status and Fantasy Value
November 14, 2011
Andy Lyons/Getty Images
Cincinnati Bengals wide receiver A.J. Green sustained a right knee injury against the Pittsburgh Steelers on Sunday and couldn't get loose enough to play again. The Bengals have an important division game against the Baltimore Ravens in Week 11 and will need Green healthy to optimize their chances.
Keep checking back to this page throughout the week for updates on Green's availability and potential fantasy value for Week 11.
Sunday, Nov. 20 at 11:20 a.m. ET by Kyle Vassalo
NFL Network's Stacey Dales ended the mystery surrounding Green's status, tweeting that he is officially out, according to Marvin Lewis.

Friday, Nov. 18 at 11:35 a.m. ET by Eric Bowman 
Joe Reedy of The Enquirer tweeted the latest update on Green, and it's not going to please fantasy football owners.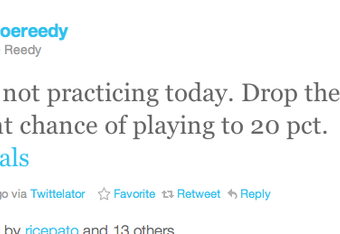 If the rookie sensation wasn't on your bench before, he needs to be now. The Bengals know how valuable Green is to their team, and putting him on Sunday is a huge gamble. 
Yes, the game against the Baltimore Ravens is a crucial one, but risking further injury to Green is not a smart move. Look for Jerome Simpson and Andre Caldwell to step up in Green's likely absence. 
Wednesday, Nov. 16 at 11: 56 p.m. EST by Michael Dixon.
The Bengals are reporting on their official Twitter page that Green will be a game-time decision.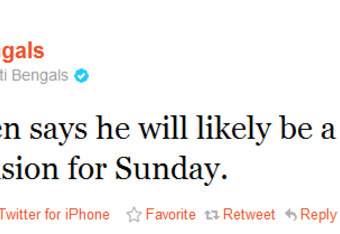 Keep your eye on this, as this is Green's word. The team may be a little more definitive later in the week. Green is generally a fine fantasy option but you never want to play a guy that you're unsure will even suit up.
Monday, Nov. 14 at 1:45 p.m. EST
The Cincinnati Enquirer compiled postgame quotes from all the key players in Cincinnati's loss to Pittsburgh, including Green, who didn't sound overly concerned about the injury. The rookie said he lobbied to go back into the game but was turned down by coaches.
Did you think it was serious?

'No. I didn't hear anything pop. I just hyper-extended it a bit.'

So you don't think it will affect your status for next week?

'I don't think it's anything that serious. I think I'll be back. I'm getting an MRI after this, but I don't think it's anything serious.'
Baltimore is allowing less than 200 yards per game through the air and have only allowed six passing touchdowns. Green will need to be at full strength to have any opportunity of posting fantasy-worthy numbers. We'll find out more when results from his MRI are released.