Philadelphia Eagles: Whom Should the Blame Be Placed On?
November 14, 2011
Patrick McDermott/Getty Images
Right now, the abysmal Eagles stand at 3-6, good for third place in the NFC East. Coming off another blown fourth quarter lead, Eagles fans have lost all hope. Where did the "Dream Team" Eagles go wrong?
With the third best offense in the NFL including the leagues leading rusher Lesean McCoy and the twelfth rated defense, stats show this Eagles team to be better than their record indicates.
When looking at overall drive to win, that's where the Eagles rank last.
Good teams win games in the fourth quarter, shown this season by quarterbacks Aaron Rodgers, Eli Manning and even Alex Smith. However, the Eagles are opposite of a good team. They are 1-4 at Lincoln Financial Field, and have lead in the fourth quarter of every single home game they've played in. According to Rueben Frank of CSN Philadelphia, they are the only team in NFL history to do so.
Not only have they blown four of those leads at home, they also have blown one fourth quarter lead on the road, totaling five blown leads in the fourth quarter this season.
Good teams seem to make plays when it is most needed, such as an interception or a forced fumble when their opponent is driving down the field for a go-ahead score. The Eagles on the other hand, seem to leisurely watch receivers blow by them, or back off and let receivers have too much room to make an easy catch. This team simply does not have enough heart to win.
So, whom does the blame get put on?
It all starts with coaching. As a head coach, your responsibility is to win games. When it comes to the fourth quarter, your team should be disciplined enough to hold leads. It is evident that Andy Reid, an experienced coach, has clearly not done the job he needs to do in the fourth quarter.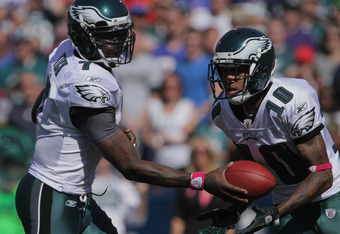 Brody Wheeler/Getty Images
Also, hiring the former offensive line coach, Juan Castillo, as the defensive coordinator certainly doesn't help the problem. Castillo's defense fails over and over again to make stops when they are most needed.
Moreover, Mike Vick and the Eagles' offense continues to be inconsistent. Vick already has ten interceptions this year, and only has six all of last year. He looks like he has forgotten everything that he improved on last year. Vick has been missing open receivers, and now has reverted back to his old habits of run first, pass second.
Could the blame also be put on Desean Jackson, who continues to be a problem on and off the field? With an ongoing contract dispute with the Eagles, Jackson's play on the field has noticeably decreased, and has faced allegations of taking plays off.
Also, he missed a special teams meeting last Saturday, forcing Andy Reid to make the decision to bench him Sunday against the Cardinals. The Cardinals safeties clearly keyed on more intermediate routes then the deep ball with the absence of Jackson, and the offense suffered.
The answer to the "blame game" is not clear because there is no one answer. The Eagles organization, as a whole, has a lot of problems, starting with owner Jeff Lurie, to Andy Reid, to Mike Vick and Desean Jackson.
Bad decisions were made this offseason, and once again, Lurie and the Eagles front office will be faced with a long offseason.
They have to make changes in order to keep this team competitive for years to come.