TNA Turning Point Pay-Per-View Review
November 14, 2011
Since the beginning of the TNA-Bischoff/Hogan era, my mind has been convinced that buying a TNA pay-per-view is like sticking two of your fingers into an electrical outlet. You know it's wrong, but you do it anyway. I say this with the exception of three people on the TNA roster: Aries, Sky and Roode.
Now, I've been disappointed the past few months with the way TNA has been performing. It's basically not the wrestlers, but the writers and whatever backstage politics they have currently going on. However, I figured I'd buy the Turning Point pay-per-view and see for myself if anything has changed.
TNA Television Title Match: Robbie E. vs Eric Young
The opening match of Robbie E against Eric Young did have its moments. Some good, some bad. But the match itself was completely controlled by EY. The guy has a natural talent towards captivating an audience and performing in the ring.
It disappointed me on two levels. First, why the heck is Robbie E getting a title shot? I understand the whole lame Jersey Shore character, but in the words of a great champ "Are you serious, bro?"
Big deal about his character, Becky Bayless, was the main reason why I paid any attention to the guy. Now you have Big Rob as his bodyguard? Who's writing this? Also, the second part that annoyed me was they actually gave this guy the belt. I'm just going to shake my head at this. 
TNA Tag Team Title Match: Ink Inc. and Toxxine vs Mexican America and Sarita
I actually looked forward to watching this match. I'm a fan of Mexican America and like how their heel gimmick is working in the ring with the fans. Ink Inc. have their moments, but the real importance of the match is seeing Mexican America retain their titles. I enjoyed seeing the girls fight it out, but it's really the guys who stood out in this match.
Overall, it was not that bad. Except for the botch ending where Toxxine constantly looked back to make sure Sarita was behind her to hit her and go for the cover. TNA will probably continue the angle, leading up to an upset of Ink inc. beating Mexican America.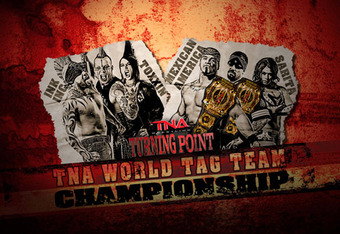 TNA X Division Title Match: Jesse Sorensen vs Kid Kash vs Austin Aries
The main reason why I watch TNA is due to Aries. I can go on writing about how extravagant his wrestling ability, his promos and his telling of a story are, but I'm going to just go straight into the match and say that it was a good match, mainly due to the way Aries controlled it, using Kash in the storyline to beat up on Sorensen and get the win.
However, I did feel that something was out of place. I felt that Aries went too much into portraying the "puppet master," in controlling Kash and should have just started the match with this, instead of going though out. 
NO DQ Match: RVD vs Daniels
In all honesty, I looked away. The match itself did nothing for me. I felt that it was just a "fill-in," just to get to the other matches. I won't waste your time on this match or the Crimson vs. Matt Morgan match, either. 
Scott Steiner and Bully Ray vs Mr. Anderson and Abyss
Another match that I came to the point to say I was not interested in seeing it. Which made me think "why did I buy this PPV again?"
However, I sat through the match and thought about two brief things: 1. Steiner's chest is literally completely gone from what he had left months before and 2. I can't seem to stand Bubba cutting a promo with Bischoff in front of him on Abyss on how much of a "MONSTER" he is and think to myself, "just go back to WWE like Devon was talking about." Your character is nothing like it was Bubba. Ugh.
TNA Knockouts Championship: Gail Kim vs Velvet Sky: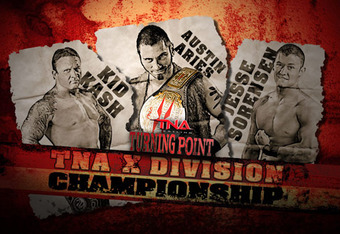 The moment this match was televised I knew Sky was dropping the title. Why else would Kim come to TNA without wanting to get a belt? How can you just give up a title that you spent four years trying to earn and just give it up at the first Pay Per View you defend it at, to a woman who just signed with the company who used to be in TNA? If this is an angle, it better be leading somewhere, cause that's just low.
Jeff Hardy vs Jeff Jarrett
 In a match that saw Hardy win three times, the overall match was mediocre. Hardy came to the ring in some sort of ram-like head, with of course his face painted, which led me to believe that Hardy was hitting the strong stuff again.
But I was wrong. Hardy seems as if he might be somewhat back to normal. We'll see. If Hardy can pull this off, he will soon be back at the top. But like I said: We'll see.
TNA Heavyweight Title: AJ Styles vs Bobby Roode
The final reason why I watch TNA is all about Roode. I'm glad he's champion, and I'm glad he retained his title. I'll go much further into him next month, when he retains it again. It was a good match. It was OK to end on.
Overall the Pay Per View was a 2.5 out of 5. I might of not liked it a lot, but it was entertaining to buy. Good Decision.