Doubting Manny: The Aftermath of a Subpar Performance Against JM Marquez
November 14, 2011
It is funny how a fight that you win can cause everything to seemingly unravel before your eyes. 
It was supposed to be a glorified tune up fight before the Dream Match. Floyd Mayweather had all ready completed his prerequisite, dispatching of the hard charging and heavy hitting southpaw Victor Ortiz without really breaking a sweat.  
Now it was Manny Pacquiao's turn to walk through a technically sound counter puncher.   
After going on an impressive run, carving apart Oscar de la Hoya, Ricky Hatton, Miguel Cotto, Joshua Clottey, Antonio Margarito and Shane Mosley, the coronation of Pacquiao as the pound for pound king was to continue in his rubber match against Juan Manuel Marquez. 
Marquez was 38 years old, was fighting for just the 2nd time at this weight—the other time being an annihilation at the hands of Mayweather—and was nearly a 10-1 underdog.  Certainly Pacquiao would mop the ring floor with Marquez and show he could dismantle the counter punching style and set the stage for the Dream Match versus Mayweather.
Not so much.
Pacquiao came out strong and agile in the first round, looking like he was getting the timing down to eventually land some big shots on Marquez. He got a nice crisp left hand shot in round 1, leaving a nasty welt on the face of Marquez. It seemed to mark a sign of things to come that damage would quickly accumulate from more of those left handed shots, eventually stopping Marquez.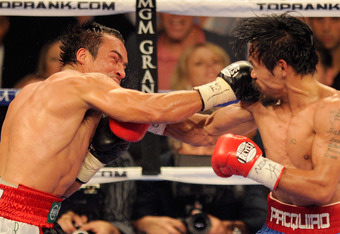 Ethan Miller/Getty Images
But as the rounds wore on and Pacquiao kept probing and initiating his offense, landing some scoring shots, he would more often than not be met with a flush right hand to the middle of his face or an annoying dig to the body for his troubles. This seemed to frustrate and confuse Pacquiao. And, unlike the Pacquiao of old, it seemed to cause him to ease off on his offense to avoid those return to sender shots instead of stepping on the throttle and overwhelming his opponent with offense. 
Round by round, you could see the doubt start to fill Pacquiao. Gone was the confident dervish of a fighter who would lunge in and rip off five and six punch combinations and be out of range before the opponent knew what happened, replaced by a tentative boxer wary of being whacked in the face when he got out of position.  
Maybe he did not trust the game plan that master trainer Freddie Roach had put together.
Maybe he did not trust that his skills were good enough to execute the game plan against Marquez.
Maybe the shots of Marquez stung him more than he was used to.
Maybe he could feel his body beginning to betray him.
Maybe, now that he is a congressman, singer, actor, entertainer, multimedia pitchman, and boxer—in who knows what order of importance in his life—he is less interested in engaging in an all out war in the ring
At the end of the 12th round, the doubt in the mind of Pacquiao came through in his body language.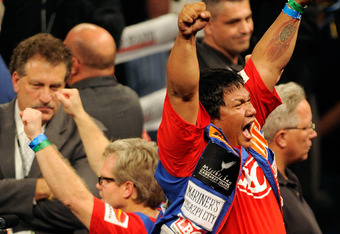 Ethan Miller/Getty Images
As Marquez walked to his corner, arms raised in victory, Pacquiao slumped back to his corner with his arms at his side and his chin buried in his chest. It was only after the majority decision was announced that Pacquiao could exhale and felt it was safe to slip on a tee shirt that read 'Undisputed Champion'. 
But there was never a time to celebrate the victory. When dominating excellence is expected, even a victory is sometimes not good enough.  Immediately in his post fight interview where he was maybe expecting bouquets of roses, choruses of boos cascaded down upon him. 
And from there, it seemed to escalate. And the doubts that Pacquiao may have had over his own performance spilled over to the boxing community.
Whispers and shouts of, "Marquez was robbed!" spread like wildfire. 
All of a sudden, Pacquiao was not really a great fighter after all but the product of impeccable match making and promotion. Suddenly there was doubt injected to all of the wins that have made Pacquiao a star.
De la Hoya? He was not too big and powerful for Manny anymore, he was a washed up cross dresser who had no business being in the ring.
Hatton? He was not a rough and tumble British warrior with concussive power, he was a has been drug addict who should have retired after his Mayweather bout.
Cotto? Once thought to be a dangerous, legitimate welterweight warrior, he has been bargained down to a head case, apt to quit in the ring, who will never be the same after being stopped by Margarito.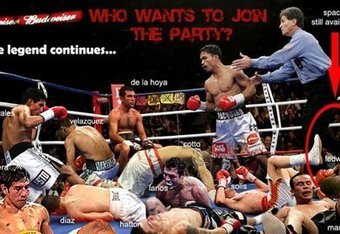 Clottey? From defensive specialist with sharp stinging punches to tailor made punching bag.  Margarito?  From heavy handed banger to a slow of fist, weight drained dunce.
Mosley? From dangerous puncher who almost KO'd Mayweather to a washed up old man.
Across the board, since the majority decision was announced, Pacquiao seems to be all at once being written off as a has-been, ridiculed as a never-was, or being newly crowned the greatest pound for pound fraud.
Just imagine if he would have lost the fight.
The media—and himself and his own camp—along with his stunning streak of victories put an unachievable expectation on his performance against Marquez and altered how people viewed the fight.
Many viewers suffered irrational exuberance after the fight was competitive and went the distance, claiming Marquez was absolutely robbed. Those observers say Marquez landed the more telling blows and deserved the win without a doubt, however the Compubox stats and faces of the two men after the fight indicated otherwise.
With no knockdowns, neither fighter ever being seriously hurt and many rounds being so close, only a fool could say either man was robbed, no matter the outcome.   
But nonetheless, doubting Manny now seems to be the fashionable thing to do.
And maybe that is something that can help energize the last stages of his legendary boxing career. After breezing through the last three years of fights with no resistance and everything going his way—both in the ring and out—desire seems to have been replaced with complacency.
Many times recently he has said he is comfortable with what he has accomplished already in boxing and has nothing left to prove in the sport. That is not the type of attitude that spawns championship performance and against the great and determined champion Juan Manuel Marquez it almost cost him his championship.
Having doubt in your mind about your ability is something that can paralyze a fighter, and having your ability doubted by others is something that can either strengthen your resolve or make you wilt.  After tasting success and enjoying adoration for so many years, how will Pacquiao deal with the adversity he now faces?
In the buildup to the fight, Pacquiao repeatedly said he wanted to have this fight with Marquez to end all doubts. Instead, he just created many more.