Vanderbilt vs. Tennessee Football: Why the Game vs. Vandy Finally Matters
November 16, 2011
Sam Greenwood/Getty Images
Tennessee-Vanderbilt has been a joke for the last 20 years. Tennessee always wins. It's just a fact of life.
This year, however, things are different. To make things even crazier, Vanderbilt is actually favored. This game hasn't been this important in decades.
Vanderbilt has two SEC wins under its belt to Tennessee's zero and Vanderbilt is owning the in-state recruiting this year.
Andrew Jelks, the top offensive tackle in the state, just announced last week that he'll be picking Vanderbilt over Tennessee. And he isn't the only top Tennessee recruit who'd rather be a Commodore than a Vol.
Brian Kimbrow, the No. 2 in-state running back and potentially the fastest kid in the whole recruiting class, chose Vanderbilt back in July. Tennessee offered him as well.
Caleb Azubike, who Rivals has ranked as the top defensive recruit in the state of Tennessee, committed to Vanderbilt on the same day. Tennessee didn't offer him, but it's still a big deal that he signed with Vanderbilt.
Now, Tennessee's recruiting class isn't bad. In fact, it's significantly better than Vanderbilt's, but Vandy is clearly not going to accept little-brother status any longer.
You can bet that if Tennessee beats Vanderbilt in this game, a couple of these kids that are choosing between the two schools will be tempted to reconsider their commitments. If Tennessee loses, the same thing could happen in Vandy's favor.
The bigger deal, however, is bowl eligibility. Tennessee is 4-6 right now with Vanderbilt and Kentucky left on the schedule. Tennessee will handle Kentucky, but Vanderbilt presents a challenge and Tennessee has to beat Vanderbilt to get bowl-eligible.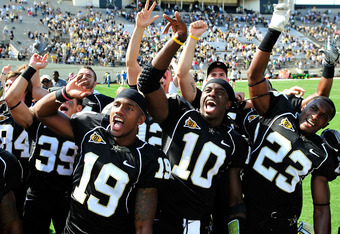 Grant Halverson/Getty Images
If Tennessee beats Vanderbilt (then presumably Kentucky), they'll be sitting at 6-6, where they were last year, and will probably be in the Liberty Bowl. In case you don't know, the tie-in for the Liberty Bowl is the Conference USA champion.
This year, that will be either Houston or Southern Mississippi. If Houston wins out, they'll be undefeated, but their weak schedule may not get them into a BCS bowl. That would mean Tennessee could have a shot at a Top 10 undefeated team if they beat Vanderbilt.
Vanderbilt will be looking to go to their first bowl in years, and they are essentially competing with Tennessee for the same bowl. This year, that bowl will feature a quality opponent, and both schools know that a victory over the Conference USA champion (especially if it's an undefeated Houston) would carry a lot of momentum into next season.
Of course, all of this depends upon the outcome of the Tennessee-Vanderbilt game.
Tyler Bray ought to be back, so Tennessee's offense won't be lying down and dying the way it's been doing the last few games, but Vanderbilt has a tough defense led by outstanding cornerback Casey Hayward.
Their offense has been pretty good under new full-time quarterback Jordan Rodgers (Aaron's little brother), so they'll be a tougher test for Tennessee's increasingly tough defense than they looked to be at the beginning of the season.
This game hasn't been this important in years. If Vanderbilt keeps doing things right, this may turn back into a real rivalry. I think the home-field advantage and the return of Tyler Bray ought to put Tennessee over the top.
Still, it'll be a nail-biter for both Tennessee and Vandy fans and a great game.