Kelsi Reich: Cheerleader Lucks out After Cowboys Win and David Nelson Scores
November 14, 2011
Kelsi Reich, Dallas Cowboys cheerleader and longtime girlfriend of Buffalo Bills WR David Nelson, had a hell of a day yesterday.
Reich, a Texas native, is paid by the Cowboys organization to cheer for their team. She also is somewhat obligated to root for her wide receiver boyfriend who plays in the cold and far away land of Buffalo.
Well the Bills came into Dallas yesterday and it put Reich in a bind.
How would she handle having to root for the Cowboys but also Nelson?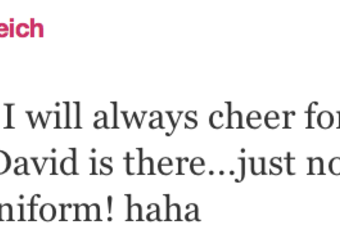 It seemed she didn't have to make a decision.
The Cowboys blew out the Bills, 44-7, but the Bills lone touchdown came on a Nelson TD grab.
Is there a more perfect scenario for Reich?
I don't think so.
You can watch Nelson celebrate his touchdown by running pretty much the perimeter of the football field to give his girl the game ball and embrace her in front of almost 100,000 people packed into Cowboys Stadium.
It was pretty obvious after that happened that Reich was stunned but elated.
She confirmed it via her Twitter handle after the game.
Reich tweeted,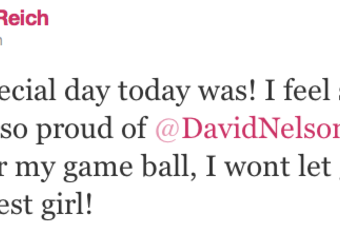 That's awesome that she got a game ball from the touchdown her boyfriend scored while her employer and hometown team got the big win.
I'm sure she could care less how the Bills do as long as Nelson is successful. He certainly is having a solid year and the second-year pro has already surpassed his production from his rookie year.
Perhaps he will be a member of the Cowboys soon? You never know with all of the injuries always happening to that group of receivers.
This was just an all-around nice story about two young people who clearly love one another and it's definitely the one feel-good moment in a blowout, boring game.