NFL Thursday Night Prediction: Tim Tebow, Broncos Offense Hardly "Fox-Y"
November 17, 2011
Ezra Shaw/Getty Images
"It's a low-risk offense."
That was Denver Broncos' coach John Fox's description of his team's game plan in its win over Kansas City, where Tim Tebow attempted eight passes much like Army, Navy or Air Force in college football.
But with risk often comes confidence, poise and ability.  And in the NFL, your offense will ultimately have to be able to throw the ball down the field- it's just a matter of time.
And that time may be up sooner than John Fox realizes. 
"If it ain't broke, don't fix it" said Fox, speaking about his game plan which featured several read-option plays in the win at Oakland and eight straight running plays (55 for the game) on the opening drive at Kansas City.
Theoretically it's hard to argue with Fox on that one, as his Broncos are now 3-1 with Tim Tebow as the starter.
But one of those wins was against the Raiders, who were (-3) in turnover margin and sporting a new and unfamiliar quarterback in Carson Palmer.  The other two were against Kansas City and Miami, and the Chiefs looked like the second worst team in the NFL against the Broncos while the win at Miami was, to say the least, anything but "fox-y."  
Tim Tebow did virtually nothing for three and a half quarters in Miami until a late rally produced a pair of scores.   When Tebow attempted 39 passes in the 45-10 loss to Detroit, Fox decided to change the game plan to a read-option offense and it caught the Raiders off guard.
Nick Laham/Getty Images
After the Broncos-Raiders game, the Chiefs now had tape on what the Broncos were sure to do, and they did it, but Kansas City still couldn't produce enough offense to overcome Tebow's 69 yards passing.
So now the Broncos will be taking their "low-risk" offense back to Denver as they host Rex Ryan and the New York Jets, but Ryan's club will now have two weeks worth of tape on the Bronco's one dimensional offense.
Can Denver survive again, or will the short week be just what the doctor ordered for Tebow and the Broncos offense to run their way to another victory?
Tebow, who often looks like he is in slow motion when throwing the ball down the field or even a short distance, was just 2-8 passing at Kansas City.
It's a strikingly interesting similarity to the Chicago Bears in 2004.
Back in 2001, a guy by the name of Craig Krenzel won the starting job at Ohio State late in the season, and led the Buckeyes to a win at Michigan before taking over the job for good in 2002.
Like Tebow, he led Ohio State to a national championship, which was good enough to earn him a selection in the 2004 NFL draft.
Picked by the Bears, Krenzel got the call after Chicago started 1-5, and like Tebow, he led the Bears to three victories in their next three games.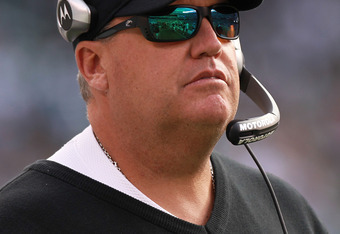 Nick Laham/Getty Images
His stats were hardly impressive.
Krenzel's first game came against the San Francisco 49ers, who were also coming in at 1-5, much like Tebow's first start at Miami.
Like Tebow's Broncos in Miami, Krenzel's Bears won the game on a late 71 yard interception return, but they also won Krenzel's second start at the New York Giants despite a paltry 8-21 passing from Krenzel, as the Bears got five turnovers out of the Giants.
Like Tebow, Krenzel won once again in his third start at Tennessee, as the 49ers scored on an interception return, a punt return, and finally scored a safety in overtime for a 19-17 win.
Krenzel was just 10-28 passing for 116 yards, and that's where the buck stopped.
Krenzel lost his next two starts, including 41-10 to the Colts and 21-7 to Dallas, and the Bears lost six of their final seven games.
You can win in college by running the football.  Just ask Air Force and Navy.  But in this league, you need to be able to throw the ball.  Tebow and the Broncos have a pair of wins from running the ball exclusively.  But if you can't throw the ball down the field, especially in 2011 in the NFL, it's just a matter of time.
Tim Tebow was just 2-8 passing at Kansas City for 69 yards and 10-21 for 121 yards at Oakland, but relied on the option running game, a plan seldom used in the NFL, for success.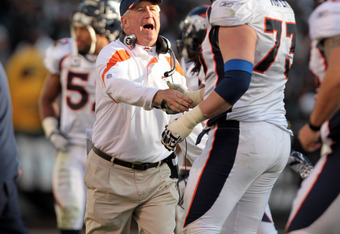 Ezra Shaw/Getty Images
Option based offense is normally abandoned in the NFL for two reasons.  First of all, it potentially creates extra hits on the quarterback by beefy defenders.  And second, NFL defensive backs are just that:  NFL defensive backs, and speedy at that.  This isn't college anymore.
Even some of the great quarterbacks from the University of Nebraska, such as Eric Crouch and Scott Frost, who were tremendously athletic and dominated the opposition with the option offense, simply never made it in the NFL. 
Tebow, who's physique is primarily built for college option based offense rather than falling back in the pocket and throwing a pinpoint 30 yard pass on a consistent basis, doesn't appear to have the mechanics or technique to compete with quality NFL teams, especially those with prolific offenses who can put up more points than the anemic Chiefs, Dolphins or the Oakland Raiders with a new quarterback who came out of retirement.
Against the Oakland Raiders, John Fox's read-option offense definitely caught the opposition off guard, but so did Miami's wildcat offense in 2008.
The Dolphins, just 1-15 in 2007, went into New England as a 12 point underdog with an 0-2 record in 2008, but surprised the Patriots with the offensive wildcat formation and ran their way to a 38-13 victory.
Like the Broncos, Miami scored 17 points in their following game and like the Broncos at Kansas City, the score was 17-10.
Miami went on to lose their next two games, although they did end up making the playoffs but had Chad Pennington at quarterback.
Although the Jets are on a short week, their defense will not be made a fool of by Tim Tebow for a third week in a row, and both the Jets' offense and defense will be eager to get back in the win column after a home loss to the Patriots.
The 37 points allowed to the Patriots was just the third time Rex Ryan's Jets team has given up 35 or more points.  Last season they did it twice, but allowed 10 and seven points in the next games, respectively. 
Additionally, running back Knowshon Moreno is out for the Broncos and Willis McGahee might not be totally healthy as he injured his hamstring at Kansas City.
Mark Sanchez hasn't put up great numbers this season, but he is better than Tebow and the Jets' defense is better than Denver's previous competition.  The unit is eighth in the league while Miami's, Oakland's and Kansas City's are in the bottom 12. 
As for the point spread, the Jets opened up as about a 4.5 point favorite but the number has climbed to six points or higher at some spots, which leaves little value for the Jets.  Normally if two teams are perceived to be about equal, the home team would be favored by about three points.  However, having the road team favored by almost a touchdown, odds makers are basically saying they think the Jets are about nine points better than the Broncos. 
This is a game the Jets should win, but odds makers didn't do any favors to Jets backers by setting the point spread higher than the key number of three points, instead making the Jets needing to win by a touchdown.  One thing's for sure though- Rex Ryan is not losing to Tim Tebow. 
Aside from the point spread, the game total stands at 40 or 40.5 points.  The Jets offense has struggled at times and Champ Bailey is a shut-down corner.  And with Denver's "low risk" offense and the Jets defense surely embarrassed, a low scoring game looks to be in the cards so look for a 20-14 Jets victory.
Having won and covered the spread in three of Tebow's first four starts, look for the Broncos to come back down to earth and lose on prime time television against a Jets team that will be furious after allowing the most points at home since Rex Ryan came to town. 
But then again, you can't come back to earth if your offense never "flew" in the first place. 
Take New York (-6) and the UNDER
Follow Mark all season at www.TheFallMiracle.com