IMPACT Wrestling: Turning Point 2011 Results and Thoughts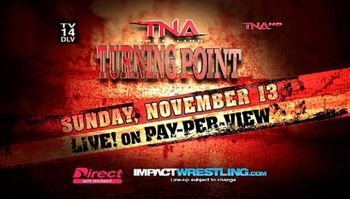 This past Sunday, IMPACT Wrestling and Direct Auto Insurance presented Turning Point live from Orlando, Florida.
There were five title matches on the nine-match card.
For a pay-per-view with such little hype, how did it go? How did the fans welcome IMPACT back home in the IMPACT Zone?
Most importantly, who the hell won?! What's the results?!
I got the full results right here! Let's go.
Television Championship: Robbie E vs. (c) Eric Young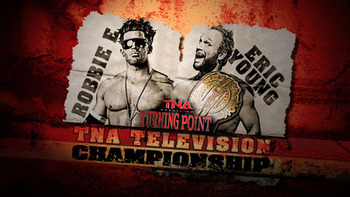 The TV title match was the kick off for Turning Point this year.
Before the match started, the cameras scanned the IMPACT Zone and there were several Eddie Guerrero signs, which were nice to see.
Robbie E had his bouncer, Rob Terry, in his corner as usual. EY came out alone. No Ronnie anymore. EY came out to a lot of cheers. The crowd chanted his name and clapped along to his song. It was crazy how much they love him.
At first, Eric was just messing around with his opponent, the referee and fans like he always does. He had Robbie chasing him around the ring, he grappled with the ref and several fans, whatever.
The joking stopped when EY went by Big Rob and nearly got his beard knocked off.
This was actually a pretty good opening match. After that opening, joking around part, EY was serious. He wrestled seriously well. I haven't seen EY perform this good (in-ring wise) since he was heel.
It wouldn't be an Eric Young match if EY didn't take his pants off, right? That's exactly what he did. He took his shorts off and was wearing some Robbie E wrestling gear underneath.
The ending saw both Robs outside the ring and EY took off the Robbie E trunks, had pink underwear on and did a huge dive off the top rope. EY rolled Robbie back into the ring.
Eric was on the ring apron and Rob Terry swept his legs from under him, EY hit his head and Robbie got the pin.
Winner: New Television Champion, Robbie E
Tag Team Championships: Ink Inc vs. (c) Mexican America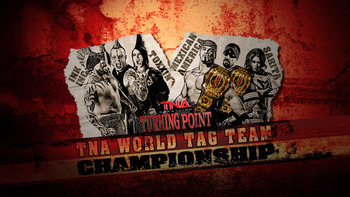 Ink Inc came out and Jesse Neal was carrying an American flag with his hair dyed an assortment of yellow, red, white, blue, every color you can think of. Toxxin didn't have her hair in a crazy Mohawk and, to be honest, she isn't too bad looking.
Mexican America also came out with their flag. Just saying, because it reminds me of that Capture the Flag match at Lockdown one time.
SuperMex was on display tonight.
Hernandez overpowered Jesse Neal almost every time they squared off and even caught and tossed Shannon Moore across the ring a couple times.
On Ink Inc's side of things, I'd say Moore was most impressive with his crazy X Division moves. He really brought his "A" game for this match.
Ink Inc double clotheslined Hernandez out of the ring and Moore hit him with a big-time springboard moonsault. Jesse and Toxxin laid in some double teams on Anarquia and wanted to reveal his tattoo from pre-BFG.
Jesse and Toxxin pull Anarquia's pants down. His ass is showing and the IMPACT Zone cheers in a funny way. Anarquia runs out of the ring, covering himself with his shirt I should add, and Jesse then launches himself over the top rope and onto Hernandez.
The referee is checking on the guys outside the ring while Rosita distracts Toxxin, allowing Sarita to hit her from behind with a championship belt and win.
Winners: Still Champions, Mexican America
X Division Championship: Kid Kash vs. Jesse Sorensen vs. (c) Austin Aries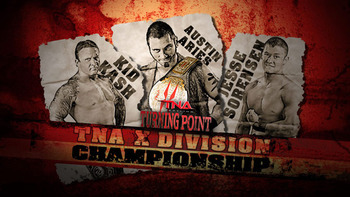 Backstage, JB is with Kash and Aries.
Kash and Aries say it's going to be a two-on-one against Sorensen. Aries keeps telling Kash to stick to their plan.
Aries and Kash never physically fight each other, but they do yell at each other several times and Aries had to break up a couple pin fall attempts from Kash.
Most of the match is Kash beating on Sorensen as Aries watches. Sorensen would get little spurts of offense from time to time, but the numbers would always catch up with him.
Sorensen had a good moment where he tossed both guys to the outside and hit a huge front flip over the top ropes and onto Kash and Aries.
Also worth mentioning: Aries tried for an Eddie Guerrero-style Frog Splash. He did Eddie's classic taunt on the top rope and went for it, but Sorensen blocked the attempt. Aries got some boos for the move, but hey, he's heel.
Sorensen really started rolling and hit Aries with his finishing move. Aries rolled out of the ring and Kash continued the beat down on Jesse.
Kash hit the MoneyMaker after a while and went for a pin. Aries, fully recovered, put Sorensen's foot on the rope to break the count. Unaware of Aries' trick, Kash argued with the ref which allowed Aries to come and get a roll-up pin on Kash from behind.
Winner: Still Champion, Austin Aries
Daniels vs. Rob Van Dam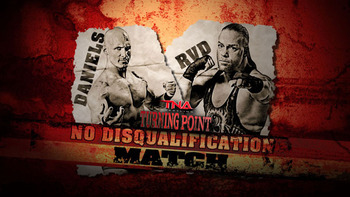 Before the match started, Daniels took a mic and didn't want the No Disqualification stipulation added. Too bad for him, it's going to stay that way. He also addressed RVD as Bob.
BVD. Bob Van Dam.
This match was very even between the two. They both wrestle similar X Division style, which is always an entertaining style.
At one point, Daniels tried to walk out of the match but RVD dragged him back. A chair was later introduced to the match.
After lots of back and forth action, Daniels took out his screwdriver. Daniels attempted to stab RVD but Van Dam used the chair as a shield then threw it into Daniels face.
Daniels caught the chair and in typical RVD fashion, the chair was kicked into Daniels face.
Five Star and it's over.
Winner: Bob Van Dam
Crimson vs. Matt Morgan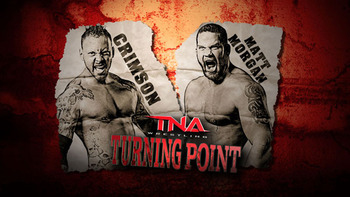 JB is backstage with Robbie E before this match.
Robbie says that he's going to be on TV a lot more and that he'll be champion for a long, long, long, very long time.
Now onto Crimson vs. Matt Morgan. What a match it was.
Crimson looked like a heel more than usual in his mostly black attire. You thinking what I'm thinking?
This was a good back-and-forth match between these two giants of IMPACT Wrestling. At one point, Crimson even T-Bone suplexed the seven foot Blueprint.
There was a lot of near falls and both guys even hit their finishers and it still wasn't enough to end the match. Crimson kicked out of the Carbon Footprint and Morgan kicked out of the Red Sky.
After a long stalemate, both guys took turns punching each other as hard as possible. They grabbed each other and started to straight up brawl. The ref tried getting between them but both guys shoved him out of the way.
They brawled and the referee called for a double disqualification.
After the match, they continued to fight until security actually did their job. They stopped a fight for once!
Double Disqualification
Scott Steiner and Bully Ray vs. Abyss and Mr. Anderson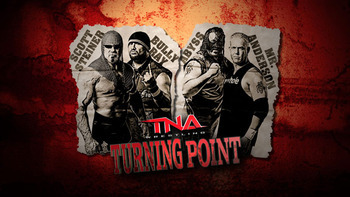 Steiner and Bully Ray had a little "Steiner Style" interview with JB backstage prior to the match. "Steiner Style" is getting off topic, ranting about something entirely unrelated to their match and it usual results in people laughing.
There was really nothing too special about this match, to be quiet honest. Most memorable moments were the "Steiner Moments." Steiner hit Anderson with his Angle Slam-type move off the top rope and Steiner was actually the fan favorite in the match.
The crowd chanted for Steiner while he was in the ring, on the apron, beating down Anderson, telling them to shut up and even flipping them off. There's no hating Scott Steiner.
Bully and Steiner dominated Anderson until he made the tag to Abyss. Abyss cleaned house until Bully Ray clotheslined him over the top rope. They fought outside while Steiner and Anderson stayed in the ring.
Scott hit the Frankensteiner (A hurricanrana off the top rope. Yeah, he can do that) and went for a pin. The ref said Anderson wasn't the legal man and Abyss came from behind to hit a Black Hole Slam.
Winners: Abyss and Mr. Anderson
Bully and Steiner beat Abyss down following the match and Anderson was nowhere to be found. Bully got a table and the two tossed "The Monster" through it.
Abyss shot right back up. Not feeling a damn thing. Bully and Steiner got scared and ran away.
Knockouts Championship: Gail Kim vs. (c) Velvet Sky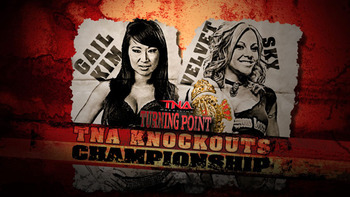 Before the match, Karen said that Gail wouldn't need herself or Madison Rayne's help. They won't even be ringside.
Velvet took it to Gail early. Sure enough, Karen comes out anyway cheering on Gail.
The show goes on and the match gets a little more in Gail's favor with Karen at ringside. Velvet hits her finishing move on Gail but Karen has the ref busy and Madison Rayne comes from behind to hit Velvet with the Rayne Drop.
Velvet is knocked out and Gail gets a pin. Velvet actually kicks out and the match continues.
Again, Karen distracts the ref just as Velvet builds momentum. Velvet runs towards the ropes and Madison trips her up. Velvet didn't fall down, kicks at Madison but turns straight into Gail Kim's Eat Defeat.
Winner: New Champion, Gail Kim
Jeff Jarrett vs. Jeff Hardy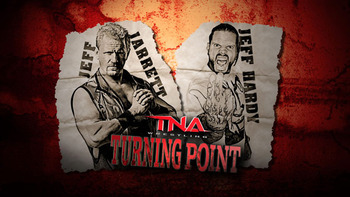 They air an awesome video package highlighting the feud.
Double J comes out with Karen by his side and now it's Hardy's turn.
Jeff Hardy comes out in some crazy, Elder Scrolls: Skyrim type helmet. Almost this exact helmet.
Jeff takes off his prehistoric helmet and charges into the ring. Hardy ducks a clothesline, hits a Twist of Fate and gets the win.
Wow. Record timing.
Jarrett wants one more shot and Hardy gives in. We get a rematch, right there on the spot.
In the second match, Jarrett is way more dominant.
Jarrett goes for a figure four leg lock but Hardy reverses it into a roll-up pin and wins again. Hardy rolls out of the ring and starts giving his ring gear to the fans. Jarrett is in shock and Karen is yelling at Hebner.
Hardy's almost up the entrance ramp when Jarrett chases after him and cracks him over the head with a chair. Double J brings Hardy into the ring, hits The Stroke and tells Hebner to count again. Hebner starts the count but Hardy, again, reverses it into a pin of his own. Hardy gets his third win over Jarrett in one night.
Winner: Jeff Hardy, Jeff Hardy and more Jeff Hardy
Crimson, Jesse Sorensen and Eric Young give Hardy props. AJ Styles comes and the two shake hands.
Heavyweight Championship: AJ Styles vs. (c) Bobby Roode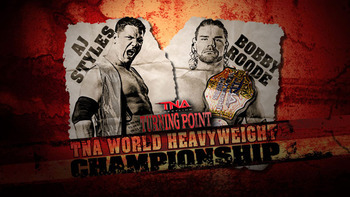 Backstage, Roode cuts an awesome promo.
He says he was the star of Beer Money, the star of Fortune and the face of TNA all along. He never needed Kazarian, James Storm or AJ Styles. Roode holds up the Fortune hand sign and says, "Fortune four, AJ?" Roode flips off the camera and says, "No more." Awesome.
AJ is working with his injured ankle and you can hardly tell that he's hurt. He favored his ankle only once after drop kick.
AJ and Roode had a great match with near falls and both guys hit their signature moves.
Roode went for a second Pay-Off but AJ reversed it and connected with a Pele. AJ set up for a Styles Clash but Roode took him to the ground for a pin, pulled the tights and won.
Winner: Still Champion, Bobby Roode
Thoughts and Review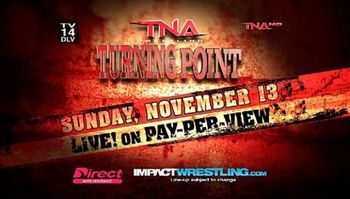 Overall, I really enjoyed this pay-per-view.
Despite the very—I mean very—little hype behind this show, it did produce some good wrestling matches.
Just about every match was enjoyable. If you've seen the show, you can agree with that statement. There wasn't any real dull moments.
Robbie E vs. Eric Young
EY has been champion for too long and needed to drop the nearly dead title. To my surprise, Eric Young really brought a 110 percent for this match.
He wrestled really, really well and I don't remember seeing him do so good since his heel run as member of World Elite.
EY was very impressive in the match and if he had wrestled this way his entire time as champion, he would've been a pretty good champ. Too bad, his gimmick makes him a joke.
I think the ending was alright but Robbie should've done something more.
Rob Terry sweeps his feet, he hits his head and Robbie gets the win? Oh well. Whatever gets a new champion. It was a good opening match and EY really stepped up to the plate on this one.
Ink Inc vs. Mexican America
Jesse did OK, Anarquia didn't do much and the Knockouts weren't really needed for this match.
The two shining stars from each team are Hernandez and Shannon Moore. Both guys really turned it up for this match and did a great job.
Hernandez overpowering Neal and Moore was great and he did an awesome job at it. He definitely deserves to be called SuperMex after watching some of things he did in this match.
I was afraid Rosita would be a big part in Mexican America's win and she was. I just don't see how Anarquia and Hernandez can't defend their titles without help from Sarita and Rosita.
The outcome makes sense but now what? Will Ink Inc get another rematch?
Kid Kash vs. Jesse Sorensen vs. Austin Aries
I liked watching Kash just go to work on Sorensen and liked Sorensen's spurts of offense, but Aries little involvement annoyed me.
He's supposed to be champion, yet he hid behind Kash and used him to do his dirty work. I wanted to see Aries wrestle. Not have Aries watch Kash and Sorensen wrestle most of the match.
Either way, Kash and Sorensen did a great job and I feel like they picked the right winner in Austin Aries. I just hope for more action from Aries in future defenses.
Daniels vs. Rob Van Dam
This match was awesome.
Both guys, being the veterans they are, worked this match to near perfection.
With the No Disqualification stipulation, there really wasn't too much weapons involved. Just Daniels screwdriver and RVD's chair.
One thing that annoys me now is Daniels screwdriver. He tried to stab RVD with it and just failed. Daniels tries to stab people with a screwdriver but just screws himself. He's gotten more loses than wins with that thing.
I feel like RVD shouldn't've won and Daniels was far more deserving of the win but if Daniels can rebound from losing to AJ at BFG, he can certainly bounce back from this.
Crimson vs. Matt Morgan
These two giants put on a good show but I couldn't help but keep thinking of a Crimson heel turn.
Either way, the double disqualification was a smart move rather than having Crimson go over Morgan the first time they ever fought.
Definitely expect this feud to continue into Final Resolution with a possible turn from one of these guys.
Immortal vs. Abyss & Anderson
This would've made for a good match on TV, but not so much on pay-per-view.
We've already seen all these competitors face off before and it wasn't much different from their match on IMPACT.
Like I said, Scott Steiner was the best performer. He was definitely the most popular.
Gail Kim vs. Velvet Sky
The match itself was good but I'm still unsure of the outcome.
Gail can wrestle circles around Velvet and is definitely a good pick as champion. On the other hand, Velvet does deserve a good title reign and I think she's getting the Anderson treatment. Also known as, horrible title reigns.
Hopefully, this means more to their feud and hopefully Velvet gets a decent run in 2012.
I still think Gail's monster push is coming way too quick. She returned like three weeks ago and she holds every Knockouts title.
Jarrett vs. Hardy
The first fall was a stupid waste of time.
The second had Jarrett too dominant. Hardy hardly got in any offense. The third was just as dumb as the first.
This match didn't live up to expectations in my book. I don't know. Maybe I should watch it again or something because I feel like the hype towards this didn't pay off.
Styles vs. Roode
AJ worked injured and you can hardly tell. He did an awesome job and his move set was not at all effect by his ankle injury.
Roode played his heel role nicely and definitely has what it takes to be top heel in TNA, but more importantly, be World Champion.
Roode winning was a good call and the controversial use of the tights to secure his win was a good call, too. Maybe we'll see a rematch down the road.
Conclusion
The pay-per-view, with such little hype, can actually be called a big success in my book.
They gave every match a decent amount of time and a good flow. No match was too long or too short and, for the most part, the right winners were picked.
I'm actually considering whether this has pay-per-view of the year legitimacy. It was definitely a good show with good wrestling and could possibly be called the pay-per-view of the year for some.
At Turning Point, wrestling definitely mattered. This was a top shelf pay-per-view by TNA.
Keep Reading