NFL Report Card Week 10: Handing Out Grades to All 32 Teams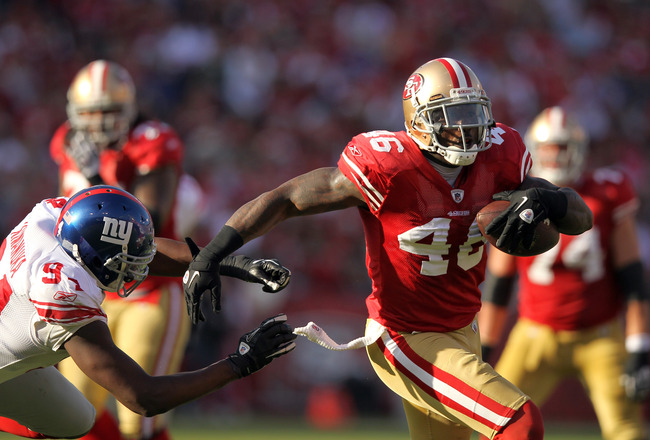 Ezra Shaw/Getty Images
We are now at a point in the NFL season where the contenders and pretenders make it known where they actually stand.
We saw the Detroit Lions, Baltimore Ravens and Kansas City Chiefs all lay complete duds against "lesser" competition. All the while, the San Francisco 49ers had a "marker" victory against the New York Giants to go to 8-1 with a seventh consecutive win.
The fog is beginning to clear in regards to where teams stand around the NFL. I think it is safe to say the Green Bay Packers remain the favorites to win the Super Bowl, with San Francisco a distant second.
Today, I am going to focus on each club's Week 10 performance.
Oakland Raiders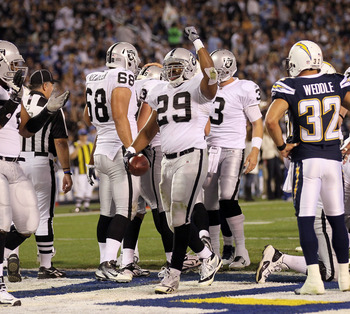 Stephen Dunn/Getty Images
Week 10 results: Defeated the San Diego Chargers 24-17
The San Francisco 49ers are not the only Bay Area team that finds itself in first place following the 10th week of the 2011 season. By virtue of the Raiders' impressive Thursday night victory against the San Diego Chargers, they find themselves alone in first place in the AFC West.
Carson Palmer was on the money all game long, as speedy Raiders receivers were able to get separation from what appeared to be a slow Chargers secondary. Michael Bush did his best Bo Jackson performance by gaining 242 total yards on offense.
Oakland's defense came through as well, forcing two Philip Rivers turnovers and tightening the grip in a scoreless fourth quarter. The fact that the Raiders came into San Diego following two difficult losses and were able to step up speaks volumes in regards to this team's ability to come up big when it counts.
Grade: A
Denver Broncos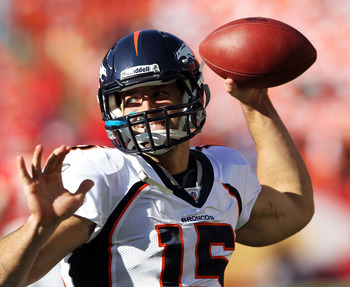 Jamie Squire/Getty Images
Week 10 results: Defeated the Kansas City Chiefs 17-10
Don't look now, but the Denver Broncos are in a three-way tie for second place in the AFC West and only one game behind the division-leading Oakland Raiders. They haven't won pretty, but they are winning nonetheless.
Yesterday's game was a prime example of this. Once again utilizing a college offense in order to put Lord Tebow into situation to succeed, Denver attempted a total of eight passes, completing just two. Denver ran the ball 55 times for over 240 yards with three players acquiring more than 40 rushing yards.
The Broncos defense also stepped up big time, holding the Chiefs to just over 240 total yards and holding them to 2-of-11 on third down conversions. It was a solid performance by a Denver Broncos team that seems to have found its identity.
Still, you cannot win regularly in the NFL with just two completed passes throughout a game. Denver is going to need Tim Tebow to be more efficient in the passing game in order to continue this surprising run.
Grade: B+
Kansas City Chiefs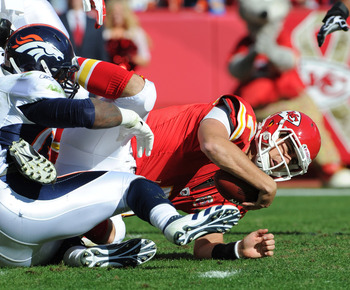 Peter Aiken/Getty Images
Week 10 results: Lost to the Denver Broncos 17-10
We all know that the Kansas City Chiefs have been the epitome of an up-and-down team this season, and that didn't change much yesterday. Their offense struggled a great deal throughout the game against Denver. Kansas City had a chance to go into a first-place tie with the Oakland Raiders but fell flat on its face.
Matt Cassel had a performance that reminded many Chiefs fans of the first couple weeks of the season. While attempting 28 passes, Cassel wasn't even able to muster up 100 yards in passing. Their running game was there today, but the passing game was off balance all day long.
On defense, Kansas City gave up a season-high 244 rushing yards and had no answer for the Broncos' college-style option offense. I understand that this offense may be difficult to game-plan against, but you cannot lose a game in which the opposing quarterback completes just two passes and expect to be a player for the postseason.
Grade: F
San Diego Chargers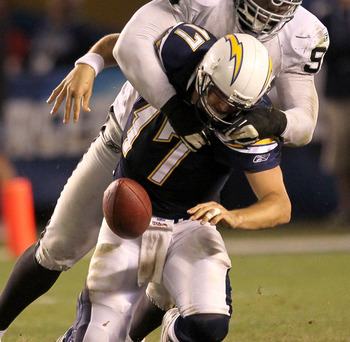 Stephen Dunn/Getty Images
Week 10 results: Lost to the Oakland Raiders 24-17
You can place a lot of the blame for the Chargers' four-game losing streak on Philip Rivers; he has been bad over the course of the streak. That said, there are a wide array of issues with the team, and Thursday's game highlighted some of its problems.
Rivers was sacked six times and faced pressure the entire night once Marcus McNeill left due to injury. This threw the timing routes off. Additionally, San Diego's receivers, outside of Vincent Brown, really didn't do much to help Rivers out.
Still, you have to question the quarterback's ability to come through when it counts the most. He hasn't been able to do that so far this season. This is the fourth game in a row that San Diego had a chance to win in the fourth quarter but came up empty.
The Chargers are still only one game out of first place in the AFC West and have an opportunity to win the division. If they play like they did against Oakland, though, you can expect this team to finish under .500.
Grade: C-
Pittsburgh Steelers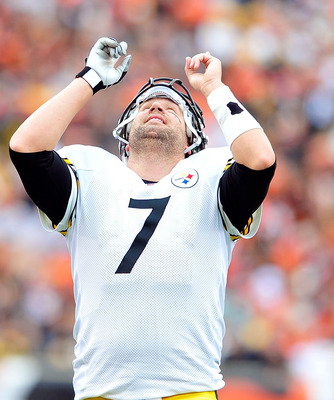 Grant Halverson/Getty Images
Week 10 results: Defeated the Cincinnati Bengals 24-17
It wasn't the decisive victory that many people expected, but the Pittsburgh Steelers did get the job done against the then first-place Cincinnati Bengals.
With Rashard Mendenhall struggling once more, Pittsburgh had to manufacture a running game. Mike Wallace had 31 yards on two rushes, while Isaac Redman added 25 on seven attempts. This helped offset the paltry 2.8 average by Mendenhall, who did have two rushing touchdowns.
Pittsburgh's defense stepped up big time and forced Andy Dalton into a couple of uncharacteristic mistakes. The biggest of the two came at the two-minute mark of the fourth quarter, which sealed the Steelers victory and put them into first place.
This isn't a team that is going to blow many people out. Instead, it will get the job done and win games. Despite all the issues the Steelers have had during their first 10 games, they are 7-3 and looking at the playoffs.
Grade: B-
Baltimore Ravens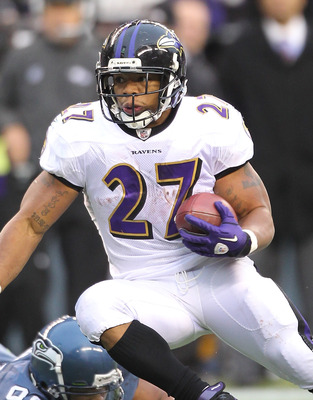 Otto Greule Jr/Getty Images
Week 10 results: Lost to Seattle Seahawks 22-17
First things first: The Baltimore Ravens are far too inconsistent to be considered a favorite to win the AFC. This week's dud of a performance against the Seattle Seahawks is just another example of this.
The Ravens have had multiple performances like this against lesser teams over the course of the first nine weeks, but this game has to stand out the most.
Not only did average quarterback Tarvaris Jackson outperform Joe Flacco, but Baltimore's defense also yielded 109 rushing yards to Marshawn Lynch, as its defensive line was beaten off the ball multiple times by a pedestrian Seahawks offensive line.
Ray Rice was a non-factor in the rushing game, as it appeared the Ravens went away from the ground as the game progressed. He carried the ball just five times, which is unacceptable.
Baltimore's defense wasn't able to get off the field on a couple third downs towards the end of the game, as Seattle was able to run the clock out with a 13-play drive.
In order to be considered a contender, you need to take care of business against average opponents, not just in big-game situations. This is something the Baltimore Ravens have failed to do so far this season.
They have now lost games to the Tennessee Titans, Jacksonville Jaguars and Seattle Seahawks—three games that I am pretty sure fans had pegged as wins when the season started.
Grade: F
Cincinnati Bengals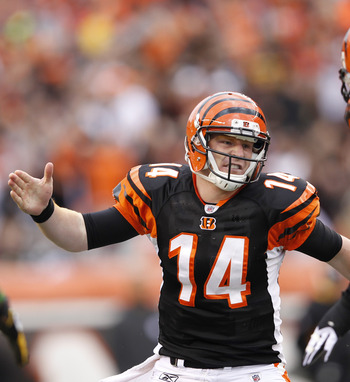 Joe Robbins/Getty Images
Week 10 results: Lost to the Pittsburgh Steelers 24-17
I cannot help but be impressed by the play of the Cincinnati Bengals thus far in 2011. They have won twice as many games as I predicted during training camp. Even in the loss against Pittsburgh this young team showed resolve and moxie.
Andy Dalton played three quarters of mistake-free football before looking like a rookie in the fourth quarter by throwing two costly interceptions. The running game found a way to grind out over 100 yards against a stingy Steelers defense, and the defense held Pittsburgh's playmakers in check for most of the game.
Still, they couldn't close the deal when it counted towards the end of the game. Pittsburgh proved to be the better, more veteran team and took advantage of a couple errors by an extremely young Bengals team.
I am not entirely sold on the Bengals just yet, but this performance goes a long way in linking them to other up-and-coming teams around the league. They just need to gain the experience and learn to close against the best teams in the conference, Pittsburgh included.
Grade: B+
Cleveland Browns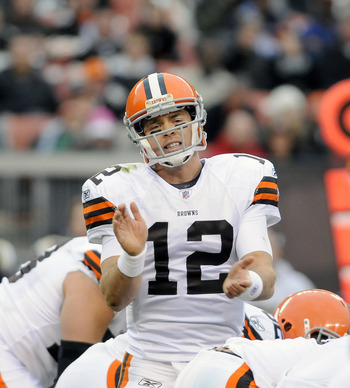 Jason Miller/Getty Images
Week 10 results: Lost to the St. Louis Rams 13-12
That was a heartbreaking way to lose a football game; there is no other way to say it. Phil Dawson, the longest-tenured Cleveland Browns player, couldn't connect on a relatively short field goal following a bad snap, and it cost his team the game. The snap, which was a scrambling duck, affected the timing and caused the veteran kicker to miss badly.
Still, if the Browns had played good football up until that point, it really wouldn't have mattered. They were hosting a one-win St. Louis Rams team but showed why they aren't even mediocre right now.
Chris Ogbonnaya did a really good job filling in for the injured Peyton Hillis and Montario Hardesty by gaining a total of 109 yards on offense, including 90 rushing. The passing game wasn't horrible either, as Colt McCoy connected with Greg Little on six passes and was pretty darn accurate all game long.
At the end of the day it was the Browns' inability to stop Steven Jackson that cost them the game. The future Hall of Fame running back dashed for 128 yards on the ground, as Cleveland just couldn't fill the holes or tackle him. Back to the drawing board for a team that started the season with so much promise.
Grade: C-
Houston Texans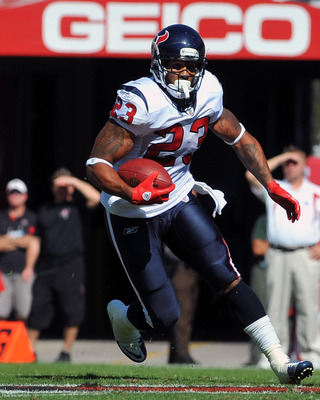 Al Messerschmidt/Getty Images
Week 10 results: Defeated the Tampa Bay Buccaneers 37-9
We have been waiting for the last couple of seasons for the Houston Texans to show consistently good performances. Well, the wait is over. Houston captured its fourth straight win, all by double digits, in a dominating 37-9 win over the Tampa Bay Buccaneers.
The two-headed monster of Arian Foster and Ben Tate combined for 249 total yards before taking most of the fourth quarter off. The most electrifying play of the game was when Foster took a short Matt Schaub pass the distance for a 78-yard touchdown in the second quarter.
Schaub was on target all game long as well, connecting on 11 of just 15 passes for 242 yards and two scores. He really didn't need to do much, as the game was out of reach relatively early on.
The defense forced four Tampa Bay Buccaneers turnovers, including three Josh Freeman interceptions. Houston's secondary showed up once again, limiting Tampa Bay wide receivers to a total of six catches in the dominating performance.
Don't look now, but Houston could easily be the AFC favorites as I type this article.
Grade: A+
Tennessee Titans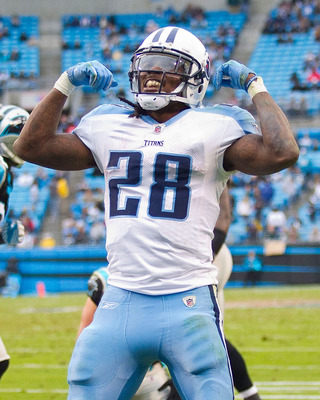 Brian A. Westerholt/Getty Images
Week 10 results: Defeated the Carolina Panthers 30-3
This was a much-needed win for the Tennessee Titans, who remain very much in the AFC playoff race. They completely dominated the Carolina Panthers and held super rook Cam Newton in check.
Maybe larger than the win itself is the fact that Chris Johnson broke out to the tune of 130 rushing yards on 27 attempts. As we all know, CJ has struggled mightily this season.
If the Titans are going to make a playoff push in the AFC, they are going to need their best offensive player to perform like he did today.
The Titans held Newton to under 300 total yards, which is a feat in and of itself. Tennessee defensive backs also did a great job limiting Steve Smith to just five receptions and taking away the big play up top.
I like what I am seeing out of the Titans team, and there remains a possibility that we haven't seen their best football yet.
Grade: A
Jacksonville Jaguars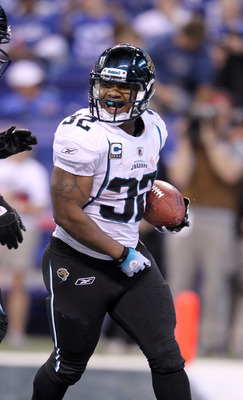 Andy Lyons/Getty Images
Week 10 results: Defeated the Indianapolis Colts 17-3
It is hard to call a win over the Indianapolis Colts impressive, especially when you were tied at halftime. Still, going on the road as a young team and pulling off a win isn't something that we should take lightly.
Blaine Gabbert wasn't great by any stretch of the imagination, but he managed the game well and completed nearly 70 percent of his passes.
Maurice Jones-Drew stepped up big time with 114 yards on the ground, as the Colts had no answer for his running. Jacksonville's defense allowed just over 200 yards of offense and forced a quarterback substitution because of lackluster play.
The Jaguars are nowhere near contention right now, but their future is looking a lot brighter at this point.
Grade: B+
Indianapolis Colts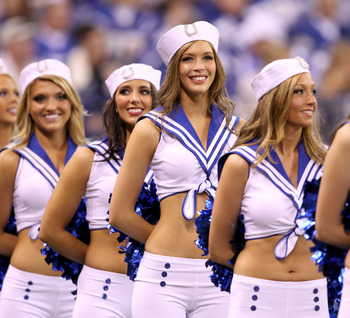 Andy Lyons/Getty Images
Week 10 results: Lost to the Jacksonville Jaguars 17-3
I chose to insert a picture of the Colts cheerleaders in this slide because there is nothing pretty about the way this 0-10 football team is playing right now. At least fans can actually look at something worthwhile in the process of reading this write-up.
Neither Curtis Painter nor Dan Orlovsky is going to win you many football games in the NFL; this is pretty much a given. My issue lies with the true foundation of what a team is supposed to be.
The Colts are not playing like they give a damn right now. They don't seem to be involved in or caring about a win or a loss. I know it sounds harsh, but their inability to compete over the course of the last four games should be cause for concern in Indianapolis.
Yesterday's game was no different. While the Colts were tied at the half, they came out in the second half without anything resembling energy. Instead, they sat down and allowed an average Jacksonville Jaguars team to run roughshod over them.
The Colts are now heading to a bye. Over/under on Jim Caldwell retaining his job past this afternoon?
When a team gives up and stops playing for you, it becomes clear that your days are numbered. Just ask Wade Phillips and Mike Singletary last season.
Grade: F
New England Patriots
Jim Rogash/Getty Images
Week 10 results: Defeated the New York Jets 37-16
The Patriots offense really started clicking in the second half last night. Starting with an 80-yard touchdown drive towards the end of the second quarter, the Patriots' prolific offense heated up.
Overall, New England put up nearly 400 yards of offense and pulled away towards the end of the game to capture first place in the AFC East.
Their defense stood up pretty well against the Mark Sanchez-led New York Jets attack. New England intercepted the enigmatic quarterback twice, including one that was returned for a touchdown to seal the victory in the fourth quarter.
There does remain a myriad of different issues for this Patriots team. First, they are not able to run the ball right now. Second, their secondary just isn't that well. Still, New England was able to ward off a third consecutive defeat and looked really good in doing it on the road against the Jets.
Grade: A
New York Jets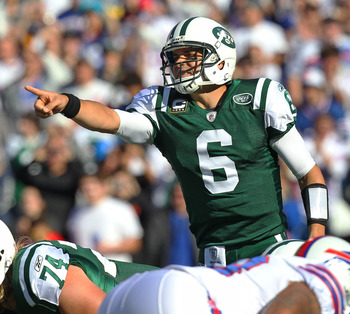 Tom Szczerbowski/Getty Images
Week 10 results: Lost to the New England Patriots 37-16
This wasn't a good way for the New York Jets to prove that they belong with the upper-echelon teams in the AFC. This team laid a complete egg on national television, against a division rival and with first place on the line. Oh, and the Jets were playing at home too.
Mark Sanchez was just horrible in game execution and management.
Their second-half possessions included a 71-yard touchdown drive, but it was all downhill after that. If you take away that one drive, the Jets saw two drives end on interceptions and two more end on downs.
Sanchez completed just over 50 percent of his passes, and even that included a couple of nice catches on would-be incompletions. They also didn't have an answer for Andre Carter, who got to the struggling quarterback with 4.5 sacks (a Patriots record).
New York struggled defensively as well, giving up 12 receptions to Patriots tight ends and not playing the middle of the field well.
If the Jets don't get the ship righted soon, they may be on the outside looking in when the playoffs start.
Grade: D-
Buffalo Bills
Tom Pennington/Getty Images
Week 10 results: Lost to the Dallas Cowboys 44-7
Well, that was one heck of a bummer for the Buffalo Bills yesterday. They got hogtied, whipped, bull-lashed and taken to the rodeo by a talented Dallas Cowboys team in Texas.
Ryan Fitzpatrick struggled all game long, throwing three interceptions and acquiring less than 150 passing yards on 31 attempts.
Their defense enabled Tony Romo to have a perfect quarterback rating in the first half, starting the game 11-of-11.
DeMarco Murray ran all through the Bills defense to the tune of 135 yards, and Laurent Robinson exposed their weak secondary play over the top.
The Bills' offensive bread and butter, Fred Jackson, did run for over 100 yards but wasn't able to get nearly as many touches because of the large deficit.
Buffalo is on the verge of falling completely out of the playoff race, and with more performances like this, a .500 record will be something of the past.
It has too many holes on defense, cannot stop the run or the pass and has been pedestrian on offense recently—all indicators that this team is set for a late-season collapse.
Grade: F
Miami Dolphins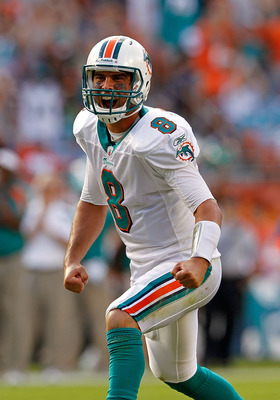 Mike Ehrmann/Getty Images
Week 10 results: Defeated the Washington Redskins 20-9
What a difference a couple weeks makes. Just a little over two weeks ago the Miami Dolphins were one of a couple teams without a win, and it appeared their head coach was going to be out of a job.
While Miami is nowhere near playoff contention and is playing out the string, it has looked damn good over the last couple of games.
For the purpose of full disclosure, I did have the Dolphins winning yesterday because of the opponent they were playing: a horrible Washington Redskins team. Still, you need to show up and take care of business.
The Miami Dolphins, led by Matt Moore, did that. The former Carolina Panthers quarterback ran their offense well enough and did just enough to come up with a second consecutive victory. It wasn't flashy, to say the least, but Miami took care of business.
The Dolphins defense forced two turnovers and limited Washington's rushing attack to just 61 yards overall.
Grade: A
San Francisco 49ers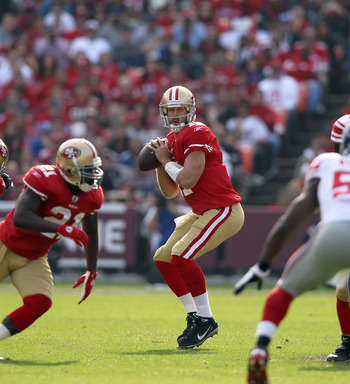 Ezra Shaw/Getty Images
Week 10 results: Defeated the New York Giants 27-20
If you had told me that Frank Gore would finish the game with zero yards on six rushes, I would have said a very good New York Giants team would kill the San Francisco 49ers. Well, that is what his stat line looked like—but the outcome of the game was entirely different.
In the 49ers' first home game that had a playoff atmosphere in nearly a decade, and this team came to play. It was a great game between two really talented football teams, but San Francisco executed when it counted.
Alex Smith completed passes that I have never seen from him. The former first overall pick lived up to the hype of the game and led the 49ers to a stirring victory in front of a loud home crowd. San Francisco's offensive line did a great job protecting him, and the results were great.
Defensively, the 49ers bent but did not break. They held New York to two field goals in the first half, which was huge considering that seven points on either occasion would have hurt San Francisco big time.
Patrick Willis and NaVorro Bowman, the best linebacker tandem in the NFL, combined for 25 tackles. Carlos Rogers had two huge interceptions, which may have cemented his spot in the Pro Bowl.
If anyone was wondering if the San Francisco 49ers were for real, they need not wonder anymore. They are clearly the second-best team in the NFL and proved that yesterday.
The postseason ramifications were also pretty damn big in this game, as they practically took a three-game lead over the Giants for the No. 2 seed and kept pace with the Green Bay Packers for a shot at home field throughout.
It was a team-defining victory.
Grade: A
Seattle Seahawks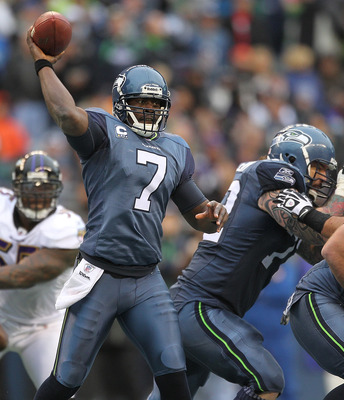 Otto Greule Jr/Getty Images
Week 10 results: Defeated the Baltimore Ravens 22-17
How many of you saw this coming? Not me! Seriously, I look forward to hearing from a Seattle Seahawks fan that actually thought they stood a chance against the Baltimore Ravens yesterday.
Three words: any given Sunday.
Tarvaris Jackson outplayed Joe Flacco and came up big when it counted the most. Marshawn Lynch drove a spike down the throat of a very good Baltimore Ravens defense by putting up well over 100 rushing yards, and the Seahawks defense came up big.
Once Baltimore went away from the running game, the Seahawks were able to concentrate on the passing game, and that spelled victory in the Pacific Northwest. They forced Flacco into 52 passing attempts, which is another indicator that the defense played out of its mind.
It is too late to catch the San Francisco 49ers in the NFC West, but Seattle can build off a victory like this and continue momentum heading into the final seven games of the season.
Grade: A+
Arizona Cardinals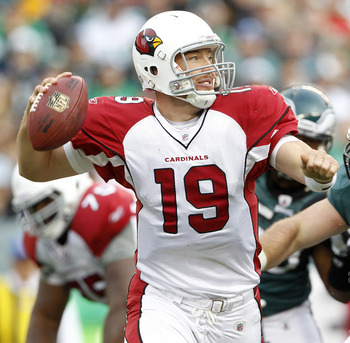 Rich Schultz/Getty Images
Week 10 results: Defeated the Philadelphia Eagles 21-17
Can you say quarterback controversy? John Skelton did make a couple mistakes throughout this game, but the Cardinals offense looked much crisper with him at the helm than Kevin Kolb. Overall, he threw for over 300 yards and three touchdowns against a still solid Philadelphia Eagles secondary.
More than this, Arizona made plays when the Philadelphia Eagles didn't. It held LeSean McCoy to less than 100 total yards and forced Michael Vick into a couple bad passes.
While the Cardinals pass rush didn't show a lot in terms of statistics, it contained the edge a great deal yesterday. Michael Vick was pressured a lot, and the timing of the Eagles offense was thrown off from the onset.
It is victories like this that will continue to help Arizona build confidence and find a team identity moving forward.
Grade: A
St. Louis Rams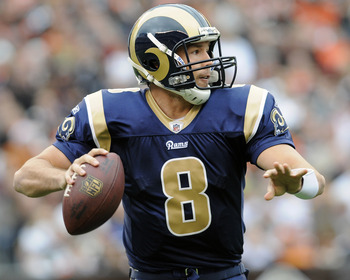 Jason Miller/Getty Images
Week 10 results: Defeated the Cleveland Browns 13-12
This time a game-winning field goal attempt went in the Rams' favor, and they got their second win of the season. It wasn't a well-played game, and St. Louis has a lot to work on as the season winds down. Sam Bradford is still uncomfortable in the pocket, and offensive execution is lacking.
Still, it is never easy to go on the road and come away with a victory. This is what the Rams did yesterday.
Steven Jackson ran for nearly 130 yards, while the Rams defense continued to play extremely well.
Grade: B-
Green Bay Packers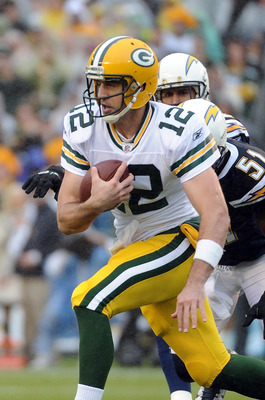 Harry How/Getty Images
Week 10 results: Play the Minnesota Vikings tonight
Green Bay is 8-0 on the season and in the driver's seat for another run at the Super Bowl. Aaron Rodgers is playing the best ball that I have seen a quarterback play since Joe Montana in his heyday, and the defense is getting much better.
The Packers, who are still only one game ahead of San Francisco for the best record in the conference, will be taking on a Minnesota Vikings team they should easily defeat.
Chicago Bears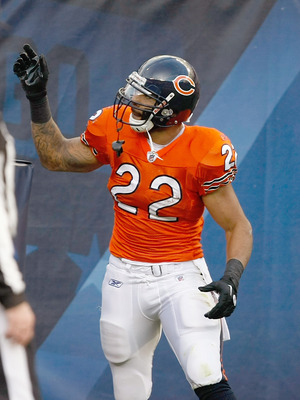 Scott Boehm/Getty Images
Week 10 results: Defeated the Detroit Lions 37-13
The Chicago Bears are on one heck of a roll right now. Statistics were lopsided in favor of the Detroit Lions yesterday, but that doesn't mean anything at this point. The only stat that matters was the six turnovers that Chicago's defense forced.
Matthew Stafford was forced to throw the ball a season-high 63 times, which led to four interceptions. All the interceptions came from the much-maligned Bears secondary, as it threw Stafford off balance the entire game.
Brian Urlacher and Lance Briggs came up really big in this game as well, looking especially good dropping back into coverage and limiting Brandon Pettigrew to just 38 receiving yards.
Jay Cutler completed only nine passes but really didn't have to do much considering how the Bears defense dominated the game.
Grade: A+
Detroit Lions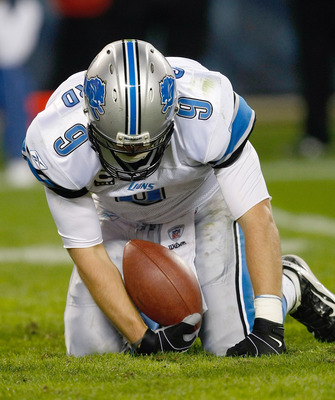 Scott Boehm/Getty Images
Week 10 results: Lost to the Chicago Bears 37-13
Well, that wasn't the way Detroit wanted to play coming off its bye. In short, the Lions imploded in every possible way. Matthew Stafford had his worst game as a professional quarterback, as they committed six turnovers on offense. You are not going to win many games in the NFL when you turn the ball over that much.
Stafford wasn't on his game all day long, throwing behind receivers and forcing the issue way too many times. By the time the final seconds ticked off in the third quarter, this game was as good as over.
Detroit better get this ship righted quickly because there are a lot of teams right underneath it for that final playoff spot in the NFC. One thing is for sure: If the Lions don't get the turnover issues fixed soon, it will make for a long final seven games against stiff competition.
Grade: F-
Minnesota Vikings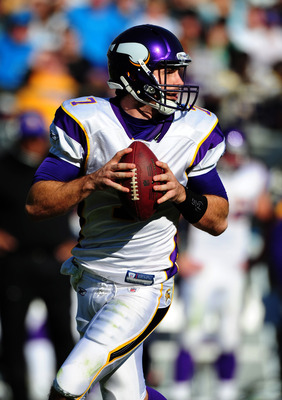 Scott Cunningham/Getty Images
Week 10 results: Play the Green Bay Packers tonight
At least the Minnesota Vikings have found themselves an identity over the last couple weeks. Christian Ponder looks like he is the real deal, as their offense continues to pick it up from the Donovan McNabb "era."
Minnesota is playing out the string right now, but it would like nothing more than to defeat the Green Bay Packers in Lambeau tonight.
New Orleans Saints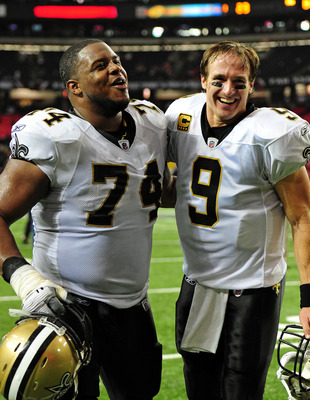 Scott Cunningham/Getty Images
Week 10 results: Defeated the Atlanta Falcons 26-23 in overtime
I don't think that Sean Payton and co. really mind that Atlanta was willing to give the game away in overtime by going for it on fourth down from its own 30. Still, this Saints team was anything but impressive yesterday.
Their defense gave up nearly 500 yards of total offense and allowed the Falcons to gain a whopping 30 first downs. The Saints pass rush was not to be seen all game long, as they sacked Matt Ryan just once, hitting him a total of two times. Without the pass rush, New Orleans' secondary was eaten alive.
Offensively, the Saints were as good as advertised. Drew Brees had his normal 300-yard passing day, while Marques Colston and Jimmy Graham combined for nearly 200 yards receiving.
If New Orleans wants to be considered elite and challenge the Green Bay Packers and San Francisco 49ers once the NFC playoffs come, it is going to have to fix a couple things.
First, the Saints need to start running the ball better. Second, they need to play much better defense. Without a rushing game and with a marginal defense, they will not win in the playoffs.
Grade: C
Atlanta Falcons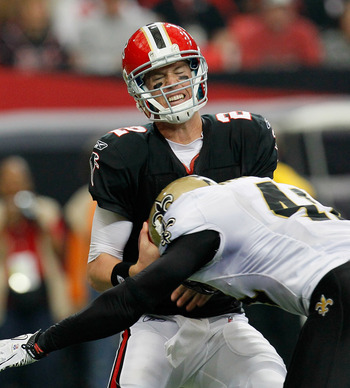 Kevin C. Cox/Getty Images
Week 10 results: Lost to the New Orleans Saints 26-23 in overtime
I can write extensively about how bad of a call it was to go for it on fourth down in overtime from their own 30-yard line. In reality, that lost the Falcons a game they had dominated statistically. It also shows their lack of confidence in a defense that has struggled for the greater part of the season.
Still, Atlanta was in position to defeat the New Orleans Saints because of solid play on offense and opportunistic stops on defense. It held Brees and co. to 4-of-13 on third downs, forced five field-goal attempts and was in position to win the game.
This is a game that might come back to haunt the Falcons when all is sorted out in the playoff race in early January. It was a game they should have won but let slip through their hands.
Grade: C
Tampa Bay Buccaneers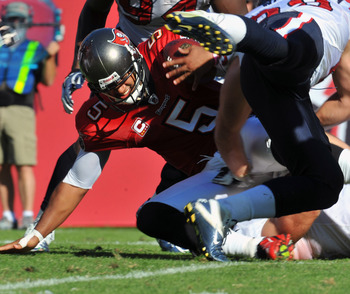 Al Messerschmidt/Getty Images
Week 10 results: Lost to the Houston Texans 37-9
I guess young teams are just going to have their growing pains throughout the season. This is what is currently happening with the Tampa Bay Buccaneers. They laid a complete dud against the Houston Texans at home yesterday and wasted an opportunity for a second-place tie in the ultra competitive NFC South.
Josh Freeman continues to struggle to make the right throws at the right time. He is forcing the ball into tight coverage.
Tampa Bay was destroyed in every aspect of the game yesterday. It committed four turnovers, allowed nearly 200 rushing yards and couldn't get anything going on offense.
I still don't understand how a team can defeat the New Orleans Saints one week and come back to get destroyed on the same field the next.
The Bucs need to get more consistent, or they will run the risk of playing meaningless December games.
Grade: F
Carolina Panthers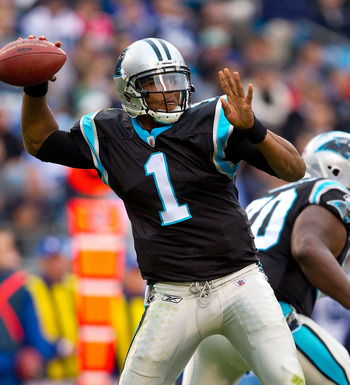 Brian A. Westerholt/Getty Images
Week 10 results: Lost to the Tennessee Titans 30-3
This was the first game all season that the Panthers' lack of talent showed up in full force throughout an entire Sunday. Not even the magical rookie season of Cam Newton could save them from being blown out against an average Tennessee Titans team.
Carolina's defense continues to struggle in nearly every imaginable way. It made Chris Johnson look like the back that ran for over 2,000 yards a couple years ago, not the one that was averaging less than three yards per rush in 2011. Damian Williams had a career game, going for over 100 receiving yards against a secondary that is playing way too soft.
Newton didn't have the game we have been so used to either. Carolina's offensive line saw him get sacked five times, and the flow of the offense was thrown off immediately after kickoff.
There is reason for optimism in Carolina, but it actually needs to start winning more games for that to take full effect.
Grade: F
New York Giants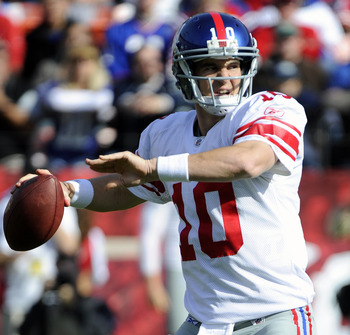 Thearon W. Henderson/Getty Images
Week 10 results: Lost to the San Francisco 49ers 27-20
The Giants played in their second consecutive hostile environment in a playoff-like game. They played well but just came up short against another really good team.
Eli Manning was unable to limit the mistakes that had come to define the previous couple seasons of his career prior to a great first half of 2011.
More than that, New York's defense struggled a great deal against what was the 30th-ranked pass offense in the entire NFL. San Francisco came out slinging the ball with 11 pass attempts in its first two drives. This got Alex Smith in rhythm and enabled the 49ers to overcome Frank Gore's knee injury.
I don't have a lot of bad stuff to say about the Giants' performance. They did leave a few plays on the table with dropped passes and miscommunication on offense. Still, this is a team that should be considered the favorites to win the NFC East.
Grade: B
Dallas Cowboys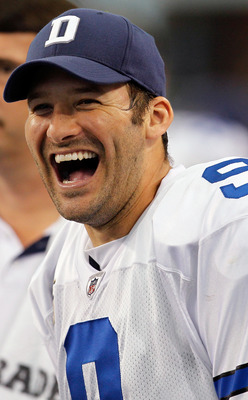 Tom Pennington/Getty Images
Week 10 results: Defeated the Buffalo Bills 44-7
I didn't see this performance coming from the Dallas Cowboys. In fact, I thought Buffalo would come into Texas and give the home team a run for its money.
I couldn't have been more wrong.
Tony Romo had one of the best games of his solid career, nearly acquiring a perfect quarterback rating. He seems to have found a new favorite target in Laurent Robinson, who burnt Buffalo defenders deep on multiple occasions.
DeMarco Murray continued his strong push toward contention for Offensive Rookie of the Year with 171 yards of total offense, including 135 on the ground.
The Cowboys defense forced three interceptions from Ryan Fitzpatrick, taking one back for six. Overall, Dallas couldn't have played a better game.
If they continue to improve, you can expect an epic division race between the Cowboys and Giants as the season draws towards a Week 17 matchup in New York on New Year's Day.
Grade: A+
Philadelphia Eagles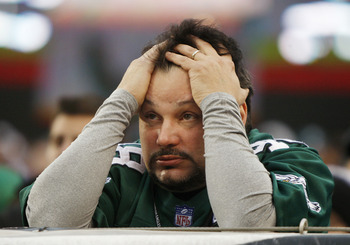 Rich Schultz/Getty Images
Week 10 results: Lost to the Arizona Cardinals 21-17
I think his face says it all. What the heck has happened to this talented team? How do you lose against a pretty bad Arizona Cardinals team on your own turf? These are questions that probably have no answers at this point.
Philadelphia continues to shoot itself in the rear end with stupid mistakes and penalties at the least opportune times. Michael Vick isn't playing good football, DeSean Jackson is nothing more than a distraction at this point and the Eagles defense couldn't tackle Betty White.
The play-calling also leaves a lot to be desired. How does LeSean McCoy only get 14 carries? It isn't like the Eagles were down by two scores at any point in this game.
The following are not winning numbers and represent why the Eagles are 3-6 right now.
Third down conversions: 3-of-15
Grade: F-
Washington Redskins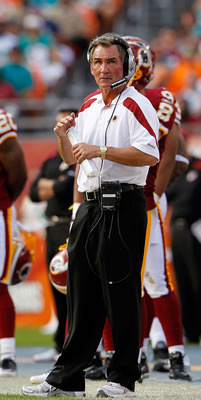 Mike Ehrmann/Getty Images
Week 10 results: Lost to the Miami Dolphins 20-9
We all knew that the Washington Redskins were nowhere near as good as their 3-1 record indicated through four weeks. Are they as bad as their four-game losing streak indicates? I would have to say yes!
I am not one who believes that you need a franchise quarterback to win games, but you need someone back there who is somewhat reliable. Right now the Washington Redskins don't have that. Whether it is John Beck or Rex Grossman, their quarterbacks aren't doing enough to win games.
Yesterday's lackluster effort against the Miami Dolphins is another representation of this. I understand that Chris Cooley, Tim Hightower and Santana Moss were all out for this game, but someone needs to step up on offense.
One thing is for sure: Washington will be looking to upgrade on the offensive side of the ball in the offseason because it lacks the necessary talent to compete.
Grade: D-
Keep Reading